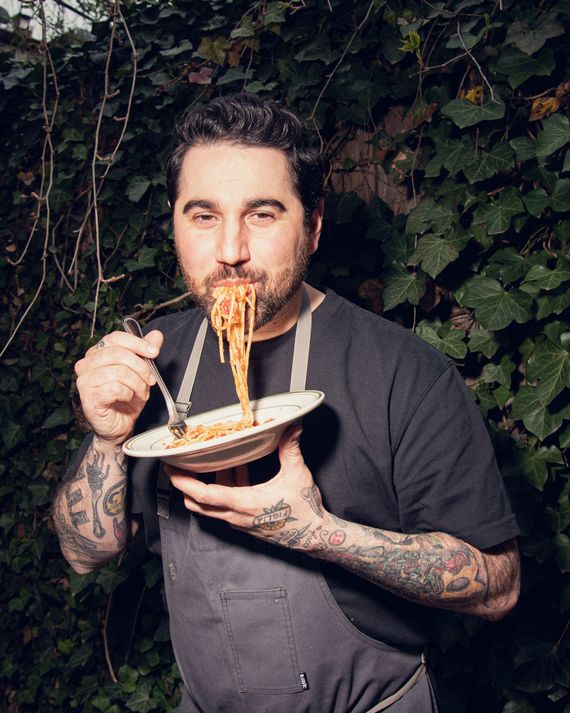 Sal Lamboglia, enjoying the fruits of his labor.
Photo: Lauren Roche
It is easy to overlook spaghetti pomodoro on a menu. I often do. Spaghetti with tomato sauce is the simplest of the simple, the white V-neck T-shirt of cuisine. It is too obvious and too comfortable to merit further attention. To say you enjoy spaghetti pomodoro is like saying you're "into sofas" or that you're "fond of breathing air."
This, chef Sal Lamboglia argues, is exactly its allure. It is a dish that rewards purity. There is no place to hide. It does not lend itself to lumps of caviar or great lashes of extraneous cream. It is spaghetti, olive oil, garlic, onions, and tomatoes. You do not need to reinvent it. What you need is for every single element to be good. Lamboglia's commitment to perfect spaghetti pomodoro is not just a passion, it's a calling. He debated other names for his first solo restaurant, but you cannot fight the forces of the gods: It was destined to be called Cafe Spaghetti.
For Lamboglia, who grew up in Bensonhurst and began his catering career at the age of 12 before making his way through high-caliber Manhattan kitchens, Cafe Spaghetti is the dream. "I've always wanted a neighborhood joint," he says, giddy at the reality of it. "This is what I always envisioned." Something low-key, Old World, unpretentious, a red-sauce destination just past the BQE.
I have come to the restaurant a few days in advance of the grand May 4 opening to learn one thing, and that is how to make spaghetti from Signore Spaghetti himself. "Cafe Spaghetti is a very playful name," Lamboglia observes, sagely. "But we take spaghetti very, very seriously."
First, we start with sauce. "This sauce is very near and dear to my heart," Lamboglia explains as we embark upon our spaghetti journey. "This is my dad's sauce. Growing up, if we weren't making a big dinner, it would be this sauce, and we would melt some mozzarella in there, and we'd put some eggs in there — with a big loaf of bread — and just have at it."
To make this sauce, Lamboglia heats some olive oil — not a glug or a slug, but an entire pool of it, so that the onions and garlic are really swimming. The garlic is shaved, not diced. At the restaurant, there's a guy whose job it is just to shave garlic, 40 hours a week, 30 or 40 pounds of the stuff, thousands of cloves. He toasts it slowly, really letting those alliums luxuriate, infusing the oil with flavor. At the restaurant, Lamboglia uses Coluccio olive oil because the store is in Bensonhurst, but he isn't precious about it as long as it's good. The oil is the differentiating feature. There is so much oil.
Once he's got that going — "I like to really let it take its time" — he turns his attention to the tomatoes. San Marzanos are the classic, obviously, "but what's a San Marzano and what's not? Who the hell knows!" So he isn't precious about those either: Today, it's La Valle (whole, canned), which he sensually crushes with his hands. Can you overcrush a tomato? "No," he reassures me, kindly. "Actually, I take it back, you could." While you want to crush each tomato, really squeeze those juices out, you don't want to completely pulverize it. "We like some substance in the sauce. We want some chunkies in there, you know?" I do know.
When the restaurant opens next week, the sauce will be all over the menu in different forms: with mussels at dinner, with eggs and mozzarella over toast at brunch, and with spaghetti all the time. On the walls are black-and-white family photographs: Lamboglia's father, also a chef, on Mulberry Street looking very '80s; his grandfather, white-jacketed at a restaurant in Bensonhurst, serving baba au rhum. The scale from his grandfather's store in Naples is above the kitchen, and a red Vespa is parked outside the door, and the whole thing might feel a little kitschy if it were any less sincere.
Back to the sauce, and here is the first twist I did not see coming: Lamboglia does not add all of the tomatoes. Instead, he scoops somewhat selectively, focusing on those chunks rather than the juice. "The juice of the tomato can is not usually the most delicious," he explains. "It's not bad, but what you really want is the actual tomatoes." He wants some juice but not all the juice. As soon as he's happy with the oil-to-pulp-to-juice ratio, he adds a small bunch of whole basil and some parmesan rinds, both of which he'll fish out later. Under ordinary circumstances, we'd let the whole thing simmer for 45 minutes, but since time is of the essence, we will settle for just under 40.
At this point, Lamboglia pulls out a pepper mill the size of a murder weapon and gives it a few grinds, mostly to demonstrate that pepper is important and he takes it seriously. He also adds a pinch of salt, a sprinkle of peperoncino for just a tickle of heat, crumbles a dried spring of oregano, and, on second thought, adds more basil. "It smells like a pizza!" he says, which is — who can argue? — the best possible praise.
Now then, on to the noodles. There is an idea that fresh pasta is always inherently superior to dried, but no. "If I'm having a fettuccine cacio e pepe, I want fresh pasta," Lamboglia says. "If I'm having a plate of spaghetti vongole, I want dried pasta — eight-minute spaghetti, super al dente." It comes down to texture, and for spaghetti pomodoro, he wants the firm bite of a dried noodle. "Once it comes out of the water, we're going to give it 30, 40 seconds in the sauce," he explains. (If the spaghetti were fresh, after 40 seconds in the sauce, "you're going to have mashed potatoes.") The key is, once again, to use a good dried pasta, one that can stand up to the rigors of being cooked.
There are no secrets to the boiling. Lamboglia salts the water — not quite like the ocean, as every Food Network host has told us a million times, but more like a salinated lake — and adds spaghetti, agitating it periodically with tongs. After eight minutes, give or take, he drains.
Everything has been leading to this moment, the slow simmering of the garlic-infused olive oil, the meditative wringing of the tomatoes. Lamboglia ladles some sauce into a smaller pan, one more chance to cook off some excess liquid. He adds the spaghetti. It should be juicy but not too juicy; the ideal consistency is "juicy enough." And then he begins to toss. It is the tossing, over time, that wears a body down. "It's not a heavy pan, but when it's filled with sauce and pasta and you're tossing, tossing," he says, jovial as ever. "A lot of action goes in here! It's a lot." Wrist problems are the cost of being a spaghetti icon. As he sprinkles in some grated parmesan, I notice, among the tattoos on his forearm, a life-size image of spaghetti twirling on a fork.
He plates it in glossy, parm-topped heaps. "You can see," he says, describing the mounds before us, "the sauce is between each of the layers. It's a little oily, and the pasta is almost dyed red. And the chunks of tomato are coming through. That chunk with the cheese on it? Like, this is magic." This is the enduring appeal of spaghetti pomodoro: Every bite is an adventure. "I actually think about how much I'm going to grip on the fork. If we're having dinner, I'm going through this thought process every single time, even at home," he says. "I enjoy the physicality of the twirl."