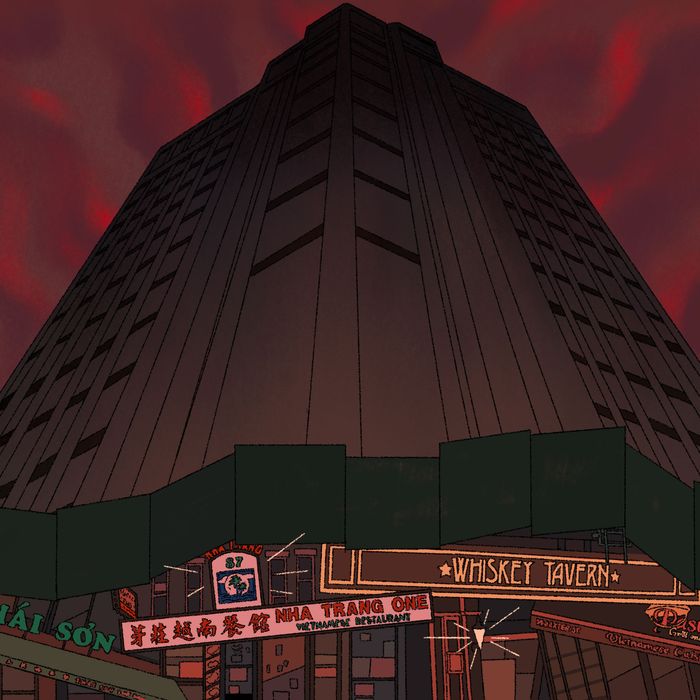 On Baxter Street, small businesses have been overwhelmed by construction. Illustration: Sarula Bao
"That was my store over there," Chi Vy Ngo says, pointing to a gutted storefront at 94 Baxter Street. His father, Bo, and his mother, Ky, first opened their restaurant, Bo Ky, in 1986, around the corner on Bayard Street. Ngo had managed it, but after his parents' deaths and a subsequent sibling dispute, he struck out on his own. He found this space next to the Manhattan Detention Complex, better known as the Tombs, which he liked: right off Canal and a manageable size at 50 seats. He signed a ten-year lease with the city and began renovating in May of 2019. Right away, the restaurant was a hit, beloved by regulars who knew his cooking from the first location and new customers alike. Then came the pandemic, but the death knell arrived soon after when the city expedited construction of the megajail there. "We were open less than a year and they wanted us to move out," Ngo says. "I had no choice."
Bo Ky was one of three restaurants — including Nha Trang Center and Jaya 888 — that were direct casualties of Mayor de Blasio's $8.3 billion plan to close down Rikers in favor of expanding jails across four of the five boroughs (everywhere except Staten Island). For Manhattan, that means expanding the Tombs, which were once shut down because of inhumane conditions only to be expanded nine years later to vigorous community protest. The current proposal would demolish the two existing towers and erect in their place what could become the world's tallest jail. History repeats itself, and neighborhood opposition has been wide, vocal, and constant. The price tag continues to rise (current estimates have gone up "astronomically," according to Mayor Eric Adams, to $10 billion) and the timeline promises for this to go on until 2027 at the earliest. While Adams yelled "no new jail" as a mayoral candidate, demolition of the current jails began late last year.
I've eaten in Chinatown for as long as I've lived in New York: sucking down periwinkle snails with my parents at Hop Kee as a college freshman; weekend dim sum at Golden Unicorn; and late nights that would start at Whiskey Tavern, followed by karaoke at Asia Roma (or if we were in the mood to scream, the old Winnie's), and ending with ministrations at Wo Hop. Earlier this year, my boyfriend celebrated his birthday at Uncle Lou — a year-old restaurant opened by an old head, which means they play the Cantonese bops: steamed fish with scallion and ginger, pork belly braised in soy, garlicky snow-pea leaves. Uncle Lou is an unqualified success — I'd like to recommend the pan-fried noodles with chicken and char siu — and looking at the variety of people gathered around lazy Susans that night, I got the sense that what the city needs isn't for Chinatown to do anything different, but rather for it to be afforded the freedom to do what it's always done very well.
The other week, Ngo and I went to Thái Son, a Teochew-run Vietnamese restaurant that directly faces the construction surrounding the jail. It was a Saturday afternoon, and the room was packed. We snagged a free table near the register, where Ngo greeted the owner Annie as "boss." We both ordered the extra-big bowls of pho with a mix of beef parts: eye of round, brisket, tendon. As we slurped down the noodles, Ngo recalled his own spot. He would get the broader three-millimeter rice noodles for his dishes and make his own condiments: hot, vinegary chili pepper, and another shacha-style sauce.
Ngo's food is Teochew cooking in Manhattan by way of Ho Chi Minh City: rice-noodle soups in a chicken broth; curry; and braised duck in a superior broth, or master stock that can last as long as a restaurant. "Every generation of my father's family has been born in a different place," he said as we ate. "My grandfather was born in China. My father was born in Cambodia. I was born in Vietnam, and my kids were born in New York." Ngo's family had owned a noodle factory in what was then Saigon that got destroyed during the war. His father was conscripted into the army, but bribed his commanding officer so that he wouldn't go to the frontline. Instead, he went to the kitchen, where he cooked for the garrison. Ngo was 14 when his family fled to Thailand on a 27-meter boat packed with over 400 people; a typhoon hit while they were fleeing and killed over 100 people, including one of his younger brothers. Ngo's family spent about a year in a refugee camp in Thailand before coming to New York, where they docked two years off of everyone's ages so that they could have more time in school. "Before my parents had food to serve themselves, they were thinking about their kids," he said.
After Thái Son, Ngo wanted to show me other places around the neighborhood, including the corner of Baxter and Walker where he had his first New York job, selling vegetables at a stand in 1979. He met his wife while working at the family restaurant; they got married at Grand Harmony, which is now the Mott Street Eatery. We swung by Po Wing Hong Food Market, where we strolled the spice aisles where he would get the star anise, cinnamon bark, and other aromatics for the house braising liquid. "In Chinatown, the majority of businesses are family run," he explained. "That's why the food is unique. They only cook their own way." Ngo said he was once approached about franchising Bo Ky, but he's declined for now: "I'd rather manage by myself, cook by myself."
We walked by too many empty storefronts: More than 21 percent are now vacant. The pandemic had a disproportionate impact on Chinatown — the neighborhood lost 26 percent of its jobs, including 57 percent of food-service jobs — that's reminiscent of the SARS panic in 2003 despite no actual cases in the city. (News crews once went to Bo Ky to investigate reports that Ngo had died due to SARS; he gave them interviews himself to confirm he was alive and well.) The jail only adds to ongoing problems of congestion and air quality: Elderly residents, some of whom live right next door at Chung Pak, are particularly vulnerable to the dangers of long-term construction. "We've already had a jailhouse in the area for many years, why do you want to expand it?" Ngo said. "You should expand the business, the local economy." He wonders why the city doesn't build municipal parking instead — something residents have been asking about for decades. "They used to have one down in 1 Police Plaza," Ngo said, "but after 9/11 they shut it down." Also after 9/11, the city closed down Park Row, a major artery that connected the Financial District with the Bowery and instead littered it with police checkpoints. To longtime residents, the super-jail is another example of city overreach and disregard toward Chinatown: an undesirable neighborhood in which to put undesirable things.
I dropped by the Bo Ky on Bayard on a Sunday night, and even though the items had risen by $1.50 — the new numbers were scrawled in permanent marker across the laminated menus — I could still get a rich and satisfying bowl of soup, with hearty broth and pillowy fish balls, for $9.50, or a gently spiced curry soup. The waiters were mean and indifferent, which was satisfying in a masochistic New York sort of way. There were couples on dates, groups of friends, and a family of tourists occupying two separate tables. I was reminded, yet again, that Chinatown is one of the few food oases in New York that still feels accessible to anyone — gladhanding politicians, celebrities, out-of-towners, hypebeasts, grandparents and their grandkids — as long as they're ready to eat.