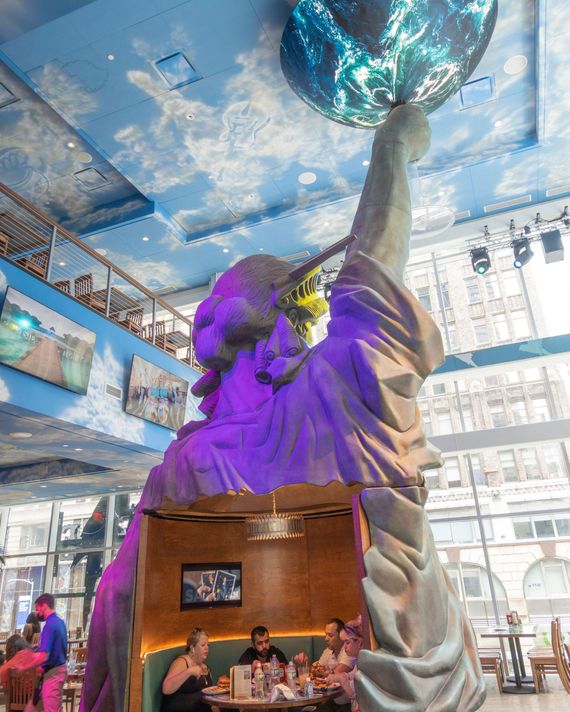 Photo: Patti McConville/Alamy Stock Photo
The immersive-kitsch megarestaurants that thrived in Mayor Giuliani's Times Square have died off faster than video stores and Hale and Hearty. Mars 2112 ended its outer-space operations in 2012. The last remaining Jekyll & Hyde Club closed. Planet Hollywood appears to be trapped in chain-resto purgatory, unalive but still twitching. Blame it on the millennials, if you'd like, who had the hit out on Applebee's in their pursuit of "authenticity," or on the rise of lazy, quick-build Instagram-photo-op museums, or on taste.
Amid the rubble of this prerecession theme-park–ification, Jimmy Buffett's Margaritaville Resort Times Square sprouted up at the northwest corner of 40th Street and Seventh Avenue. You come to this first New York City consulate of a small island nation-state presided over by benevolent dictator-king James William Buffett because you've been beckoned by the massive 1:3 scale Statue of Liberty hoisting a margarita glass high in lieu of her torch. Every hour, a light show is projected onto the glass with tropical fish, surfing, and fireworks imagery set to a Buffett medley. It's perfect. Here, Lady Liberty holds a book that says NO PASSPORT REQUIRED. This is the promise of Margaritaville: In the midst of everything awful, a happier, dumber place; a place that brings the word chillaxing back; an invitation to stop spending untold psychic energy trying to position yourself as cool, savvy, or above it all. It's bright, cacophonous fun. Climate change caused New York to be reclassified in 2020 as a humid subtropical climate; Margaritaville just makes the most of it.
If Margaritaville Resort Times Square is a 32-story cruise ship turned on its end (without the Poseidon Adventure implications), LandShark Bar & Grill is the lido deck. This indoor-outdoor space opens onto the pool area, which bills itself as the only year-round outdoor pool in Times Square. "Open bodies of water" and "Times Square" should generally never mix, but at six floors off the ground, the pool is a cheery space loaded with way less pretense than other popular hotel pools in the city. LandShark shares a name with Margaritaville's proprietary "island style" lager, though the real draw here is clearly the tropical drinks. These range in price from around $11 to $13.50, unless you want one served in a souvenir cup shaped like a blender, which will cost you another $8. In 2022, this is a bargain. They all have names like Don't Stop the Carnival and Stranded on a Sandbar. A taste of one of these will transport you to your last happy memory of a family vacation and make you brainstorm more ways to incorporate liquid sugar into your weekly routine.
Most people at LandShark at midday are groups of co-workers taking extended breaks, but on my most recent trip, I sat next to a southern couple who showed me a shopping bag that said I 3 NY GIFTS because, and I quote, "when in Rome!" They got their grandson a tiny NYPD shirt and told me they love coming to New York because "this is where we fell in love!"
One floor up from the pool is the hotel lobby, where guests check in under a chandelier made of margarita glasses. First, grab a drink at the License to Chill Bar. You will choose between two types of margarita — syrupy fake or fresh-lime-juice authentic — like picking the white hat or the black hat at the start of Westworld.
First-time visitors may be encouraged to enter from West 40th Street so they can journey to the most New York–ified venue on the property: the 5 o'Clock Somewhere Bar. This is a good way to trick skeptical friends into coming with you to Margaritaville. It's the resort's "refined" option with a wide wraparound terrace that puts the New Year's Eve ball at eye level. The seating? It's as tastefully appointed as a bar with a giant lime clock set permanently at 5 p.m. can be.
As with any great New York institution, the Margaritaville Resort Times Square is not without controversy. It sits on the site that previously housed the Garment Center Congregation, a small synagogue founded in 1931 with a 99-year, $1 lease in the building that was once here. In 2013, developers bought the property on the condition that they would honor the lease. At the grand opening, one of the executives touted a vision of families having their bnei-mitzvah services and parties all in one building, separated only by an elevator. The promise of a Margaritaville with a historically Orthodox garment-workers congregation inside of it felt like a Reason to Love New York in itself. When I visited in November, I was told the synagogue wasn't open yet. In fact, the congregation has filed a lawsuit claiming its members have been left spiritually "homeless" as the developers have reneged on their agreement. This is very crummy behavior, yet it's an intriguing story about real estate and tensions in an ever-changing New York, and I can get by saying Kiddush over my Rum Runner and humming "It's Erev Shabbat somewhere" just fine at the LandShark. Try and stop me, Parrot Heads.