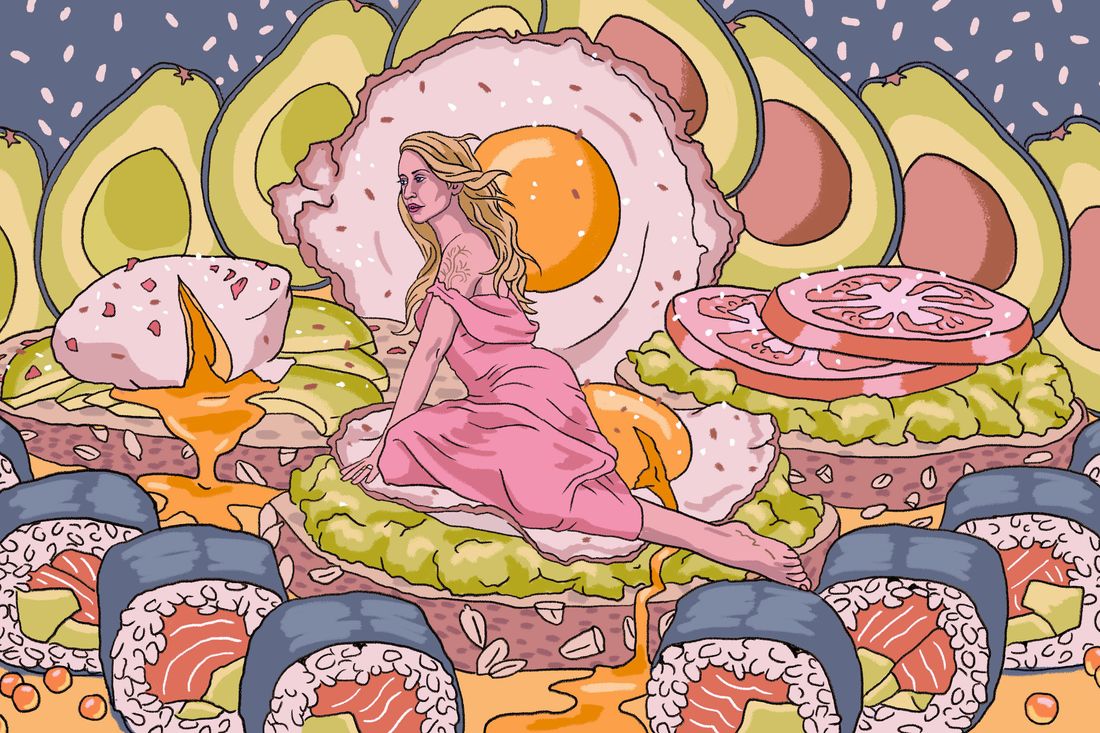 Price, for whom breakfast is a big deal. Illustration: Margalit Cutler
Later this month, Margo Price will kick off her first headlining tour in five years, hitting the road ahead of the January release of her next record, Strays, which she's described as "an introspective trip into our subconscious." This week, she was winding down a different kind of tour, traveling from California to Texas and into New York for her memoir, Maybe We'll Make It, which tracks her early years as an artist in Nashville (a time when she worked as a server at TGI Fridays, where, as she writes, the customers "always wanted extra ranch"). For Price, this tour's change of venue has been refreshing. "I'm actually getting to connect with people instead of just singing from the stage," she says. "Meeting people and doing the shake and howdy, as I like to call it."
Thursday, November 3
I had lemon with water, which is my ritual. I carry lemons and grapefruits in my backpack when I travel. Followed that up with an espresso.
We'd had a book event at a store in Santa Cruz the night before and were on our way to the airport, which is where we had breakfast: a bagel with greens, avocado, egg, and tomato. At home, my husband, Jeremy, does the majority of the cooking. He's worked at places with Michelin stars and every restaurant in town. My children have said to me, "You're good at singing, and Dad's good at cooking." He tries to be gentle with me and not tell me I'm a horrible chef, but I'm good at cooking breakfast-y things — omelets, scrambles. During the pandemic I did try to cook a bit more too, and I started baking. I've learned how to make a yellow cake I'm pretty proud of and my grandmother's banana-bread recipe, which I've kind of tweaked to be my own.
I filled up my water bottle — gotta hydrate, hydrate, hydrate on those planes — and flew to Burbank. I had a late lunch at Granville in Pasadena with my sister. We sat next to a fireplace on their rooftop and both got oat-milk lattes and sparkling water with lemon. Then we split two things: the Granville salad with salmon, and poblano quinoa with corn, pepitas, tempeh, and chimichurri.
I had a book event at Vroman's Bookstore and then went to a Mexican restaurant called Anaya's across the street with my sister and one of my best friends. Kylie, my sister, had ordered three shrimp tacos, but insisted she only wanted two, so I ate one — it was perfect. I also ate an order of chips and guacamole and a ton of pico de gayo. Topo Chico with lime to drink.
Friday, November 4
Brunch with my sister at Lavender & Honey. Ordered a toast with lavender goat cheese and a black-bean salad with avocado, corn, onions, tomatoes, and feta. We also had two lavender oat-milk lattes.
Then I had interviews for several hours and got dumped at LAX 20 minutes before I was supposed to board. When I'm traveling with the band we're usually on the tour bus, which is great — especially for food — because I can at least have some things on the bus fridge that are really great. Doing this book tour, it's been back to the airports. The schedule is pretty grueling, but it's been good. I've liked having some alone time.
Our flight to Austin was delayed, so we did not get in until 11 p.m. I ordered an arugula bowl with falafel from Ziki on South Congress off of Uber Eats, and it was waiting for me at my hotel. Also ordered a baklava and saved it for the morning.
Saturday, November 5
I was out of lemons for my water so I had to go to the hotel restaurant and buy some from the bar. I had my baklava from the night before and ordered a latte plus a Greenhouse Salad from Café No Sé, which was in the hotel. There are actually three restaurants, and they are all really lovely.
I've worked at a lot of different restaurants, and I think it's an important job. I worked at a spot called the Flying Saucer in Nashville. They had food and stuff, so we'd get a lot of business people who would come in for lunch. This was back in the mid-2000s. If they got a sandwich and a Coke or whatever, maybe their tab would be $7 or $8 and some change. I'd end up with whatever was left over, a dollar or what I like to call the STD: the standard two-dollar tip.
Sunday, November 6
Woke up and went to a bakery called Mañana. Got a breakfast taco with black beans, avocado, and pico de gayo. Also got a 16-ounce coffee with oat milk for the long drive to Dallas, where I did a book-signing event at Interabang Books.
I'm trying to read different passages from the book based on the city I'm in, so if I write about Texas, I'll read it in Texas. Each event is a little different, and I try to perform a couple of songs for everybody, too, because that's what I do best. The talking is just extra.
Around 4, I met with a dear old friend from home who lives in Dallas. We went to a little place called Eatzi's, where we split a cheese plate. I also got their Mediterranean sampler with hummus, tabouli, arugula, tapenade, grape leaves, and pita. I was flying again, and I wouldn't be landing in New York until midnight, so I was trying to get full. I succeeded.
On the plane I drank a bunch of water — I always travel with my refillable water bottle — and ate a bunch of pistachios. We went to bed so hungry!
Monday, November 7
Woke up at 6:30 a.m. in the Chelsea Hotel and had an oat-milk latte. We were having a listening party for the new album, which was very influenced by artists like Patti Smith, Bob Dylan, and Lou Reed and Nico, so this felt like the natural place to do it. Jeremy and I had tried to stop into the hotel four or five years ago, to look inside and walk around, but it was all closed off. Staying here was a way to fulfill a dream and also make it business while having some fun.
For lunch, Jeremy took me to Chelsea Market. We ate sushi at the Lobster Place, a spicy lobster roll and some miso soup.
I was feeling so tired and slightly overwhelmed, so I ate a microdose around 3 p.m. and then we had the listening party a little later. Before the last album came out, I was actually up in New York and I did a listening party at a studio, and then COVID happened. So this time we were like, We should do another listening party. I just love to give people a chance to come out — whether it's journalists or other industry folks — so we can talk a little bit and have a human interaction.
We were going to have a date night and had a reservation at an Italian place, but the event went a little late, so Jeremy went over to El Quijote in the hotel and got us a table.
They had a spirit-free G&T with nonalcoholic gin, tonic, cherry blossom, and cucumber — a true treat. Our apps were croquetas with jamón and an endive salad with fennel, celery, apple, Monte Enebro, and caramelized-honey vinegar. I had fish — hake with piquillo peppers — and Jeremy had the rib steak. I had one bite of his steak. I try to save steak for a special occasion. About once a year, I get myself a really good steak and then I just get the meat highs.
Tuesday, November 8
Breakfast this morning was scrambled eggs, and now it's the afternoon and we're starving. I'm playing at Rockwood Music Hall, so we decided we'd drop off our guitars ahead of time and go to Katz's for a pastrami sandwich and some pickles. I wanted one the last time I was in New York and I didn't get a chance. I've been craving it for a long time. I don't eat a lot of meat, but we have pastrami on the brain today.
After the performance we're going to get sushi at Blue Ribbon, and then one of Anthony Bourdain's suggestions from a long time ago was to eat at the hot-dog stand in Chelsea, so I think tonight we might get stoned and go eat a hot dog.