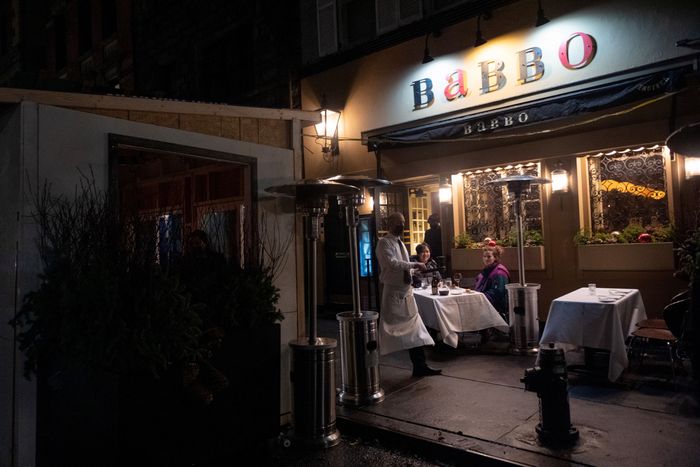 Babbo.
Photo: Alexi Rosenfeld/Getty Images
Mario Batali, Joe Bastianich, and the restaurant group now known as Pasta Resources will pay $600,000 in a settlement over a sexual-harassment investigation by New York attorney general Letitia James. The two men ran a business that violated city and state human-rights laws, the investigation found, and, as James tells the New York Times, "Batali and Bastianich permitted an intolerable work environment."
The settlement will go to a minimum of 20 women and men who were sexually harassed at the restaurants Babbo, Lupa, and the now-closed Del Posto. According to the investigation, women were regularly subject to groping, unwanted advances, kisses, and sexual comments from management and colleagues alike. One manager asked female employers, "Did you know that you can get a boob job? That you can buy boobs now?"
According to the Times report, which details numerous allegations, Julianna Imperati, who was a line cook at Del Posto in 2017 and 2018, described getting grabbed by a line cook, and how management treated those incidents, as the Times puts it, as rites of passage. In a statement to the Times, Imperati rebuffed this, writing, "I want every woman in the restaurant industry to know that it is not normal to be sexually harassed, assaulted or abused simply because you are a woman … It happened because the men and women who are in power allowed it to happen."
Batali declined to comment to the Times, while Bastianich responded that "the past few years have truly been a transformative period" and that he's apparently learned a lot of lessons. He described recent events, including the pandemic, as "an opportunity to redefine our business and the culture we want to foster."
The settlement will require any restaurants where Bastianich or Batali are majority owners to overhaul sexual-harassment training and procedures, and to share reports on progress every six months. James's office is continuing to interview former employees, and has not yet determined how many employees will receive payments. Meanwhile, Batali is still facing other civil suits — two stemming from incidents in Boston — and the continued possibility of a criminal trial.