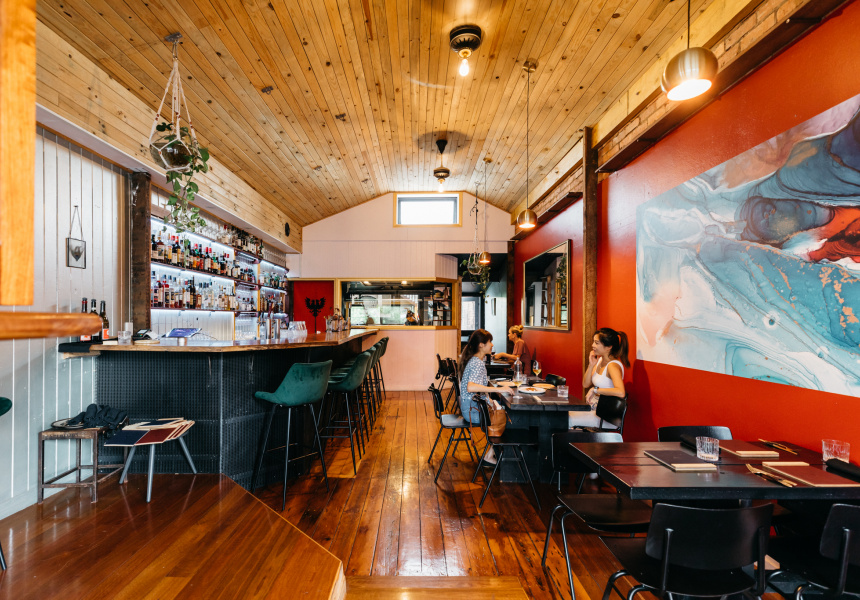 Rome-born chef Raffaele Persichetti isn't averse to taking risks. Every few years, he likes to innovate and test out new concepts. Take last year for example, when he closed his West End Italian restaurant Luigi's and opened a Mexican taqueria and mezcaleria a few doors down.
Persichetti, who also operates eyewear business, Holloway, thought there was a lack of decent Mexican restaurants in Brisbane. "I [reached] a point where I had enough and decided to do it [myself]," he says
The brave move paid off; Mama Taco has become one of Brisbane's best Mexican restaurants, with his team hand-pressing around 500 tortillas a day. Persichetti's latest project is Mario's, an aperitivo bar and restaurant, that opened inside Luigi's old space earlier this month.
"[Mario's] is an evolution of my Italian heritage," Persichetti says. "We're still giving it that Italian identity and soul, but we focus on [putting] new and fun [takes] on Italian cuisine."
While there's a few signature dishes that won't come off the menu – such as lobster lasagna, funghi calzone fritto (a mushroom-filled wood-fired bread) and scampi crudo with buffalo milk stracciatella and raspberry dust – much of the menu changes regularly. You might find specials such as venison crêpe or cold-smoked swordfish belly. There's a tasting menu with matching wines available, but you can also order à la carte.
The space is largely the same as its Luigi's days, with a few new decorative touches. Split between two different rooms (one is used for functions and larger group bookings while the other is the main bar and dining room), the fit-out features red paint, wooden floorboards and a large bar backed with an impressive range of around 50 grappas and 50 amaros.
There's a number of Australian and Italian wines including some lesser-known varietals such as greco, grechetto and timorasso. There's also a 'Reserve List' with high-end barolos and barbarescos.
Mario's
67/69 Hardgrave Road, West End

Hours:

Thu to Sun 5pm–late