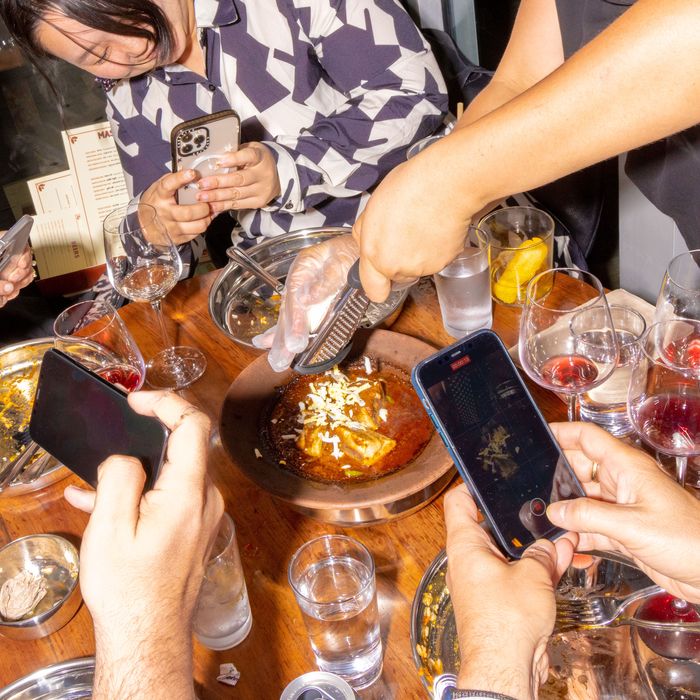 Park Slope is known for its fabulous brownstones, its overachieving public schools, and its long stretches of boring restaurants. That last characterization isn't entirely fair, as some notable exceptions do exist — Haenyeo, Sushi Katsuei — but the neighborhood's residents nevertheless frequently gripe about a conspicuous lack of restaurants that anyone might consider "exciting."
The area got a boost last week when Roni Mazumdar and chef Chintan Pandya opened their newest restaurant, Masalawala & Sons, in a Fifth Avenue space that used to belong to a bakery and brunch place called Du Jour. Mazumdar and Pandya are the duo behind spots such as Adda, Dhamaka, and Semma — which became some of the most exciting, and popular, restaurants in the city by standing in opposition to the takeout-friendly Americanized food that still characterizes so many Indian menus in this country. Park Slope, for its part, seems excited: Mazumdar says they had to shut down their reservations just ten minutes after opening the books because of demand.
This kind of instant demand is a big change from the reception that Mazumdar got the first time he opened Masalawala on Essex Street in Manhattan in 2011, when he was just 27. It didn't take long before the economic reality of doing business on the Lower East Side meant he replaced much of the menu with the butter chicken and overly spicy vindaloo he thought people might be more likely to order. "It ended up becoming that quintessential 'India,'" he recalls, "that is not at all India."
It also had not been the plan for Masalawala, which Mazumdar opened with his father, Satyen, whose memories of growing up in Kolkata inspired the place. And while the new restaurant is different, the vision is the same: "There's no similarity between what we did then and this, except for my father," Mazumdar says. "That's the only thing, but it's been ten years."
The menu is something of a collaboration between Satyen and Pandya, who had the task of recreating memories and traditional dishes — not to offer any kind of definitive collection of recipes, but instead to reinterpret one person's experience. "If we're going to explore Bengal, sure, we could have picked some greatest hits and created a menu of 12 or 15 items that are served at every single restaurant there," Mazumdar says. "But we wanted to build in the context and a sense of timeline for ourselves, so that we can learn from it."
And so the menu includes macher dim (fish roe poached in coriander and smoked chile) and bhetki paturi (steamed barramundi with poppy and mustard seeds) that Mazumdar's family cooks at home. It also includes things that were new even to him, like sev tameta nu shaak, a tomato curry topped with fried vermicelli noodles. "I'd never had that in my life," Mazumdar says. "It came up in conversations between Chintan and my father — he started talking about some of his memories."
Soaji chicken Photo: Evan Angelestrou
Some recipes have been around for generations — like a roasted eggplant finished with scrambled egg — while others are more recent innovations, such as biyebarir fish fry, a technique that only became popular in the '70s and '80s as a celebratory wedding dish. (The menu isn't the only thing that's been updated: The décor is also much brighter at the new restaurant, colorful and festive with a painted-over brick wall that Mazumdar says is supposed to signify the exterior of another building, as if you were sitting at an open-air cafe. "The best food in India probably exists in places like these. It's not in the really lavish hotels," he says.)
On opening day last week, the kitchen had trouble keeping up with all the orders — typical hiccups on a restaurant's first night — and some curious diners had to be turned away. That should change in the coming weeks, when the backyard opens and more room is set aside for walk-ins. It might be necessary. Right now, the restaurant's Resy page is booked out, a situation that's typical of the group's other restaurants, especially Dhamaka, where the impossibility of snagging a table has become part of its lore. But how many people in Park Slope will remain excited about this new restaurant if they aren't able to actually eat there?