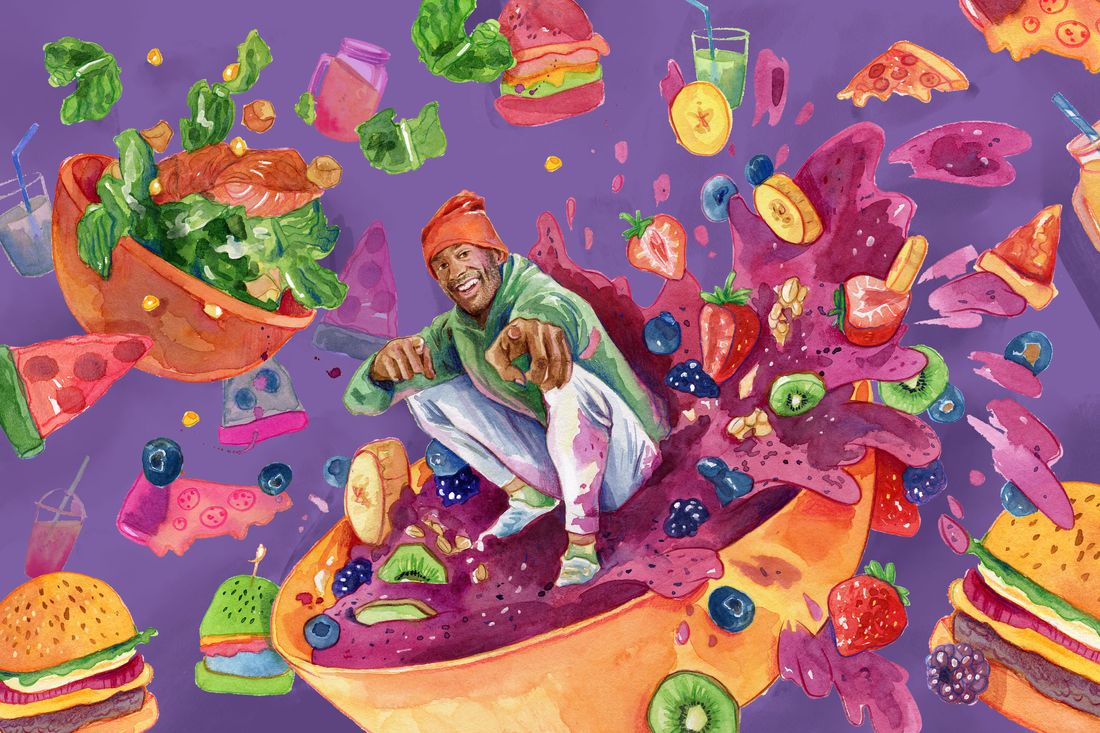 James, who is training to run the New York City Marathon — and eating accordingly. Illustration: Sarah Kilcoyne
In 2020, Matt James made history when it was announced he'd be the first-ever Black lead on The Bachelor. In the time since his season aired, he's distanced himself from the franchise, which he addressed in his memoir, First Impressions: Off-Screen Conversations With a Bachelor on Race, Family, and Forgiveness. A former NCAA football player, James is also the co-founder of ABC Food Tours, a nonprofit that connects lower-income students in New York City with restaurant experiences. James lives in Manhattan, but he and his girlfriend, Rachael, were on the road recently to visit the Final Four, take his first trip to Disney World, and grab one of James's "top three" burgers in his hometown of Raleigh, North Carolina.
Monday, April 3
There is going to be a lot of food because I'm training for the New York City Marathon in November. It beat me up last year, and I've never done as well as I'd like. I'm trying to go about it a different way this time. I got a running coach and I'm trying to do all the right things.
Monday's run was four miles, followed by 30 minutes on the elliptical and 30 minutes of stretching. After the workout I got two 32-ounce smoothies at Earthcraft Juicery with banana, peanut butter, blueberries, coconut water, plant-based protein, and dates. I have to have my post-workout smoothie every day.
I was in Houston with one of my buddies who was pressing me on trying different barbecue. So I told him he'd have to be the person waiting in line while I got some breakfast in. I dropped him off at the Pit Room in an insanely long line. It's about 90 degrees at 11:45, and this was on a Monday. What we hadn't taken into account was that it was the championship day for the NCAA tournament, and it looked like every San Diego State fan and every UConn fan in Houston was in that barbecue line.
While he waited, I went to Bluestone Lane, which is a chain I go to for coffee in New York. The ones in Houston are much bigger, and they have a whole menu. I had a sunshine burrito with scrambled eggs, dill mayo, bacon, avocado, cheddar, and spinach and an order of the chimichurri baked eggs with spinach, sheep's-milk feta, field mushrooms, and tomatoes. That breakfast was fire.
I get a text from my friend and drove over, but there's still a wait once you get inside. It's okay because that's when I like to scope out other people's plates to decide what I'm gonna get.
Finally we ordered and sat down. I had a pound of brisket, one jalapeño-cheddar sausage link, a brisket taco, a cup of mac and cheese, and charro beans. Unfortunately, it was more aesthetically pleasing than it was good. Especially after having tried Truth Barbeque for lunch the day before, it was hard to have that as the second. It just didn't compare. I will know better for myself next time I'm back in Houston.
Then I went to NRG Stadium for the activation, which is what Nissan calls its pop-up fan experiences with stuff like competitions on one end, arcade games where you can play a claw machine and pick up a branded bucket hat, sunglasses, and other swag. They've got famous people that come through. Lisa Leslie and Hakeem Olajuwon were there and they just have to make it fun while you also spend time around their new electric vehicle and whatnot.
What I do is host, which means walking around with a mic just convincing people to come in and hyping up the crowd, getting people to participate. There is food at the events, but when I'm on the job I'm so locked in that I'm usually not eating. I ate two Kind bars (one with peanut butter and dark chocolate and one with dark chocolate, nuts, and sea salt) that I brought with me and just kept hitting the water bottle. This water bottle is a new thing for me. I've never been a big water drinker, but my girlfriend has inspired me to hydrate more. I don't like the taste of water, so I add flavor tablets: You got your berry blast, your cherry limeade …
Instead of crushing a taco or a piece of pizza just because it's quick, I'll wait until I have enough time for a meal. But we were at the activation forever and I was burning everything that I'd just consumed, so I wanted to keep it high protein and found an enormous turkey leg. It was probably the healthiest thing there because, you know, everything was fried. Also, there wasn't a line, so I could just walk right up. And then I was just sitting there watching the national championship game, just smacking this big ol' turkey leg.
I left a little bit early because Houston restaurants don't stay open that late and I wanted to make sure that I got a good meal in before we had to fly to Orlando the next morning. We went back to where my friends were staying and got dinner at their hotel. I got a chicken-and-mushroom quesadilla, guacamole, and a kale Caesar salad with more chicken.
Tuesday, April 4
I'm burning at least 3,500 calories a day, and I'm not trying to lose weight. So at minimum I'm trying to take that in on most days, but in the healthiest way possible. I know it doesn't seem like that from what I'm eating on this trip, but on a typical New York week it's lots of protein, healthy fats like avocados, nuts, things like that.
I really went for it this week, but before lunch I was still pretty regimented. Right when I'd landed in Houston, I went to Target and got everything that I needed: yogurts, snacks, and the ingredients for my personal recovery shake, which is made up of Vita Coco, chocolate almond milk, Happy Viking pina colada plant-based protein, dymatize Fruity Pebbles isolate protein, and creamy peanut butter. I know it sounds like a lot, but it tastes delicious. It's even better when I'm at home in New York, because I can add frozen blueberries and bananas, and dates. I know that flying dries me out, so I smashed the full gallon of water before going to the airport too.
We had a layover in Atlanta, so it was kind of late when we got to Orlando and the options were limited. For a snack, I ate a couple of coconut-yogurt cups with blueberries, sliced dates, blackberries, and Simply Elizabeth granola, which I travel with because you never know if they're gonna carry Simply Elizabeth across the country. I need my stuff.
For dinner, we went to Chick-fil-A and I got two spicy chicken patties — no condiments, just the chicken — eight grilled chicken nuggets, and a large fry.
Wednesday, April 5
I ran four miles and found a random 24 Hour Fitness in the area where I stretched and did more cardio. After that I came home and ate my breakfast: I had a shake, the protein yogurt with my granola in there, put in blueberries and blackberries and I was good to go. Smacked my water before I got to the Magic Kingdom because I knew it was gonna be one of those days.
My girlfriend's family takes an annual trip to Disney, so I was tagging along with them. Rachael had gone through and starred all these different restaurants across the different properties, and then we went through and reviewed it all for Instagram: a cheese jalapeño pretzel, a Cheshire Cat tail, spring rolls, a cheeseburger, a pastrami-and-pepperjack sandwich, fried pork and veggie potstickers, upside-down pineapple cake with a Dole whip swirl, toasted ciabatta with roasted garlic butter and parmesan, and breaded jalapeños stuffed with nacho cheese and a side of ranch.
We could get a lot done during the waiting times for the rides. Back in the day, you just stood in line, but it doesn't work like that anymore. You've got to join a virtual queue for some of these, which is how we ended up waiting nine hours to ride Tron.
We spent a decent amount of money on food, but it was the kids with us who really threw down. They have restaurants where you can eat with Mickey or a Disney princess. That's where they really get you. We stayed in an Airbnb a little bit out of the way instead of on the property to save money there, but it's not a cheap trip to Disney.
At the end of the night — after we rode Tron — all the food stands and restaurants were closed, but we had a night pass to go to Hollywood Studios where I had two pretzels with beer-cheese fondue and cookies with milk from a kiosk. I was exhausted from being up and took an Uber back solo. I knew there was a Wawa on the way home and went there. I went in telling myself to get something healthy and low key like a turkey sandwich, but then I saw "hot hoagies" on the screen and the chicken cheesesteak was just staring at me. It was like there were no other buttons. I loaded that thing up with pepperjack cheese, mayo, salt, pepper, spinach, parmesan, and bacon — and it was delicious.
Thursday, April 6
Went for my run. I would have taken a rest day, but I was trying to get in as many miles as I could in the beautiful Orlando weather because I knew that Raleigh, where I was headed next, would be wet and rainy.
After the workout I got my shake in because I need to have that base before a day at the amusement park. I get hungry. I just know that about myself. But if I load up on water and yogurt, then I know I've got a four-hour period where I don't really need to have anything else, which is good because we were going to Epcot for another day of rides.
The family had a meal at Space 220. It was one of the coolest places I've eaten at ever. You go up into this restaurant and it looks like you're in an outer-space space station and you're looking out and there's Earth. You see satellites and asteroids. I got the galactic miso salmon, and Rachael got the burger, which was so good. It could have been a gimmick. We weren't expecting such amazing food.
Then I had Buffalo chicken chips at the Nomad Lounge in the Animal Kingdom, plus two orders of the bread service, which had a Thai curry bread, pão de queijo, and papadum with a bunch of sauces, plus two orders of the gluten-free churros with coffee crème anglaise.
I also had a cocktail. With training, alcohol is really hard on the recovery. So it's like, Do I want to make my training easier and sacrifice fun now, or do I want to, you know, thug it out and drink every night and worry about it later?
Friday, April 7
Rachel and I were flying to Raleigh, where I'm from, so I had my shake and gallon of water plus a coconut-yogurt cup with the same fruits and granola.
The first place we went after landing was Sawmill Tap Room. It's one of my favorite spots when I go home. A lot of the menu is, like, burgers, sandwiches. I'm not crazy about that. I go with the wraps and salads. I got the Pe-Cran Wrap — which is chicken, lettuce, tomato, pecans, cranberry, and honey mustard — a kale Caesar, and a blackened-chicken quesadilla.
That afternoon I snacked on a yogurt with fruits and granola, then for dinner we went to Char-Grill. ​​That's one of my favorite restaurants in the world. I had two of the "quarter-pound hamburger steak sandwich jrs" and two orders of well-done fries. That steak sandwich is the best. It's in my top-three burgers ever.