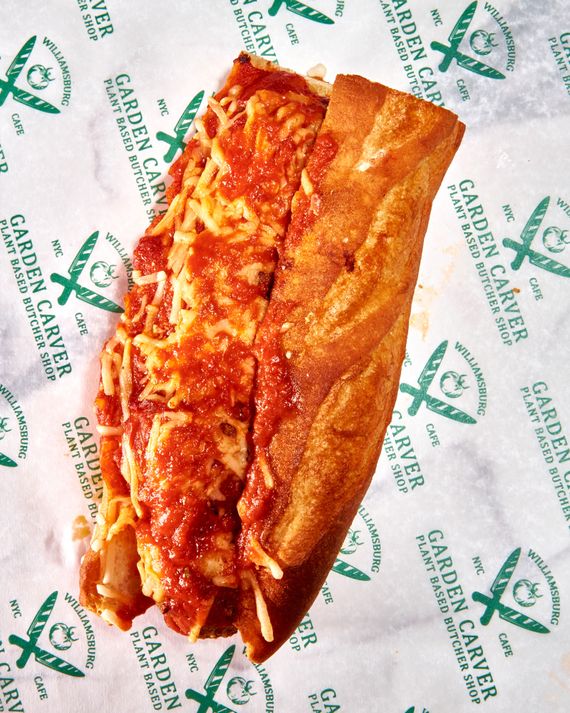 A vegan meatball sub from a new "plant-based butcher" in Brooklyn.
Photo: Evan Angelastro
When Parry Lee decided to cut animal products out of his diet in 2017, the hardest thing to give up was the meatballs and Sunday sauce he'd loved since college, which he learned to make by shadowing his roommate's nonna. "I would lick the plate clean," Lee laughs. "I was addicted." Making matters worse, Lee wasn't much of a cook at the time ("I could turn on a stove, and that was about it"), and the meat-free offerings available at stores just five years ago weren't nearly as robust as they are today. So Lee and his fiancée, Olha Demchuk, set about reverse-engineering vegan versions of the food they'd loved. "It forced me to learn, quick," Lee says.
Eventually, Lee and Demchuk perfected their own version of the Sunday sauce and plant-based balls and debuted their Taste of Sunday stand at the 2018 Vegandale festival, a Coachella-esque endeavor that is committed, according to its Instagram profile, to "VEGAN WORLD DOMINATION." Taste of Sunday was a hit, and the success made the couple realize there was a place within the growing market for meat-free eating.
Now they've unveiled Garden Carver, a "plant-based butcher shop" in Williamsburg where they've exploded the appeal of vegan Sunday sauce into a full-blown brick-and-mortar business. So what is a "plant-based" butcher? Tofu blocks aren't hanging from hooks; instead, Garden Carver aims to be more of a neighborhood store. You can get breakfast sandwiches, "smashed" veggie burgers, deli cuts, or to-go containers of orange "chicken" with broccoli.
The full menu at Garden Carver isn't specifically targeted toward vegans either. Buoyed by the growth of plant-based meat substitutes, Lee wants to appeal to carnivores as well with vegan versions of, say, pulled pork (made with portobello-mushroom stems) or charcuterie boards with fig salumi and plant-based chèvre. In trying to re-create the appeal of meat, Lee is not particularly interested in the debate over high-science products versus "real" ingredients; whatever recipe gets closest to the original inspiration, that's what Garden Carver will use.
"We don't want be known as vegan spot," Lee says. "We just want to be known as a place that has great food."
In addition to his "meat"ball subs — made with Impossible's faux beef, oat milk, and Just Egg — Garden Carver serves coffee, pastries, and veggie breakfast sandwiches in the mornings, and Lee is on the hunt for smaller local companies to complement the brand-name products and make the restaurant a one-stop shop for all animal alternatives.
So is the name just a clever joke? Lee insists it isn't. "It makes sense to me," he says. "We're cutting up vegetables instead of animals"