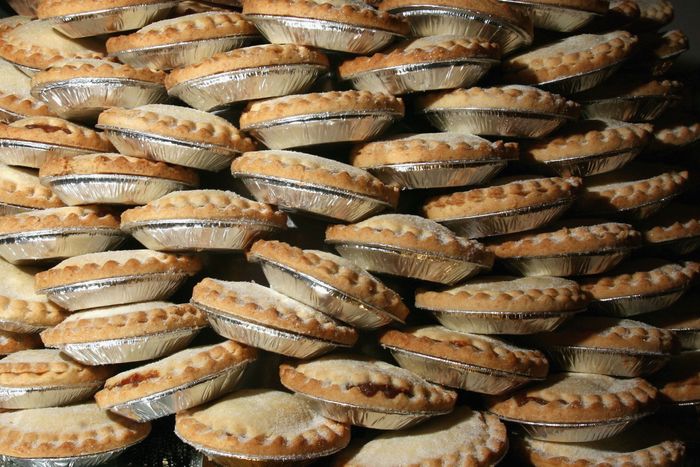 It has been a difficult year.
Photo: Matt Cardy/Getty Images
It has not been a banner year for journalists, between the Bloomberg layoffs and the HuffPo layoffs and the layoffs at WNYC and Medium and Vice. Nick Robins-Early cannot change that. What he can do is bake them pies.
"Hey everybody, I'm starting a pie company and (hopefully) annual tradition," Robins-Early tweeted yesterday. "If you're a journalist who got laid off in 2021 come pick up a free thanksgiving pie this Saturday or Wednesday at the opening of the Layoff Pies shop." It is a kindness born of empathy: Robins-Early had been among the HuffPo casualties himself. For anyone who wants a pie but has a job, he'll be taking preorders. "Come get pie and help me find out whether this is a wildly bad idea!"
The pies — both free and paid for — will be available for preorder by Instagram DM. Pickups will be at the Lower East Side pop-up space Sommwhere (15 Essex Street) on Saturday, November 20 (12 p.m.–8 p.m.) and on Wednesday, November 24 (1:30 p.m. to 9 p.m.). It will be a pie shop but also a place "for people to come through and hang out."
Grub was intrigued. Was Robins-Early, who covers extremism and online disinformation, pivoting to pies? With two days to go before Layoff Pies makes its public debut, he generously stepped away from the kitchen to explain.
As I understand it, you are starting a pie business.
I mean, we're starting this initial pop-up, which will be giving away — in what I hope is an annual tradition — pies to any journalist who got laid off this year. And then from there, we're going to see what we can roll out, and hopefully we'll expand — provide pies for events, do pop-ups at specific times, maybe over the holidays. And then, in the unfortunate-but-expected event there's another round of layoffs somewhere, we'll hopefully be available to provide the smallest silver lining. But I'm still in journalism. Certainly, that's the main job. This is essentially a side business, and hopefully, it'll be able to sustain itself and just be a nice thing for a community of journalists, and whoever else in New York wants pie. That's the goal. I don't really have ambitions to grow a pie empire. As fun as that would be.
Is it fair to say it's a pie … hustle? A pie project?
Yeah, it's a pie project. It's an experiment, and we'll see if it works. We'll see where it goes. But it's definitely more of a project than a viable business. If I can do this, and it doesn't make me lose my hat, that's good by me. Like, this is fun. Breaking even is a fine result, if that's what ends up happening.
Where did Layoff Pies come from? It's a good name.
So in March 2021, I got laid off, along with a lot of other people, and it put me in a precarious situation. And at the time, a lot of friends and co-workers and union people rallied to help me, and were super-supportive, and not really knowing what else to do, I baked them pies. And so then I started going around town and delivering what I called "layoff pies." But I didn't really have any intentions to do anything more than that at first.
Tell me about your previous pie experience. Like, theoretically, I could make pies for people, but I'm fairly confident they wouldn't want them.
I'd baked for a while. It's nice, when you're looking at a screen all day, you're on the phone, you're doing a lot of things that are less tactile, or less tangible, to have something else. So I bake, I do some woodworking … And then when lockdown hit, I had a lot of time, so I went hard on pies. I never got into the bread aspect — I don't know if I have the patience for it. Also, the place across from me still had bread, so I didn't feel the need to make it myself. But I couldn't find anywhere that made pie.
I worked on it, and then also started getting help from another journalist who'd previously worked as a baker. I've gotten better. There was a blackberry-apple pie I made — maybe in September 2020? — that was a turning point. It just looked great. It had that bright-purple filling bubbling up, it tasted like a perfect blend of apples and blackberries.
What is it about pie?
There's a lot you can do with pies, and they make people happy in a way that's fun. There's something nice about it being seasonal, checking in with what produce happens to be around. Making something that changes with time — that's an alluring part of it. And it has this nice contrast: You can get really precise and great at making the dough, but then you go out and have fun with the fillings. So this year, we have two pies. We have a malted-chocolate chess pie, which is a good one — if you've ever had a Malteser, those British chocolates, it tastes a little bit reminiscent of that, or a chocolate milkshake. The other pie is a blackberry-apple pie. It's a more traditional fruit pie with a lot of Thanksgiving-y cinnamon, cardamom-type spices — a lot of classic pie tastes in there.
How many free pies can you reasonably do, just financially? 
We're gonna find out! I've had to revise my initial estimates, because a lot of people have been extremely generous and donated money as a kind of pass-it-on. More than a dozen people so far have sponsored somebody for a layoff pie. And that's just yesterday. It means that I can hopefully ramp up the number of pies I'm able to give people.
I'm a little bit worried you're underestimating the number of laid-off journalists who like pie.
A lot of people got laid off this year. I can't actually get them all. That was something I definitely felt I had to couch in the announcement. It's going to be as many as I can do. I wish that I could give everybody who got laid off this year a pie, but just looking at the numbers, I think I would need an industrial facility to make that happen.
And you also have all the regular paid preorders, too. How many pies can you physically make in a day?
Depending on the hours I do it, as many as 30 or 40, I think? That's my estimate, but we're going to find out. I managed to meet all the writing deadlines I had before this kicked off, so I cleared some space for pie. This is a pie week.