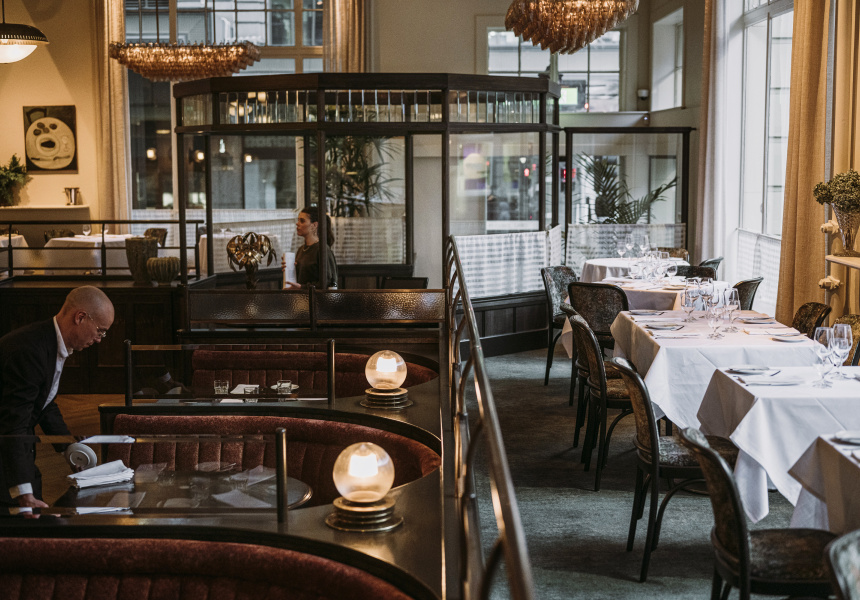 It's been a terrible year for almost everyone and everything, but things look a bit less gloomy on paper. Though the pandemic closed restaurants temporarily and permanently, its suddenness meant a lot of new projects – many of which got underway last year – couldn't just be cancelled. We saw plenty of new openings in January, February and March, and even a few in that brief, unsettled period between the two lockdowns. Here's what grabbed us most.
Gimlet

Over the past decade or so Andrew McConnell has shaped this city more than any other chef. He was at the forefront of all-day dining with Cumulus Inc, and again led the field of casualised fine-dining with Cutler & Co. At Gimlet, equal parts restaurant and cocktail bar, he's bringing back glamour and grandeur in a big way. To sit in the sumptuous, chandeliered art deco space is to feel like a movie star in the black and white era. It's an occasion you'll actually want to dress up for, if only to match the smartly attired (and mannered) staff. Head chef Allan Doert Eccles and his team cook the finely tuned Euro menu until 1am on Fridays and Saturdays, making this a new and extremely alluring post-everything destination. But more than that, Gimlet feels like a landmark in the making – one that will become a must-try for locals and international tourists for decades, not years, to come.
Faye

Like Congress and Lagotto, Faye is putting an end to the stigma around restaurants in apartment blocks. Wedged into the undercroft of a new development in Brunswick East, it's neither easy to stumble upon, nor immediately promising when you do so. But inside, debut restaurateurs Rhen Dodd (a winemaker) and Marcus Dimabuyo and Daniel Naylor (both chefs, formerly of Canberra's Aubergine) are making it work. Big time. Their shoestring budget and first-timer energy give the place an exceptionally personal touch, felt in the service, the short-but-sweet wine list, the room (they built it themselves) and the idiosyncratic food especially. First-month highlights: skewers of grilled chicken heart and fermented cherry, pasta made from sourdough, and a polarising dish pairing bitter endive and fig leaf with cooling cucumber and sweet heirloom tomatoes. Consider your expectations challenged – in more ways than one.
Firebird

Over the past eight years the Commune Group has built a sizeable empire in Windsor and beyond: Tokyo Tina, Beijing Betty and three Hanoi Hannahs. This is a team that knows how to open a restaurant, and from the brief glimpses we got between lockdowns (Firebird opened in March), this could be the most accomplished one yet. Head chef Steven Ngo grew up in rural Vietnam and later headed up the kitchen
at the defunct Long Chim, working for Australian David Thompson, probably the most proficient non-native Thai chef in the world. He brings these experiences to bear in thrilling fashion, smoking pipies over fire and serving with a canh chua (sour tamarind and tomato soup) reduction and youtiao (Chinese doughnuts). That fire also does great work on duck l'orange with pickled ginger, and a potato gratin layered with wood-roasted duck fat and caramelised nuoc mam. Like Anchovy and Sunda before it, Firebird is pushing Southeast Asian into fresh, relatively unexplored territory. We're more than here for it.
Komeyui

Is it really fair to put a nine-year-old restaurant on a "best openings of 2020" list? It's our list, so we're going with "yes". Komeyui moved from Port Melbourne to South Melbourne in March, gaining a moody, understated new fit-out but keeping the exquisite sushi and sashimi that kept its original home busy for nearly a decade. Got a special occasion coming up? Book a seat at the exclusive 12-seat sushi counter, reserved for those partaking in the 10-course omakase (chef's tasting menu). You could go for the eight-course dining room version instead, but then you'd miss out on the knife work of owner Motomu Kumano, who works with toro (tuna belly) imported from Japan, and locally caught Hiramasa kingfish, King George whiting, calamari and garfish.
Oh Loretta

Once Melbourne develops a taste for something, our appetite can be endless. Just look at the proliferation of cafes, all doing roughly the same thing but individually cherished by their local communities. Wine bars that double as restaurants are on the same road to ubiquity, with every neighbourhood seemingly waiting for its very own Oh Loretta – a place that's warm, intimate and happy to cater for a single glass of wine right through to a full dinner. Veg-heavy, frequently-changing menus and wine lists brimming with exciting young talent are the standard at such establishments, and Oh Loretta is no exception. Now watch it become essential to the fabric of Northcote.
Spensley's

In the next suburb south, Spensley's, another classically minded wine bar-restaurant, is feeding a separate but equally receptive crowd of locals. First chef Zane Heemi has moved on (which was always the plan) and recently been replaced by Jake McWilliams, former head chef at Pope Joan. He's reinvigorated the program of clever, Euro-leaning food, while co-owner Willow Humphreys continues to stroll the gorgeous, timber-heavy room, dispensing good vibes and interesting new wines.
Poodle Bar & Bistro

Another suburb over, first-time owners Zoë Rubino and Emilio Scalzo are shooting for something more ambitious in competitive Fitzroy (after running the Rocco's Discoteca Bologna pop-up during lockdown). Their head chef, Josh Fry, spent seven years working for Andrew McConnell at Cumulus Inc and Marion, which is less than 100 metres from Poodle. As at Gimlet, there's a touch of old world glamour to the décor (marble, chequered floors, quirky framed prints) and the menu, which has a particular focus on seafood. Head to the bar for tinned European delicacies such as anchovies and garfish on Sardinian flatbread; or sit in the bistro for retro hits such as spanner crab vol-au-vents, surf 'n' turf and cold seafood platters.
Zsa's

Tinned seafood is also a big deal at this Northcote deli, bistro, grocer and wine shop, which is close to Oh Loretta but fills a slightly different niche. Like Smith Street and Brunswick Street Alimentari before it, Zsa's aims to meet all your daytime needs, from almond croissants (from nearby Northcote Bakeshop) and coffee to lunchtime porchetta rolls and a hefty muffuletta focaccia that's sold in, three-, six- and nine-inch lengths. Fresh gnocchi, cavatelli and fettucine are made daily, ready to be spirited home and dressed with a selection of cheeses, free-range eggs, artisan salumi and more, also from Zsa's. Ready-made meals are also on hand. Pick up close to closing time (6pm) and you can even squeeze in a glass of wine and a snack.
1800 Lasagne

This is the lockdown success story of 2020. Man spends five years delivering lasagne in his '91 Holden Barina. Pandemic envelops country; lasagne becomes national crisis dish. Man turns said side-hustle into a bar and restaurant in Thornbury, but keeps the delightfully one-track focus. Even outside of the context of this year, the idea of a place that's confident enough to serve nothing but great lasagne and sides, plus spritzes and tap wines, is something we can get behind.
Frankie's Tortas and Tacos

It's not really a restaurant, per se, but this immobile taco and torta (sandwich) truck, parked in Collingwood, is a fun and fairly unique proposition in a city where tacos are less often seen in their natural environment: the street. Step up for al pastor (pork) carved straight from the spit, or breaded beef milanesa or asada mushroom grilled to order. The alcohol selection is surprisingly good (it includes canned pét-nat, of all things), but we can never go past a frosty horchata, the perfect balm when you go too hard on hot sauce.
Honourable mentions

Remember Crofter, the Brunswick East restaurant that chef Matt Wilkinson ran for just over a month before George Calombaris's Made Establishment collapsed and put it to rest? It had great potential, and we wish it had stuck around. More positively, we were thrilled when Scott Pickett stepped in to rescue Longrain two months after the restaurant announced its permanent closure. It'll be exciting to see where he takes the 15-year-old Thai institution.
Audience picks

This year's most-read opening stories were about Thai Town, a CBD homage to Thailand's vibrant night markets; Dohtonbori, a 30-year-old Japanese specialising in okonomiyaki; and Pho Thin, a 40-year-old brand that brought some of Vietnam's finest pho to the city.