The company has now filed a Supreme Court writ, citing Yarra Trams and Public Transport Development Authority, part of Public Transport Victoria, as defendants.
The Restaurant is seeking an order that Yarra Trams, or alternatively PTV, perform its obligation under an agreement to provide Colonial Tramcar with three trams in order to run its business.
It claims ''Yarra Trams has breached its duty of co-operation and/or its duty of good faith contrary to the terms of the Current Tramcar Agreement''.
Colonial Tramcar says negotiations for the sale of the business fell through, due to "Yarra Trams' conduct in decommissioning the trams and its refusal to perform its obligation".
It says the the sale was worth more than $10 million but that "further particulars of Colonial Tramcar's loss and damage will be provided prior to trial".
Colonial Tramcar also claims it is not liable to pay Yarra Trams a disputed amount of more than $243,000, which Yarra Trams claimed for maintenance costs and wages between September 14, 2018 and November 23, 2018.
Colonial Tramcar says it paid the amount "under protest and upon and express reservation of its right to recover that amount from Yarra Trams".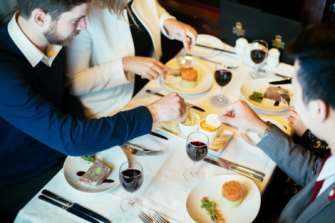 Both the Department of Transport and Yarra Trams declined to comment on a matter before the courts.
According to Yarra Trams, the Colonial Tramcar Restaurant was responsible for upgrades, and for other capital investments in relation to the restaurant trams.
Yarra Trams had been in discussions with the Colonial Tramcar Restaurant operators since 2016 regarding the need to upgrade the trams.
In late 2018 the state government had offered to provide a W-Class tram upgraded to meet modern safety standards, for restaurant fit-out that would have enabled the business to keep running while the company arranged for the other two trams to be upgraded.
But the Colonial Tramcar Restaurant had not acted on that offer.
Yarra Trams has said the Colonial Tramcar Restaurant was also given the option of operating as a stationary eatery on siding tracks at Southbank.
Colonial Tramcar Restaurant CEO Paul O'Brien did not respond to requests for comment.
Carolyn Webb is a reporter for The Age.