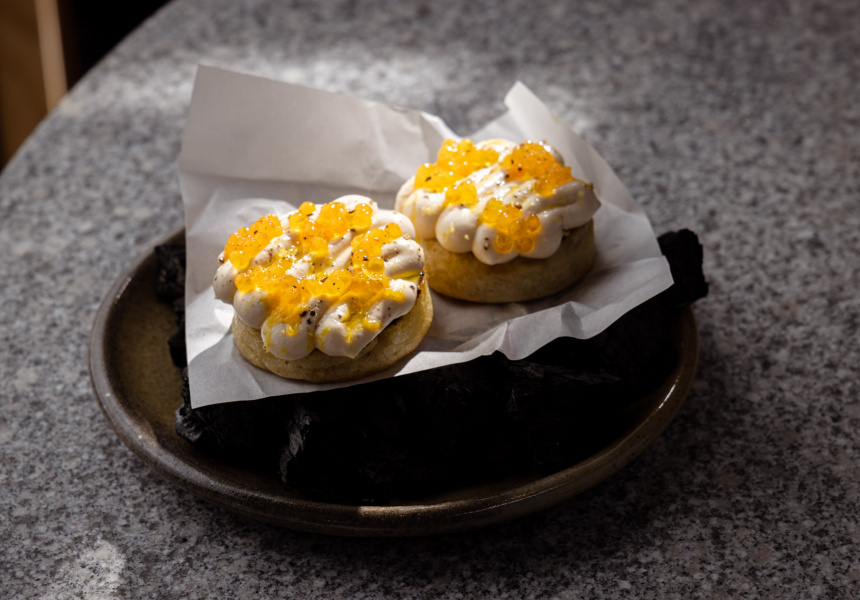 As the former head chef at Burnt Ends – Singapore's Michelin-starred and World's 50 Best-ranked modern Australian barbeque restaurant – Jake Kellie's a devoted pupil of the school of open-flame cooking. So it's little wonder fire is the star at Arkhé (pronounced Ar-kay), his hotly anticipated new restaurant coming to the former Stone's Throw site on The Parade.
"'Arkhé', in ancient Greek, means the principal core element, so basically it's the beginning of fire," Kellie told Broadsheet earlier this year. "Fire was how people started to cook. Nothing beats the taste of something cooked over fire and everything is going to be touched by the fire in some way, even if it's just a touch of smoke or a little kiss of char."
When Broadsheet visits again a week out from its opening on November 24, it's all systems go. There's feverish energy in the air as Kellie and his crew familiarise themselves with their newly minted surrounds. That includes a kitchen powered entirely by wood (there's no gas or electricity used in the cooking process). Much of the action will revolve around the two-and-a-half-tonne Forno Alfresco oven. It has a dual cavity: one side a furnace – which can get up to 1100 degrees Celsius and is fuelled with ironbark that'll produce coals for four elevation grills, an open hearth, a cauldron-like deep fryer and a smoke box – and the other side a holding oven that'll sit at 160-170 degrees for slow roasting.
It's a dream kitchen for Kellie, a NSW Central Coast native who made his mark in Victorian restaurants such as Estelle in Northcote and The Lakeside Mill in Pakenham before moving to Singapore in 2017. A year later he came runner-up in the 2018 S.Pellegrino Young Chef competition in Milan. After relocating to Adelaide last year, he spent time cooking at pop-ups before joining forces with The Palmer Hospitality Group (2KW, Paloma, Fishbank) to set up a permanent home.
But the seeds for Arkhé were sown back in 2019, when Kellie orchestrated a pop-up dining experience at Burnt Ends called the Valē. "When I first walked through this space with Marty [Palmer] for the first time, and saw the kitchen and the dining room, I knew I could turn it into what I wanted it to be," he says. "The timber benches, the way it's structured, the cooking line – that's what The Valē was always meant to be. So it's full-on, finally seeing my dream kitchen come to life." (The cutlery and plateware he had custom-made for those pop-up events have been flown in from Singapore, and will be used at Arkhé's eight-person chef's table for bespoke tasting menus.)
Considering the Burnt Ends connection, meat cooked over fire is naturally a focal point, but the menu goes far beyond that. When Arkhé opens next week, Kellie and his team of young-gun chefs – including sous chefs Maria Delengas (ex- Shobosho, Bloom), Zac Goddard (formerly at London's Michelin-starred Leroy) and Luke Brown (ex-Coriole) – will be plating up a menu of delicate snacks and comforting cooking that pays equal respect to seafood and vegetables as it does to red meat and poultry.
You might start with Kellie's signature grilled ocean jacket cheeks with wafer-thin strips of house-made lardo on toast. Or a potato crumpet crowned with taramasalata and Yarra Valley Brook trout roe. As more and more fine diners are wont to do, the food playfully walks the line between low and high-brow cooking: there's also besan tacos topped with smoky eggplant and pickled Welsh white onion and a smoked-pork empanada served with achiote crema. Replacing the usual bread course is a wood-fired sourdough with baked Section 28 taleggio, roasted onions and sour cream. "I love sourdoughs and stuff but … I'd rather make it a bit more fun, a bit more more-ish," says Kellie.
After snacks come the starters, which might take the form of pint-sized pioppino mushrooms, barbequed, and served with purple asparagus on cow's milk curd, in a smoked onion broth. Or roast chicken with grilled mustard paste and salted plum; grilled lamb ribs with soy glaze and fried saltbush; or Goolwa pipis with Indian spices and brown butter in a smoked chicken broth.
As for mains, there's salt-baked hispi cabbage with ajo blanco and fried almonds and whole roasted John Dory with a fennel and seaweed salad. If you want to push the boat out, there's Southern Rock lobster served with citrus butter sauce and yuzu kosho or the showstopping dry-aged Mayura Station cube roll with beef garum and house mustard.
Even the desserts have been touched by fire in some way: there's smoked ice cream with pineapple and sabayon (or, zabaglione), grilled-strawberry sorbet served with cultured cream and house kombucha and Goddard's brown butter tart drizzled with smoked honey.
Despite the care and thought that's gone into every inch of the menu (and the top-grade kitchen), Kellie downplays it. "I just grill shit, aye," he says. "It's simple cooking techniques, cooking over fire. It's not supposed to be complicated … We just want to have fun and make it interesting for diners but, most importantly, make it tasty."
Arkhé will open on Wednesday November 24. Bookings are open now.