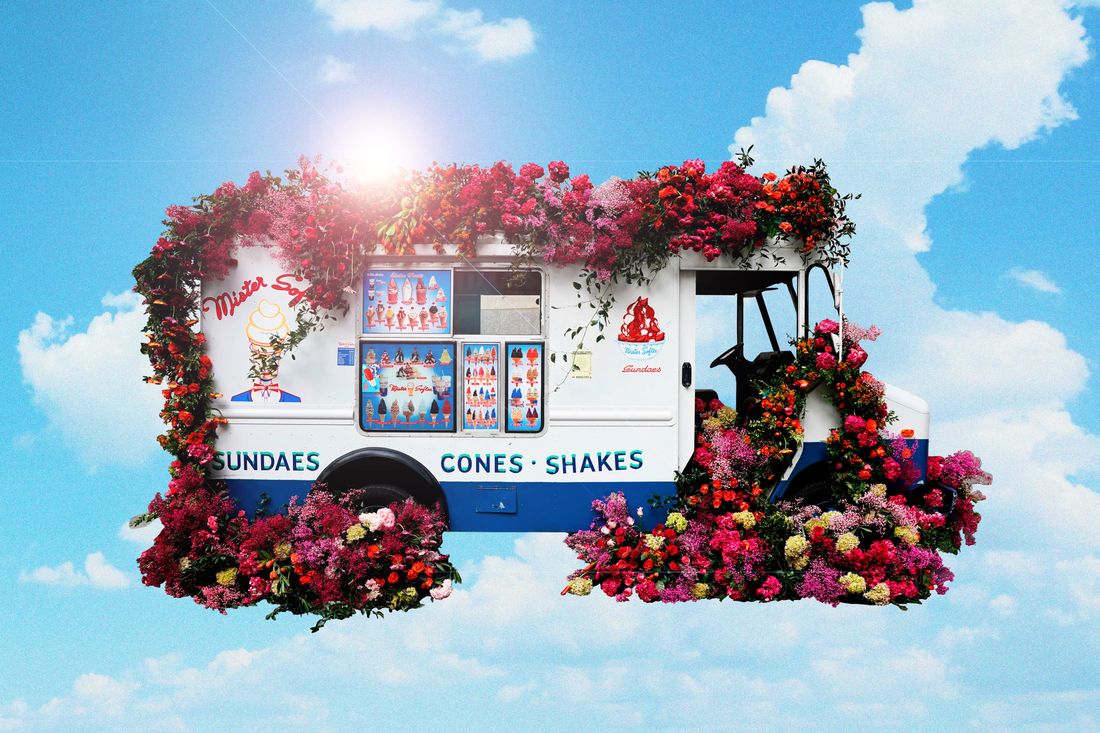 The trucks are out. Spring is here.
Photo-Illustration: Grub Street; Photos: Getty Images
Yesterday, as I worked with my window open for the first time this year, I heard the familiar chimes in the distance. By June or July, the incessant deedle-ee will make me want to pop my eardrums, but now, in March, it is a welcome song indeed, a sign of warmer days and undeniable proof that summer is almost here. You can keep your weather reports, farmers' almanacs, and season-predicting groundhogs to yourselves. The truest sign that spring is upon us is the return of Mister Softee's songs — and its trucks.
I emailed the company to check in and was relieved when vice president Mike Conway wrote back to assure me that, yes, a few trucks are out there: "We should have the full fleet out by the end of the month, especially with the nice weather we are having this week."
It has never been easier to get "good ice cream" in New York. Between the likes of Van Leeuwen and Morgenstern's, Blue Marble and Big Gay Ice Cream, Oddfellows and the Original Chinatown Ice Cream Factory, it seems like you're never more than a few blocks away from a finely churned scoop these days. They are open year-round and (although I'm sure everyone has their favorites) universally all quite fine, if you don't mind paying luxury prices for artisanal-leaning flavors. For better or worse they will let anyone sample as many flavors as they'd like before committing to an order. The cheerful staff members at these bright shops will happily tell you all you want to know about the vanilla that they use or how they make such fresh-tasting pints of strawberry even in the dead of winter.
Mister Softee is good in another way, one where you probably don't want to know how it's made. There are no quaint stories about a real Mister Softee, toiling away in his ice cream atelier until he landed on the perfect ratio of salt-to-caramel. The original Mister Softee, if you want to know, was founded in Philadelphia in the 1950s, but it has transcended these origin stories to become synonymous with summertime in the five boroughs. Like Kleenex and Post-it, Mister Softee is a brand name that serves to describe an entire genre. Even if a truck is "not" a real Mister Softee, it is a Mister Softee truck.
The hallmarks of a proper Mister Softee truck are well known to everyone. You can get a shake or a sundae — or you can go wild and try out an off-menu hack. There are cherry dips and chocolate dips and prepackaged industrial ice cream pops that tend to appeal mostly to kids, since adults are wise enough to know that the soft serve is some sort of engineering miracle that demands your attention. (Traditionally, this is not an expensive treat, either, although a report back from Park Slope this week indicates that at least one park-side truck was charging upwards of $8 for a simple cone with toppings, rivaling the prices at the artisanal shops nearby. I still think it's worth the cost.)
With trucks all across the country, the Mister Softee experience is not just a New York thing. But the way the city operates, with people walking everywhere, happening upon a truck at exactly the right moment — a warm afternoon, maybe, or an early evening just as the sun is setting — is a fundamental perk of urban living. These are not merely ice cream trucks; they are roving institutions.
My tradition is that I start the year off by ordering a strawberry shake; the rest of the spring and summer is spent consuming a steady diet of vanilla with rainbow sprinkles. But yesterday, when I thought I heard the familiar jingle in the distance, I entertained the idea of bucking tradition and changing things up. It has been a long winter. Maybe I'd go nuts and get one of those double cones with a full swirl of vanilla on one side and a complementary swirl of chocolate on the other.
But when I stepped outside, I didn't see or hear any trucks at all. I pulled up the Mister Softee app on my phone, which tells me when there's a truck nearby. I live in Brooklyn, but according to the real-time map, the nearest Softee was in the Bronx. Had my ears deceived me? In that moment, there was no way to be certain, but the first cone of the year would have to wait regardless. I was probably getting ahead of myself. It's possible that I'd heard the tune of an imposter truck, but I doubt it. I want so badly for this season to be over that I quite literally fantasized about hearing the world's most annoying song, and in that moment I was happy and hopeful and couldn't wait to race outside.