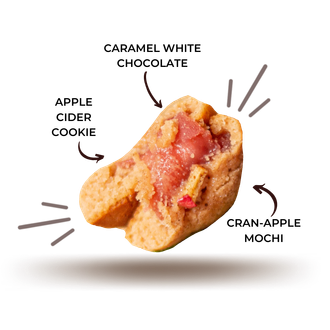 Something new has arrived at the Union Square Holiday Market this year: mochi cookies. Known as "mooks," they're soft and crumbly shortbread cookies filled with chewy mochi centers. At the market, they arrive care of Rivy-Major Oponda and Kert Lasdoce, also known as the Boiis, a Filipino-run company that specializes in mochi-based desserts.
Located along the outer ring of the market's maze-like structure, the duo sell their $5 mooks alongside $16 basque ube mochi cheesecakes; an eight-piece serving of torched mochi glazed with homemade sugar syrup for $7; and thick, $6 Hawaiian-style butter-mochi squares that are baked like brownies before being sprinkled with coconut shavings and powdered sugar. And on weekends, a seasonal special: apple-cider cookies with a cran-apple mochi center.
The Boiis got its start in 2019 after Lasdoce returned from traveling around Asia, particularly through Japan, where he sampled different kinds of mochi and wagashi, traditional Japanese confections often served with green tea. "We've always loved Japanese culture and always respected it," says Oponda, taking a break from the Boiis' booth, dressed in a black apron flecked with wayward drops of hot chocolate. She notes that she and Lasdoce both worked in Japanese restaurants for years prior to the Boiis: "We decided to fuse ourselves as Filipinos with the Japanese mochi to make something unique, something that is ours."
An excellent mochi pull. Photo: Rivy-Major
They began by selling fried tofu mochi bites — think Dunkin' Donuts Munchkins — before their mooks became a social-media hit in 2021, after users inundated TikTok and Instagram by filming themselves trying to get the best "mochi pull," splitting the cookies down the center and gently spreading the two halves apart to watch the gelatinous mochi center stretch. (Orders skyrocketed, and the company added nationwide shipping.)
To date, the company has sold over 50 mook flavors, but the two most popular — and the two that are featured most prominently at the holiday market — are an ube cookie with ube mochi and a matcha cookie with ube mochi. Now the duo have been working to sell out their Union Square stall seven days a week. Oponda and Lasdoce wake up every day around 7 a.m. to prepare and bake products at their commissary kitchen in Long Island City. They arrive at Union Square at 10:30 a.m. to set up for the day. They usually sell out by 6 p.m. (two hours before the market closes) and start deep-cleaning their booth before heading back to the kitchen to clean and occasionally bake more products. They both arrive home past midnight.
Mooks are their most labor-intensive product. The whole process can take anywhere from 24 hours to three days to complete, and everything is weighed and shaped by hand. First, they make the shortbread dough and flavor it while the mochi steams up. Then, the cookie is assembled much like a dumpling. The dough is rolled into a ball and flattened and a sphere of mochi is placed in the center. The dough is folded around it and rolled back into a ball. The cookies are frozen to retain their shape and then baked. Oponda and Lasdoce make hundreds of cookies each day — they'll be slinging their mochi treats at the Union Square Holiday Market through December 24, after which time they might even take a well-deserved break.