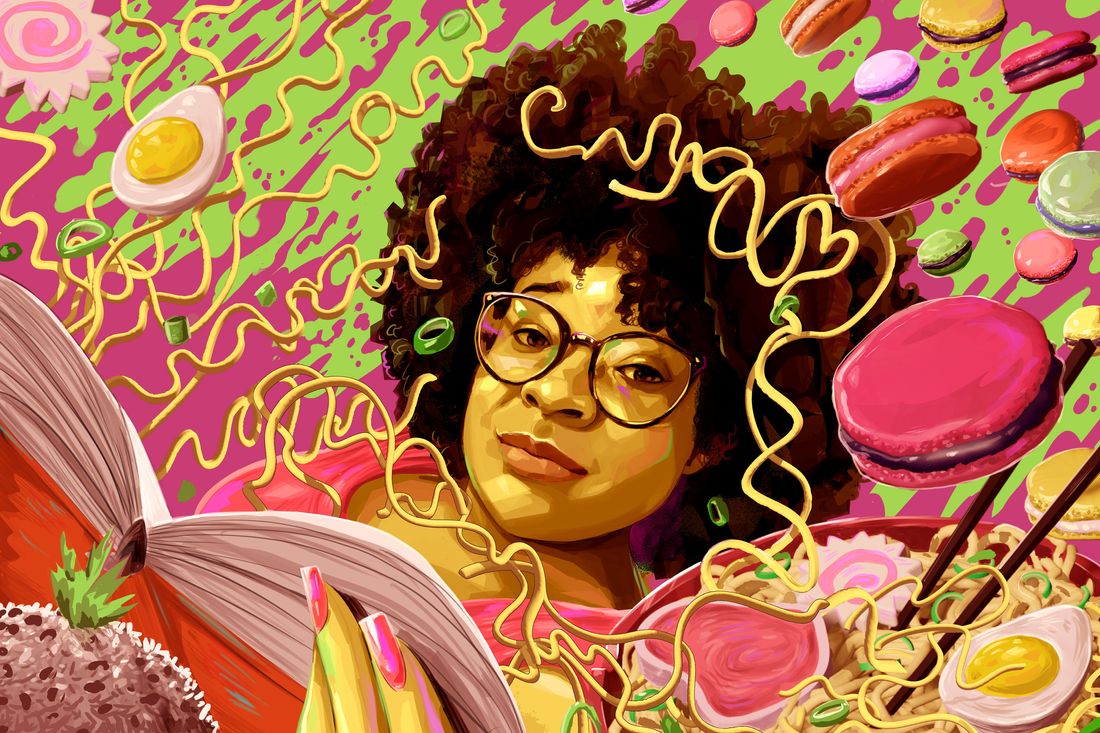 The author Morgan Jerkins, who's had a lifetime love affair with ramen.
Illustration: Ryan Inzana
It's been a season of change for Morgan Jerkins, the bestselling author of books such as Caul Baby and This Will Be My Undoing. "I don't know if you're into astrology," she says, "but I am going through my Saturn Return. They say big things are going to occur in one's life, and they sure as hell did." In June, she moved back to New York from L.A., and earlier this month, Jerkins launched her newsletter, Lorain, writing that she was reluctant to join Substack before realizing what had been holding back: "Fear. Nothing but good ol' fashioned fear, and I'm tired of having fear maintain a tight grip on my life."
Sunday, August 14
I cannot stand that I wake up before 6 a.m. on the weekends, but my body is going to do what it wants to do. Like most mornings, I woke up and walked to my living room, where I lit my rose-scented candle, smudged the area, then prayed to God and talked to my ancestors. I intended to have a Core Power strawberry-flavored shake because it's tasty and packed with 26 grams of protein. But as I was doing my morning ritual, my stomach was growling so loudly that it was comical. So I decided to order hash browns and scrambled eggs from YOLKO Breakfast Café. I've been obsessed with hash browns since I was a kid, and my mom would go through the McDonald's drive-through before Sunday morning church service.
I was severely undercut. The café only gave me one hash brown. I wished I had three more.
Afterwards, I watered my plants. I have a philodendron named Ella, a money tree named Zora, an aloe-vera plant named Eartha, and a snake plant named Josephine — all named after famous Black, artistic women. Ella's leaves are drooping, so I spend a few minutes Googling what I could be doing wrong. I'm a first-time plant mama.
Then I binge-watched a bunch of TV before settling on a very simple lunch: a sandwich. Mike's Killer Bread with avocado-oil mayonnaise, Muenster cheese, and some deli meat.
Later on in the afternoon, I went to the supermarket. I had to stock up on some snacks because I had some edibles on the way. Who wants to walk around the corner when you're really stoned? In the past, when I'd get the munchies, I'd gorge on oxtail and rice and peas and salted-caramel Talenti ice cream. But I'm trying to be better with my choices, so I got Smart Popcorn and fruit to satisfy both my sweet tooth and salty tooth.
For dinner, I made chickpeas with coconut milk, tomato sauce, and turmeric. Turmeric has been a game changer for me over the past few years. It feels like you're giving your digestive system a warm hug. I put this concoction over some brown rice.
Later on in the evening, once the edible hit, I had a vanilla yogurt. It was delicious. Then I had popcorn with Trilogy kombucha. My favorite nighttime-snack combo. It was a time to sit on the couch, listen to some music because it just sounds better — something about it, the bass is illuminated — and saying, That's enough thinking for today.
Monday, August 15
I woke up after 6 and considered that a win. I bet you the edible had something to do with it. For breakfast, I had Kellogg's Corn Flakes. Sometimes I feel bad that I don't do more for the first meal of the day. When I was a kid and I was stressing out about college applications, my mom would make heart-shaped pancakes or strawberry smoothies for months on end. But I am an early riser and I go hard before noon. I just want to grab something and go.
I'm working on this screenplay right now and I wrote as I listened to sacral chakra music, since it's said that it's the chakra connected to creativity and sensuality, and I've been a bit … blocked. A week before my 30th birthday, I ended a terrible relationship, fled Los Angeles, and got a new apartment back in my beloved Harlem. The lease began right on my birthday, if you can believe it. I've been trying to find a way back to myself ever since, and a part of that is getting my mojo back. As I wrote, I snacked on some strawberries and thought of my mom.
I had another snack — broccoli, drizzled with olive oil — and then lunch, which was yet another sandwich because it was quick and easy.
For dinner, I ordered from one of my favorite restaurants: Pio Pio. A while ago, pre-pandemic, I went on a date there and though I knew before the night was over that we were too different, I always felt grateful that he introduced me to Juanita's rotisserie chicken. I ordered the half Juanita chicken (dark meat only) with a Peruvian caramel flan.
Tuesday, August 16
I worked out and immediately followed it up with another Core Power strawberry shake. This was a day where I put out another installment of my Lorain newsletter. I started it in early August and it was a big leap of faith. The piece got a ton of buzz on social media, and I was relieved. More fruit for a snack.
I had another sandwich and some popcorn. There really is nothing like a good sandwich during the summer when you don't feel like being in front of a stove midday. I know I could always meal-prep, but meal-prepping brings up bad memories right now. When I lived with my then-boyfriend in Los Angeles, I meal-prepped a lot. It was an act of love, but it was also a lot to shoulder. I used to spend at least three to five hours every Sunday prepping, cooking, and cleaning up. I'm not even counting the time it took to decide which meals to make or the grocery planning. I had a whole scientific process. I bought cookbooks, I watched YouTube videos, I took notes while watching said videos. I thought I loved it, but oftentimes, one's investment in a relationship, especially as a straight woman, can be found in the domestic realm. How equitable is it? How nourishing is it? How safe is it? Let's just say I never want that same mode of being again. It's a lot to contend with as I unpack my relationship to food, my body image, self-love, romantic love. It's all connected.
To be honest, my relationship with food is going through an ebb and flow as I return to myself, my wants, and my needs. So much of the season I'm in is making things simpler and being easier on myself as I go through this transition. The sandwich is the simplest thing for lunch. It gets the job done, it feels almost childlike, and maybe that's what I need: an acknowledgment of my inner child in the midst of all my rebuilding.
I took a nap, but I had the most distressing dream, and I was upset that all the good feeling I accumulated in the morning had been knocked off-kilter. I decided to get out of my apartment and take myself out to dinner.
I went to Omen Azen in Soho and ordered udon noodles in dashi broth. The service was fast and the servers were very friendly. The noodles were light, so I ordered some vegetable and shrimp tempura as I drank a glass of plum wine on the rocks. I really need to get some Umenoyado in my own home.
Wednesday, August 17
I went down to Chelsea to do a HIIT class before traveling back uptown to shower and have another protein shake.
I didn't want another sandwich for lunch. I ordered from Presto Café: a shrimp bowl with yellow rice, beans, diced tomatoes, and onion. For a drink, I got a mango, pineapple, and banana smoothie with almond milk. I think I found another favorite spot to order from.
For dinner, I met up with a friend and former roommate in the West Village. Whenever I'm trying to link with someone from Brooklyn, I suggest this neighborhood.
We went to Sevilla, where I ordered arroz con pollo, but there was too much rice and not enough pollo. I ate as much of the chicken and sausage that I could before I became rice'd out.
Afterwards, we walked around a bit because it was lively, and the weather was perfect after the heat wave had broken. We wound up going to Cones, where I got a small cup of peanut butter caramel ice cream.
Thursday, August 18
I think you can guess my breakfast by now. What can I say? I like my routine, even if it is a lazy one.
For lunch, I ordered from Presto again, but this time, I got a grilled chicken sandwich with some avocado in it, as well as another smoothie with almond milk. I sized up and ordered a large.
And I decided that for dinner, I was going to order some ramen. The only thing my mom ate when she was pregnant with me was ramen, because that's all she could afford, so I think that's why I've always been obsessed with ramen.
So dinner was a steaming bowl of the Zurutto Deluxe: chicken broth, black garlic oil, chashu pork, seasoned boiled eggs, scallion, onion, bamboo shoot.
Before I ate, I wrestled with whether I should call another friend. I'd really hoped to have a hot girl summer in New York, but instead, it's been a lot of therapy — growing, cleansing, healing. I alway worry I might be a burden to my friends, but I decided to lay my defenses down and call a friend whom I consider a brother pretty much at this point.
He told me over FaceTime that I'm never alone no matter what, and I teared up over my bowl of ramen. We talked for over three hours. And I remembered, now with a happy belly full of noodles, that eventually, I'm going to be just fine.