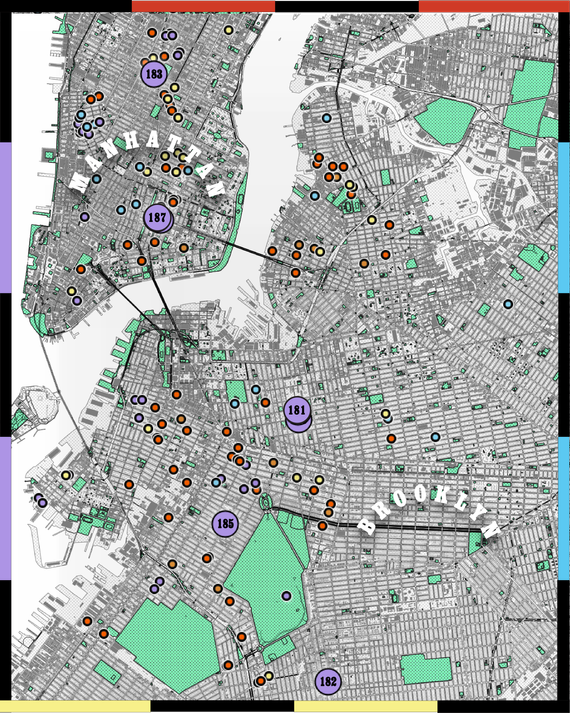 A running list of everwhere I've been, week 18: 180. Izzy Rose 181. Guevara's 182. Los Tres Chiflados 183. Thyme Bar 184. Taikun 185. Sushi Katsuei 186. Douska 187. Petee's Pie Company 188. Sushi on Me 189. Zaab Zaab
The last meal I ate before officially becoming diner-at-large was a three-hour Edomae sushi service at a luxury sushi bar that, at the time, was just about to open. Approximately 30 courses appeared throughout the meal (grilled eel, several preparations of uni, Hokkaido scallops that were shucked right in front of me), and even if I don't remember everything I ate, I remember liking it. That night was the definition of a gastronomic event, the finest expression of fine dining. It also would have cost well above $1,000 for two people, which is an absurd price to pay for any dinner.
Even if you have the money to spend — I didn't; the meal was a free pre-opening preview for food writers — you really have to be in the mood for a multi-hour meal. In every sense of the phrase, it can be a lot.
So I've been seeking out simpler, more egalitarian sushi options, although in New York, the types of places that get talked about are either the outrageously priced rooms with super-exclusive seating or affordable neighborhood spots that can certainly be good on their own terms, but which tend to favor the same familiar dishes and preparations.
We don't suffer from a dearth of sushi; it's just that much of it can lack an identity beyond "spicy" or "crunchy," which is fine most of the time, but tends to be more about what goes on the roll than the quality or variety of the fish itself.
However, the spots where I've been gravitating lately fall somewhere in between: mid-priced places that may not be as plentiful, and are certainly not "cheap," but which nevertheless offer what I've begun to see as a compelling value. These omakase meals are mostly a nigiri line-up, although they can also include sashimi and a hand roll or two. They deliver a similar quality and variety of fish as restaurants at the higher end, albeit in a more casual environment, with a less intensive menu at a fixed price point under $100. They usually keep costs down by operating in bare-bones spaces, or offering fixed seatings that help manage customer flow more efficiently.
For $55, you can, for example, head to Sushi Katsuei and find a perfectly serviceable meal, although I found the chef-chosen selections of three pieces of nigiri at a time to be a bit unengaging. I preferred my $62 meal at Sushi W on the Upper West Side, which I first learned about on TikTok, and where the crowd was a mix of Gen Z couples who were carefree enough to let their sushi linger after the chef put it down, as well as neighborhood boomers eating sea urchin for the first time. My highlight was when the chef scooped some ikura directly into a piece of seaweed in my hand, so I didn't have that much to complain about.
I felt the same eating the $68 omakase at Matsunori in the Lower East Side, a BYOB counter where you book a seat for an hour-ish reservation. Our 8:15 seating was completely sold out, which is common, and explains why these small counters are able to afford such high-quality fish, though I had some initial doubts after my first dish, a confusing appetizer of hamachi sprinkled with actual Frosted Flakes. The next hour or so consisted of an evenly paced succession of delicately garnished lumps of nigiri, one with pickled mustard seeds, another simply with flaky salt or sesame seeds to bring out the fish. Wagyu was sliced and warmed by blowtorch, atomizing smoky fat into the air. Fire always leaves a good impression.
Even further down that path was Sushi on Me, a hot-seat party joint in Jackson Heights where you might see, as I did, the two strangers seated next to you disappear into the bathroom together after 50 minutes of all-you-can-drink sake service. I loved the party gimmick because the staff brought the energy to match, and I had a great time — even if the sushi was not the most skillfully made and a little redundant on the chili crisp. For $89 (cash only!), I would go back in an instant if someone asked me.
That brings me to my favorite mid-priced omakase spot, Taikun, also on the Lower East Side. Before I went, I did not realize it was a speakeasy of sorts, until I was standing outside of the purported location, 79 Delancey, unable to open the locked doors, wondering if I had been duped. Finally I asked a hostess at the Grey Lady, an oyster bar next door, who gave me a complimentary tequila soda while I waited for the previous omakase service to wrap up inside the hidden space.
I got the full story when I sat down at the counter next to two couples who, like me, had also booked their reservations just a couple hours earlier. The chef and bar manager who run Taikun don't pay rent on the space, which on weekends reverts back to its original purpose: as a storage closet for one of the Grey Lady's bars. Because of this arrangement, not only can you get a compelling 13-course omakase set for a very reasonable $85, but Chef Feri also gets his Friday and Saturday nights off. It feels like a good deal for everyone involved.
Chef Feri's omakase favors a flavor that he calls "New York style" sushi, which he explained to me is "soft, easy to eat, not fishy." (Think: sea bream with olive oil, kinmedai with flaky salt.) His goal, he told me, is to make everyone happy. "New Yorkers don't like fishy fish but I do have it for guests that like it," he said. "Clam, octopus, squid — you give it to New Yorkers, they'll never come back. You give it to Asians, they come back."
To satisfy everyone's tastes, Feri offers an a la carte option for anyone who wants it, which I very much did. While I could appreciate the freshness of the Hokkaido uni that Feri offers, I enjoyed my "fishy" supplement of hay-smoked mackerel, Japanese sardine, and eel even more.