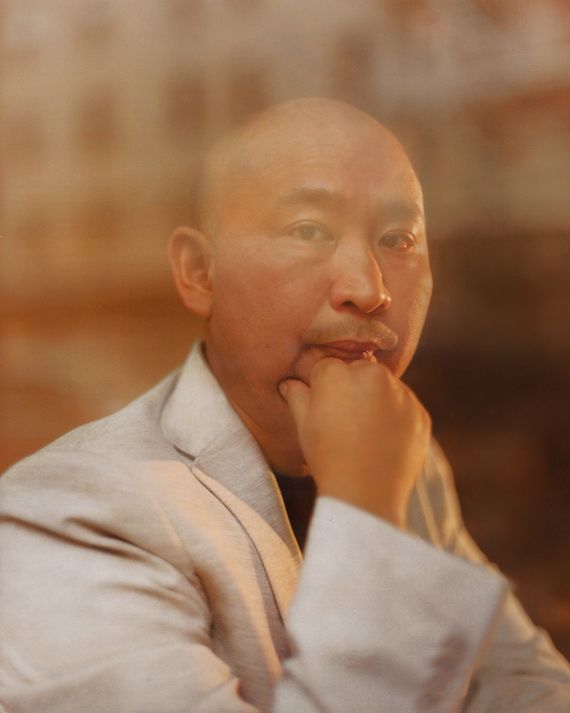 Chef Daisuke Nakazawa has opened a new sake bar in Nolita.
Photo: Tonje Thilesen
It is an overcast Wednesday afternoon, and chef Daisuke Nakazawa is sitting in an outfield seat at Yankee Stadium watching the team of his adopted hometown take on the visiting Toronto Blue Jays. The crowd is a mix of families, old-timers, and die-hard fans, plus at least a few Canadians — if the maple-leaf flag draped across several seats is any indication. Initially, Nakazawa declines my offer to buy him a beer, but by the second inning, he has changed his mind. "King of beers," he says, his famous smile stretching across his face as he pops open a bright-red tallboy of Bud.
At his restaurant, Sushi Nakazawa, the chef has developed a reputation among customers for his sense of humor, and he's prone to fits of laughter during the game. When some dancing fans appear on the jumbotron, he confesses he wouldn't want to be on the screen himself but loves the manic moves of a fan dressed in a red "Cuba" shirt. "Again!" Nakazawa says when the camera goes back to the same fan, and he lets out a bellyful of laughter.
Nakazawa is a big baseball fan, and he loves the Yankees. "I've never liked the Mets," he says. Part of it is simple geography: Fort Lee, where the chef lives with his wife and kids, is just across the river from the Bronx. He likes that the Yankees come into this game with the best record in baseball, though they get off to a slow start on this day. The Blue Jays score in the first while the Yankees' lineup doesn't do much until the fourth, when Gleyber Torres smacks a three-run dinger that just barely clears the right-field fence, landing in the first row. Nakazawa throws up his arms in celebration. We agree that even though deep bombs are impressive, he prefers the home runs that barely clear the wall — the moment of uncertainty making it all the more exciting.
Nakazawa's time in New York has been filled with its own kind of uncertainty. You know the story: A Bronx restaurateur named Alessandro Borgognone first saw Nakazawa in Jiro Dreams of Sushi. He tracked down the apprentice, who was working in Seattle at the time, because he saw his potential — or at least a solid marketing opportunity. They talked over Facebook, using Google translate. They opened a restaurant. This was in 2013, and Nakazawa says he remembers little from those early months, as they brought a level of pressure he wasn't prepared to handle. "It took a whole year to match my skills to people's expectations," he says. "Because I never managed (I only apprenticed), I didn't have space to be kind to people. I was trying to catch up everyday."
At the same time, Nakazawa was trying to learn English. "At the time, I cannot speak English, and it's so difficult to communicate," he says. "Sometimes they don't understand what I want."
Still, he understood what his customers wanted: Sushi Nakazawa. Just months after opening, the omakase counter received a four-star review from the New York Times, instantly transforming it into a trophy destination for anyone who loved Jiro or fine dining. One friend recalled going with someone who was so determined to eat there, despite a shellfish allergy, that she arrived at the restaurant with her EpiPen — ready to self-administer.
Nakazawa didn't invent the idea of super-luxury sushi in New York, but his restaurant's success paved the way for dozens of similar spots — each seemingly more expensive than the last. Sushi became the de facto status meal for people who could afford to spend $1,000 on dinner, and Sushi Nakazawa showed up in an episode of Billions and expanded into a second location in 2016 — inside Donald Trump's D.C. hotel. That move inspired Esquire to call Borgognone "the most hated restaurateur in America." (The afternoon of the Yankees game, it's announced that Trump had completed a sale of the hotel.)
Whatever reputational damage the D.C. location suffered, the original restaurant remained popular, expanding for lunch and weathering the pandemic. A long-rumored Beverly Hills expansion is happening too. "When I opened Nakazawa, my partner, Alessandro — he did everything," the chef explains. "It's time for me to do the next thing, because I caught up to what people were expecting of me."
Nakazawa has decided to throw everyone a curve ball and open a restaurant without sushi. Earlier this month, he and his co-owner Hitoshi Fujita opened Saito, a sake bar in Nolita. (Daniel Tun Win is the head chef.) A stone's throw from the persistently busy Thai Diner, the restaurant's design is warmer than Sushi Nakazawa's, though it's not informal. Wooden tables for two are flanked by white chairs on one side and a slate-gray banquette on the other. Sake bottles are displayed above on shelves. Some of the food, like a tuna tartare topped with a heap of caviar, are served on maximalist plates.
Although there is tuna aplenty and a tasting of uni for good measure, as well as a $40 plate of sashimi to share, Nakazawa won't be behind a counter forming rice and fresh seafood into Edomae sushi. Instead, his cooks are deep-frying pressed sushi rice, on which they're serving spicy tuna or snow crab. There are also Japanese-style ajillo made with olive oil and dashi, deep-fried crispy rice with spicy tuna, and bowls of mazemen or wagyu don. And a lot of sake — something Nakazawa says he only recently started to enjoy.
When I ask why he's doing this now, without Borgognone, when he could likely keep opening Sushi Nakazawa locations in, say, Miami or Dallas, Nakazawa says, quite simply, "I wanted to know if I could stand on my own."
In the sixth inning, Torres comes to the plate with runners on second and third — a chance to pad the Yankees' lead. "He's going to get a hit," Nakazawa predicts before Torres singles, driving in both runners. And just like that, Nakazawa is springing out of his seat, saying his good-byes. He has to check on the new restaurant, he explains, noting that he's sorry to miss the seventh inning, specifically. "One day, I want to have more than seven restaurants," he says. "I want to go to each restaurant every day."