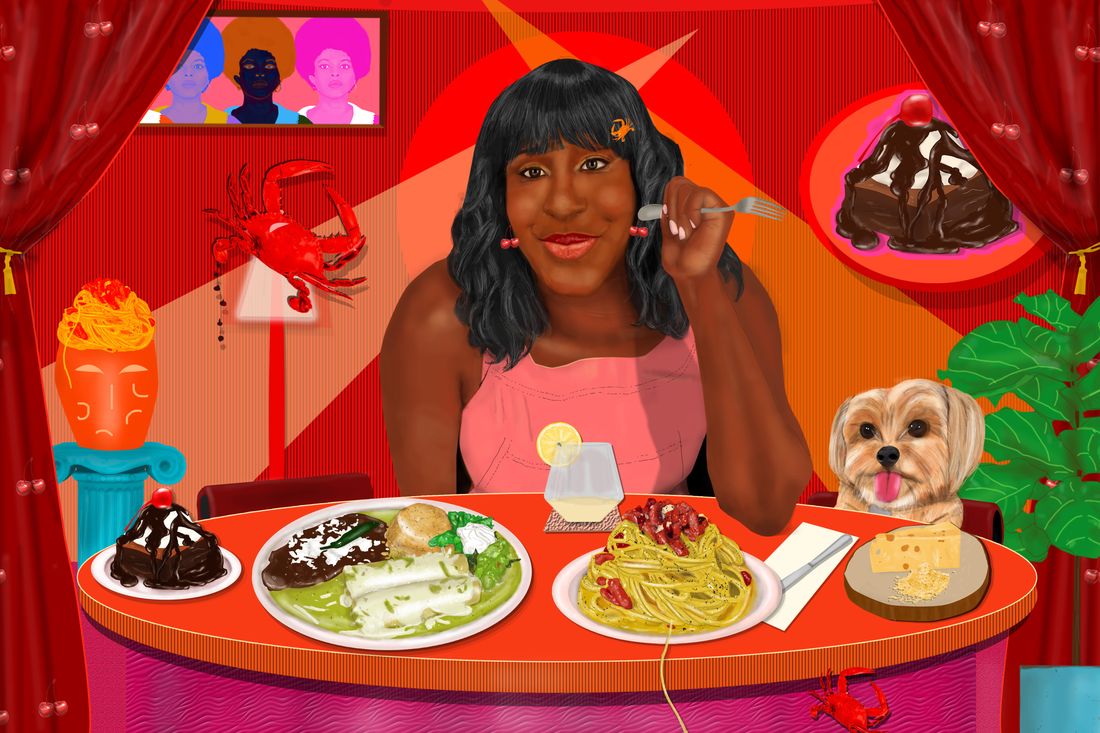 Naomi Ekperigin and her dog, Mabel, at the dinner table.
Illustration: Lyne Lucien
On December 29, Naomi Ekperigin will debut her half-hour comedy special in the third season of Netflix's The Standups. That meant a show this weekend was a chance to work out some new material. "Because that half-hour set is coming out, I can't do that material anymore. Or at least I've chosen not to do that material anymore," she says. "The audience was great. I was well received. But I felt like, Okay, girl, you got to get your shit together." Along with her Netflix special, Ekperigin is a writer and voice actor on Mythic Quest and co-hosts a couple of podcasts, including Couples Therapy with her partner. 
Thursday, December 9
It's day four of my new job working as a writer on season three of Mythic Quest, and we're working in person. Considering I haven't been in an in-person work setting in almost two years, I'm anxious AF and trying to start my mornings on the right foot, which includes a sensible breakfast: two slices of cinnamon-raisin toast with butter, a glass of orange juice, ten milligrams of Lexapro and 300 milligrams of Wellbutrin XL.
Lunch was provided for us. It was Vietnamese. I got a vermicelli bowl with spring rolls, which is my go-to, but it was lackluster. The nuoc cham sauce was a little bland, and being a condiment queen, I couldn't get past this!
I love sauces. I love dips. I'm telling you, I think they make everything taste better. One of the reasons I'm not that big into meats is because meats can be very dry. That's where I'm really coming at you with pastas, coming at you with breads. With things that can be drenched, in a way. And I love that.
I got home after work simply spent from an entire day of human interaction and being constantly worried something was on my face whenever someone looked at it. Thank God, I was able to stuff myself with comfort food: leftovers from my birthday dinner of mac 'n' cheese from Granville. What makes this mac 'n' cheese so good is that it has chicken, peas, and asparagus in it — in other words, all the food groups are represented in one heaping plate of cheese-laden carbs. If that's not delicious efficiency, I don't know what is.
I chased the leftover mac with half of a half-pound cookie from City Cakes Bakery in New York City, a birthday gift from a New York friend who understands when I say, "Los Angeles just doesn't know desserts." Seriously, this town will give you all the cheese-and-milk substitutes you want, they love to wood-fire a pizza, and they live for "small plates, perfect for sharing!" But when it comes to sugar, flour, and butter, they really drop the ball. (Also: for all you math heads: I did have a quarter pound of cookie.)
Before we go any further, It's important for readers to know that I'm between Trader Joe's trips, and my fridge is pretty bare, with basically orange juice, some almond milk, bread, and pesto sauce. Please keep this in mind when reading the below and know that I'm not as lazy as this past week makes me seem.
I've been a real Trader Joe's head for eight years now maybe. Probably longer. As soon as there was a Trader Joe's in New York, I was at Trader Joe's. That was when I lived in Harlem. I think the first one was at Union Square, and you had to wait in line around the block to get in. It was always so cheap, which made it worth the trek from Harlem. I was in my 20s and didn't have a lot of money, but I was like, I should have groceries, and I should cook. Trader Joe's was the way to do it.
I think because it's their brand, you can get something organic that's way cheaper than if you went to any other store. And then you're like, "Oh, look at me, I'm buying organic. Ain't I a class act!" When you find the stuff you like there in terms of their snacks and their frozen, once you lock in, once you lock in on your top snacks, I think you're good to go.
In L.A., it's basically the only store we shop at. Quite honestly, the only thing this town has going for it is the abundance of TJ's.
Friday, December 10
Again, I had the breakfast of champions: cinnamon-raisin toast, OJ, anti-anxiety, and anti-depressant. Although I'm not that hungry when I first wake up, I know I'll inevitably be desperate by 11 a.m., and since I don't really like snacks, I need to put something in my stomach to get me to lunchtime.
For lunch, we ordered from Mendocino Farms, a classic soup-salad-sandwich spot that's a go-to in every writers' room I've been in. I got the not-so-fried chicken sandwich with both sauces — a barbecue sauce and a remoulade (see above, re: condiment queen). I also split a superfood salad just to say I tried to be healthy. And I ate a handful of chips, not because I'm disciplined but because I just want a touch of crunch every now and then in the eating process.
When I first moved here, I did not know that was going to be the case. Any room I had worked in before, we got our own food. The rooms in New York, I just got my own. So I had no idea. I got very excited. Once, I was like, "Oh, wait, we get to eat whatever?" I was like, Oh yeah, this changes the whole game.
In this room, we get an email at the top of the day that says, "We're ordering from this place." So you pick what you want. But I've been in other rooms where we each took turns picking the day's lunch, picking from a big book of menus. In a way, I appreciate this version because I don't have to think  think, and I don't have to resent anyone if they choose a place I don't like.
I ate lunch in my office alone while most of my co-workers stayed in the writers' room, chatting. I love them all, but I prefer solo lunchtime because I like to shovel food in my mouth like Tiny Tim and dip every bite of sandwich in sauce and I don't want to have to explain myself. Also, because sitting in a room with people all day makes me anxious, and I need the hour-long lunch break to recharge and take a break from "active listening."
Saturday, December 11
I was mostly lazy in the morning, taking a nice long nap after getting up and walking my dog. She's never been inside Trader Joe's. I want to be a person who would carry their dog in TJ's, but I'm afraid because I'm not a white woman. I don't know if I'll be able to get away with it. She does like the cat treats, though, as do the cats. They have it all. This place.
In the afternoon, I recorded an episode of a podcast, Films to Be Buried With, hosted by Brett "I'm on Ted Lasso" Goldstein, and by the time we were done, around 4 p.m., I wanted to eat something.
We'd planned to go to a holiday party that evening, and though there was talk of tacos, I never go to parties on an empty stomach. Eating at 4 p.m. ensured I'd be full enough not to be desperate but not so full that I couldn't avail myself of finger foods if they were available. I ordered (yes, again!!!!) quesabirria tacos from El Zarape, which are meaty and cheesy and perfect.
Once we got to the party, my fear of Omicron made me not want to touch anything communal, so I sat outside drinking grapefruit-and-soda. When I got home at 11 p.m., I quickly made some pasta with pesto sauce — capellini, because it cooks in three minutes, and it was too late to play games! This isn't my first choice, though. I firmly believe pesto sauce tastes best with penne, but at 11 p.m., your girl didn't have nine-to-12 minutes to wait!!
Have you tried stirring pesto into long noodles? It's nigh on impossible. It clumps up. When you're working with a thicker pasta, like penne, it's easier to mix in and get everything nice and covered.
Sunday, December 12
At around 1 p.m., I picked up a breakfast sandwich at Loupiotte Kitchen, a French restaurant near my house that has the greatest egg sandwich of all time. Why is it the greatest? Well, the egg is omeletted (is that a word?), with Gruyère and bacon mixed into it! I add avocado and tomato, and it comes with a lightly dressed side salad — it's a perfect complete meal that leaves me full for hours and hours. (Is that bad? Does it mean I'm having too much in one sitting?)
Sometimes you just want a hearty, big breakfast. When I saw it for the first time, I was like, We've got Gruyère going on and bacon. Mmm, baby. I think I got it for delivery, and when you get something for delivery, you just don't know. You're taking a risk. It arrived, and it was so big. It was so delicious. I love that all the ingredients were already mixed in. You know how sometimes you'll get an egg sandwich and everything is piled on top and then it's impossible to chew or bite into it without spilling it everywhere? You don't have that problem with this omelet situation. I did think maybe I shouldn't even tell people. I can't have people coming up here and making it hard for me to get my egg sandwich. I don't believe in waiting a long time for eggs. I hate brunch. I hate the culture of brunch. I love it as a meal, but I really do not believe I should have to stand in line for pancakes.
I wanted to be full because I had a show at the Hollywood Improv that night, opening for Matt Rogers (one of Las Culturistas!). I hate eating before shows, 'cause I'm worried I'll toot or burp or something else embarrassing. But Los Angeles is an early town, especially on a Sunday, and if you don't grab something before 9:30 p.m., your only option is a drive-through. Luckily, I had dinner lined up — I texted my partner and podcast co-host, Andy Beckerman, as I was leaving, which was his cue to order from Flore Vegan, a casual spot that's actually open till 10 p.m. on a Sunday, making it a veritable all-night diner! I got the club sandwich, made with tofu, tempeh bacon, tomato, and a side of shoestring fries. I also ordered a flojito — a homemade mint-lime soda that I love. I'm really into lightly sweetened beverages and any mint-lime combination.
Monday, December 13
I skipped breakfast because I spent too much time on Instagram seeing who liked the post about my upcoming Netflix special, and that did not provide the nourishment I'd hoped for!!! Around 11:30 a.m., I got desperate, and I ate a small bag of white-cheddar Pirate's Booty, which did not taste as good as I remembered from my youth.
Lunch arrived around 12:30 p.m., and we ordered from a healthy restaurant — vegan options, but it also offered real meat so I wasn't quite sure what they were aiming for. I wasn't particularly enthused because it was one of those restaurants that was doing too much: They had Mediterranean dishes, Mexican food, and pastas. There's no way they can do all of that well! We can't all be multi-hyphenates. I say, pick a lane and perfect it!!!
I ordered the salmon tacos with a side of chips and guac and … isn't it weird when something has tons of sauce and spice and is still bland? It's so confusing to me. There was just something off, but I ate both tacos 'cause I was really hungry and because they were free.
But if you think that's gonna stop me from ordering dinner, you thought wrong! Andy and I ordered Italian food from Blair's, a cute spot in Silverlake that's been a real ride-or-die in the pandemmy. I got an arugula salad and gnocchetti with swiss chard and sausage, which usually lasts for two meals. This arugula salad shouldn't make sense, but it's perfect — dare I say, my favorite salad. It's got arugula, radicchio, pickled onions (what?!), Parmesan, and bread crumbs, and it comes with a Caesar-esque dressing. As a born-and-bred balsamic gal, loving this dressing has really reminded me how important it is to remain teachable.