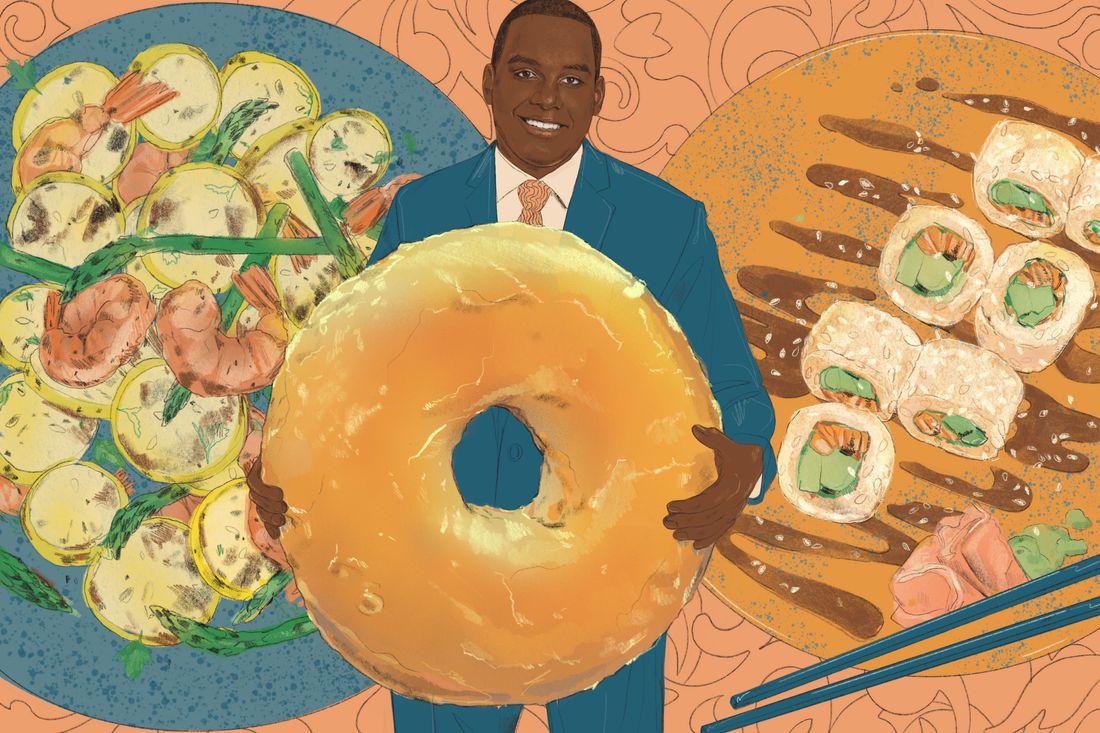 Myles Miller with his doughnut.
Illustration: Lindsay Mound
As a reporter with NBC New York, Myles Miller has — like many of us — spent the last year focused on topics like the COVID pandemic and Black Lives Matter protests. At the moment, he's also going through, he jokes, "a great enlightenment" with food, and now he's trying to live up to the standards of one of the best chefs he knows. "My father, I think, is the best jerker ever," he explains. (Not to mention his mother, who he says is a master of soul food.) Meanwhile, Miller has a deep list of restaurants he likes, something that comes in handy in his work, which this week took him to Astoria, where he picked up a gyro; Inwood, where he got al pastor tacos; and Staten Island, where he got an egg-and-cheese at one of his favorite Italian spots. 
Wednesday, July 21
I recently moved to Williamsburg after years living in Manhattan, and for a person who loves a variety of food like I do, it's the perfect place to live. I woke up at my girlfriend's place nearby in Greenpoint, and on days where I stay there, I have to go to Peter Pan Donut and Pastry shop — it's been in the neighborhood since 1953. I got a bialy with egg and cheese, and an iced coffee. Most mornings, I get either a honey dip or a bow tie.
The Polish ladies at Peter Pan are hilarious, and it's like the last place in north Brooklyn, outside of Bamonte's, that feels authentic. It feels like places I grew up with in the Bronx. It's hard to get that in north Brooklyn, so I love that ritual of going there.
They do have bagels there. But if you want to get an egg sandwich, bialys are the perfect bagel-y thing to get eggs on because the bottom is flat and there's no hole, so nothing's going to fall out when you eat it. My girlfriend told me that it's the best way to eat an egg sandwich, and I was like, "That's ridiculous." She's from San Diego, and California isn't exactly known for bagels. Then I tried it one day, and I was like, "Oh, this is right. This is actually the best way to eat an egg sandwich." So that's how I've been eating egg sandwiches. They have this thing called a maple bar in San Diego. I'm going there for Thanksgiving, and I can't wait to try it. I'm trying to keep the doughnut trend up in anticipation.
I got home to my apartment, put on my bike suit, and rode the bike path from Williamsburg through DUMBO all the way over to Red Hook, back home to shower before my assignment started at ten.
I had a tough story — interviewing a woman who was attacked on the 7 train platform at Grand Central Terminal. I drove to Astoria to meet her. While putting it together, I picked up a gyro but only ate half because I had a big dinner planned. Astoria has the best Greek food in the city.
I drove back to Brooklyn from the assignment, and went over to my girlfriend's house to cook dinner — as she put together a wine cabinet. I'm not good at putting furniture together!
Megan is a pescatarian — something I learned on our first date at the Tyger, when I piped up to order meat dishes to share, and she politely told me she didn't eat meat — so I've learned to cook meatless meals. I used to be really picky. There are so many things I didn't eat, and then I started to branch out. I didn't eat real sushi until two years ago. So it's crazy to me that I'm eating uni now. It's something I never would've done as a kid. It's a moment of great enlightenment.
I made a summer squash and tomato dish and then grilled shrimp skewers with a honey citrus marinade. I get my fish from the market on Metropolitan in Williamsburg and the guy's like, "Just show me what the recipe says. Okay. Take this fish. It's fine. And take two lemons." And I'm always like, "Okay." And it works out.
We popped open a bottle of prosecco that Megan had been waiting to open for months now, to celebrate the end of a weeks-long move and apartment-setup process.
I am obsessed with ice cream — if Megan would allow it, I would eat ice cream with every meal — so I finished the night with a Coolhaus ice-cream sandwich. My favorite ice cream to get in the city is Morgenstern's. They have this coffee crisp, which is like they make a honeycomb out of espresso, and it's incredible. I usually get it in pint size. And when they weren't open, they weren't making it. But I'd go every day, and I'd be like, "Can I get it? Can I get it? Can I get it?" And eventually, they would give it to me.
Thursday, July 22
Megan is a runner and wakes up at the crack of dawn, and that's rubbed off on me. I picked up cycling after I met her in an effort to try to lose weight and be healthier. Growing up, I was never really an outdoor person. Then I met Megan, who is completely an outdoor person. And I'm like, "Well, I can try this out." Now, I love biking. I wear the suit, and my friends hate that I wear the suit, but it just feels better than wearing clothes that are not meant for biking.
I rode 12 miles, and then made a green smoothie when I got home. I packed a banana, berries, and a dark-chocolate Speculoos bar from Trader Joe's for work, intending to nibble throughout the day.
Work took me to Inwood, where I covered a string of assaults in Inwood Hill Park. I gathered elements for the story and then headed to a Sa'tacos for lunch, where I had three al pastor — I love them because they have pineapple on them.
My favorite place in Inwood is Mamajuana. The owner, Susanna, is a friend. We met through Julio Pena, whose restaurant, Il Posto Accanto, is the place that I've gone the most in the last five years. It's on Second Street, where I lived and hung out forever. Mamajuana is where I'd usually go to, but they don't open until two and it was 12 when I had free time. So me and my photographer got tacos.
I'm very picky about tacos and these were really good tacos. The best taco in New York is Los Tacos No. 1. (There is an impostor in Dumbo also called Los Tacos. It's not the same group.) They make it the best way: onions, pork, a little sauce. I don't get the avocado on it. At a lot of places, people get so caught up in sour cream and all this stuff. I don't want any of that.
After work, I met up with my friends for empanadas and honey-sriracha wings at Pat'e Palo in Inwood. That was another random place that I happened to find. It was on that same stretch in Inwood. They were open. They had happy-hour specials. The wings were really good. The empanadas were good. It was right after a ride, and I was like, "I just need something that's going to hold me over until I get home."
I was thinking that I was going to get sushi or something when I got home, but Megan happened to be doing something else that night. So I grabbed a cigar in Soho with a source. Usually I hang out in Soho anyway, and I had some time to kill.
Then I headed home to Williamsburg and threw a bag of Trader Joe's frozen penne arrabbiata in a pan and had a glass of rosé.
Friday, July 23
I rode ten miles and rushed back home for a 9:30 Zoom interview. I was so hungry!
Immediately after the interview I made a green smoothie, which usually includes spinach, frozen bananas, mangoes, strawberries, and pineapple with coconut water as the base.
I jumped in the shower, but I was off-air, working on a story for WNBC's "Positively Black," a segment that dates back to 1970, highlighting issues in the Black diaspora. For this, I headed to Bedford–Stuyvesant to interview comedian Jon Laster about his app Blapp, which allows you to find a Black-owned business near you.
Win Son Bakery is located between my apartment and Bed–Stuy. I got a mochi doughnut, a milk bun sandwich with the Raclette and egg, and an iced coffee. I didn't eat until much later.
I interviewed Jon, and then headed to Greedi Kitchen, a Black-owned vegan restaurant featured on the app.
I interviewed the owner Latisha and I confessed vegan food is not my cup of tea. My mom makes the best soul food and my dad fixes up the best jerk chicken and curry goat north of Miami. Latisha's restaurant aims to change that mind-set for Black folks like myself who might hear "plant-based" and think, This won't taste like my mom's cooking. She implored me to take home the three dishes she cooked for the segment.
I finally ate the mochi doughnut — I'm not a mochi fan, but I love doughnuts, so I was like, "Let's try this doughnut" — and it rained a little. I'm a doughnut snob, but I love all types: Dough, Donut Pub, Doughnut Plant, the one at Win Son. Before I headed home to transcribe and write my piece, I stopped at Fortunato Brothers for banana gelato.
I got home, wrote the story, and recorded the voice-over on my phone under my duvet to prevent echoes. Then I headed to Megan's, where we made shrimp rolls, paired with orange wine and warmed-up sides from Greedi Kitchen, which included oyster mushrooms. It was one of the most flavorful dishes I've ever eaten. I am sold on vegan eating now.
For dessert we ate yucca dumplings from Greedi, which tasted like doughnuts.  We then settled in, turning to WNBC to watch the opening ceremonies of the Olympics. I teared up watching Naomi Osaka light the cauldron.
Saturday, July 24
I woke up at 4 a.m., a weekly ritual for our morning show Weekend TODAY in New York.
A pipe-wielding man was shot by police in New Dorp on Staten Island. I headed there and did two live reports. Once this ended, I immediately went to Royal Crown Bakery — which is my favorite place to eat on Staten Island. I grew up in Morris Park, an Italian enclave in the Bronx, so naturally, it's my favorite food. I get an egg-and-cheese sandwich on their house bread and pick up cannoli for the road.
I have a crazy map on my phone that's complete with stuff that Megan and I share for places we should go. For some reason, I've found the most food-conscious people as friends. I have a friend who sent me a list of 700 places to go, everywhere from here to down South. So I always know where there's somewhere to eat. In certain places, I have my spots. Like Staten Island: I only will eat at Royal Clown. That is my place. If I'm in Bay Ridge, I will only eat at Paneantico. It's ritualistic for me. I know that I'm going to get a good meal. When I'm in Flatbush, I have seven Jamaican restaurants to choose from. The other day, I was covering a story on the border of Crown Heights and Bed–Stuy and I knew that I needed to get ackee and saltfish for breakfast because I was in a neighborhood where I can get it good.
We had beach plans, so I grabbed sandwiches for the two of us.  With Megan in mind, I popped by Court Street Grocers on Metropolitan. She got the veg delite with roasted cauliflower and pickles, and I got the Jawn sandwich, which is roast beef and Swiss with the biggest wedge of lettuce I've ever seen on a sandwich.
We headed to Neponsit in the Rockaways, where we ate the sandwiches, mango slices from Wegmans, and berries. Before heading home, I drove 20 minutes out of the way to Rita's — because it's not a summer trip to the beach without some frozen ices.  The only time I go to Rita's is in the summer, and the gelati is the coolest thing on earth. You're talking about custard at the bottom, frozen ice, and then more custard at the top. It's so worth it. I probably get it once or twice a summer.
We're one of those couples that really enjoy spending time together — so every month, schedules permitting, we celebrate our first day that we met — Christmas Eve.
We headed to Dr. Clark in Chinatown, where we ordered one of the best meals we've ever had together.
Megan asked our waitress, Ayana, what we should order because it was our first time. She didn't disappoint! We started with appropriately named addictive cabbage; Hokkaido kaison, a bowl of rice topped with sashimi; Hokkaido-style fried squid, which was incredible; and uni-bottarga pasta.
We ordered the jingisukan, which is a dish always prepared tabletop, in a convex skillet that pays homage to the helmets Gengis Khan and his soldiers wore. It's usually prepared with mutton, but meat lovers, you aren't missing out on a thing. The mushroom version is incredible — the sauce, our waiter Dorjee tells us, is 70 percent apple juice.
We ordered udon noodles, which are also made tabletop.
Back in Greenpoint for a nightcap at Sama Street. I got this gin, pomelo, lemon, and soda drink. She got a mezcal drink. It was a nice way to end the night.
Sunday, July 25
I went to Jamaica for my story and was live from 5:57 until 7:30. One thing about working the morning shift is that short of a McDonald's, nothing is open, so most times I eat leftovers from the night before. No exception today!
After work ,I went back to Brooklyn. I picked up coffees at Sweetleaf and got brunch with a friend I hadn't seen since I graduated high school.
We both ordered chicken and waffles at Imani in Fort Greene — I get a side of cheese grits, which is atop with coconut flakes, and while I'm a proud Jamaican, one thing I do not like are coconut flakes. My mom does make a nice coconut cake. She's an expert box-cake maker. She'd always put those coconut flakes on the coconut cake, and I do not like it. They don't taste good. They're not fun. I'll have a coconut icee because it's just the flavor of coconut. It's kind of weird because I'm an island child. My dad loves coconut and all that condensed milk, all that sweet stuff. I cannot stand it. But it was fine.
After lunch, I was late to meet Megan for a movie date at Alamo Drafthouse to see Black Widow. We preordered popcorn and a large Diet Coke, and after a few nibbles, I was knocked out. The combination of the late night and early morning made the movie a perfect time to take a quick nap.
We drove to Sunset Park to look for nightstands and were set on getting some fish from Costco — Megan says they have some of the best fish — but they closed at six. We opted for Greenpoint Fish and Lobster, but they had closed at seven. We got salmon at Whole Foods. Megan seasoned it with a fish rub her mother bought her. She made a broccoli salad and artichoke dip with a big crudités plate and hummus she made herself.
We paired it all with a bottle of Macari wine. We're members of its wine club, and joined on Valentine's Day weekend because they're Queens natives with a vineyard on the North Fork.
I bought a couple of ice-cream sandwiches for dessert — but we got so caught up in a game of Bananagrams that by the time I want to eat it, Megan is like, "It's way too late to eat ice cream." There is always tomorrow.