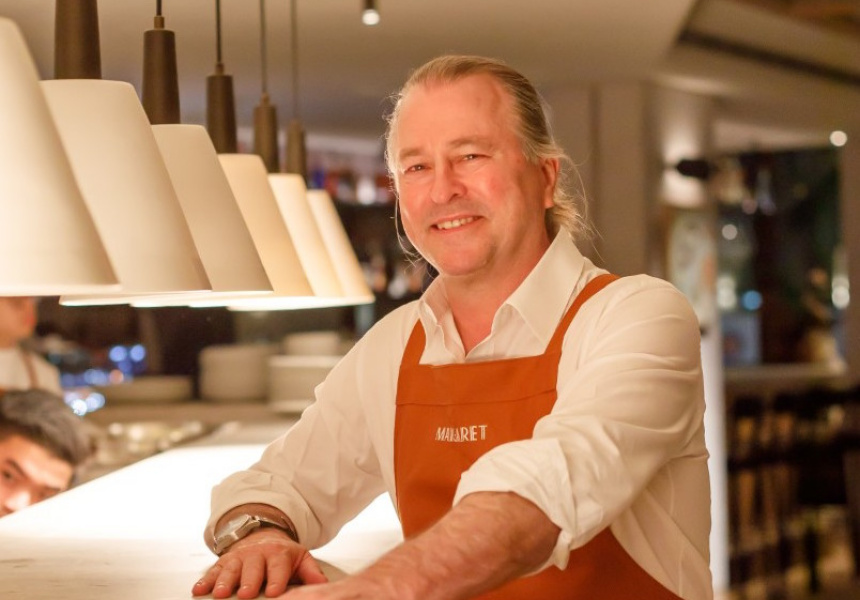 "I don't feel like I'm hell-bent on growing a restaurant empire," says Neil Perry.
Not this time anyway.
In 2020, the celebrity chef announced his retirement by stepping away from his role as culinary director and ambassador for Rockpool Dining Group – which (at the time) operated more than 85 venues, including the restaurants he created, Rockpool Bar & Grill in Sydney, Melbourne and Perth, as well as Spice Temple and Rosetta.
The news was a shock – after all, this was one of Australia's most high-profile chefs walking away from a portfolio of venues built on his reputation. The statement he released at the time was brief and conveyed only a fraction of the thought that must have gone into such a difficult decision.
"It will never be easy to move on from the restaurants I founded, and I do so with a heavy heart, but as the business and the sector set their sights on new beginnings, it is the right time for the next generation to have the opportunity afforded to me over 40 years ago."
None of that sadness or weight is evident in our phone conversation. Perry is calling Broadsheet from his new Sydney restaurant, Margaret, and in the background are the sounds of staff winding down the lunch shift, having served hundreds of burgers and fried king-prawn rolls to locals. They'll spend the afternoon preparing tomorrow's Neil Perry At Home Providoor deliveries. It sounds almost as lively as if the restaurant were open and all of Sydney wasn't in lockdown.
He says he was enticed out of retirement by a location "in the heart of the best village in the eastern suburbs" – Double Bay – and the opportunity to own a place without a business partner.
Perry has had a number of business partners over the years. In 2016, he sold his Rockpool Group (which included Rockpool, Rosetta, Spice Temple and Burger Project) to Urban Purveyor Group for a price thought to be between $30 million and $100 million. That deal got him out of another deal with American business partner David Doyle.
But Margaret is all his. "I spent a lot of money, the fit-out is extraordinary, but at the heart it has to function as a place where you grab a burger, some oysters, maybe come three times a week. I want to create a restaurant that's an institution."
Things were headed that way. It was slated to open in June – on the exact day Sydney's second lockdown began. Perry tells us he had to cancel 11,000 reservations.
Last year (also in his retirement) he founded Hope Delivery, a charity cooking free meals for hospitality workers ineligible for the government's pandemic support.
"In a restaurant you're nurturing people with food, but this time has highlighted that food is also essential. We've delivered 410,000 meals to people since we started. It's been really gratifying to put food on the table for families, to put people in a better position than where they would have otherwise found themselves," he says.
And, in the midst of those ventures, Perry also wrote his 10th cookbook, Everything I Love To Cook – a book he says might be his last.
Like the new restaurant – which was named after his late mum – the recipes are a personal expression for Perry. (Fittingly, he wrote the book in the heart of his family home, sitting at the kitchen table he shares with his wife and daughters.)
It includes a "cracking" good cheese toastie featuring fontina, mozzarella balls, Gruyere and parmesan; simple salads with only six ingredients; a crudo of albacore tuna with finger lime; freshly shucked oysters with spicy, fermented gochujang-spiked sauce; and beautiful pasta dishes, such as squid-ink spaghetti, for lavish dinner parties. There's a whole section devoted to sandwiches, and lots of mains, sides and desserts that could be summarised as "contemporary Australian food" – a term Perry helped defined. The book was meant to have 100 recipes, but it clocks in at 464 pages.
"I tend to get carried away with things," he says. "The cookbook was originally meant to be a lot smaller. But when I started writing, I ended up with a sandwich chapter with 24 recipes and I still had 11 chapters to go."
Perry is a prolific achiever, whose clout remains strong even 11 months into his so-called retirement in a city easily distracted by the next new thing.
He played an important role in the Put a Jab on the Menu campaign, which saw Australian chefs encouraging diners to get vaccinated so the hospitality industry can open up.
He's been vocal about the government mandating a vaccine passport, saying it "should get off the fence and legislate" to allow only fully vaccinated diners to patronise restaurants so it's not left to businesses.
"When the [NSW] premier first said we'll be allowed to serve vaccinated people, it was the individual business's responsibility to make their mind up whether they'd also serve unvaccinated people," he says.
"That really worried me. Some business owners might feel pressure not to upset customers, so they would take everyone, and then we could [have] 5000 or 10,000 [Covid-19] cases a day. It was important people weren't allowed to do that. I was pushing hard for a temporary health order so that businesses were protected. Now there's a health order supported by a QR code, so the onus is on the individual coming into businesses."
Even though the country's vaccination scheme got off to a slow start compared to other developed countries, Perry believes Australia will get to the level of vaccination required to keep the population safe and open the economy and borders again.
"We're incredibly compliant as Australians. We get vaccinations as kids; we have a great uptake of flu vaccinations. I think we'll get to 90 or 95 per cent vaccinated."
In his 40-year career as a chef, Perry has weathered a lot of metaphorical storms, but the Covid-19 crisis has been sobering. How he supports his and his staff's mental health often comes down to simply being tough.
"I thought in my 63 years I'd seen an awful lot – the Asian financial crisis, 9/11, SARS, the GFC – but far out, I never thought I'd see anything like this. I think life will always put hurdles in front of you. How you deal with those hurdles and get to the other side is the difference between being successful and drowning in self-pity."
Like all of us, Perry is looking forward to the return of life as he remembers it. "I don't like that they're calling [October 11] 'Freedom Day'. It's really restarting the economy day. The true freedom day will be when we get to mingle and travel the world again. All the pleasures we took for granted – seeing grandparents, going to a pub, to football or cricket matches, seeing live music, going to the cinema – are gone. I can't wait to get on a plane and go travelling. It was all such an ordinary part of our lives previously.
"Right now, we're not a united Australia. We can't go interstate. I want us to get back to being Australians together again."
Everything I Love to Cook, by Neil Perry, with photography by Petrina Tinslay, is out September 28 by Murdoch Books, $59.99. Buy it here.