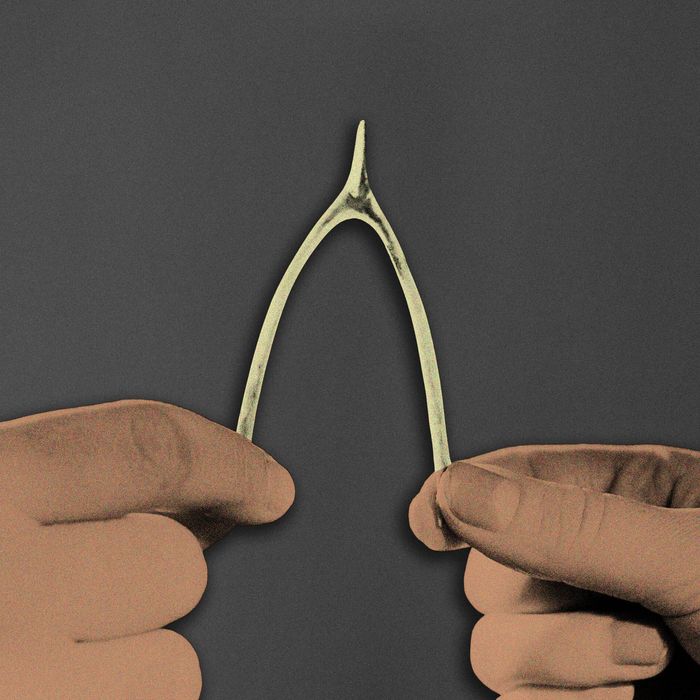 Photo-Illustration: Grub Street. Photo: Bettmann/Getty Images
We're only two days into November, but Thanksgiving reservations at Dante, which specializes in a boozy Italianate spin on the holiday, are already sold out. "We were completely booked within 24 hours," says Nathalie Hudson, who co-owns the café and cocktail bar with her husband, Linden Pride. Just like in the olden days, they'll be seating at full capacity, all 400 covers, cozy in the temperature-controlled indoors.
Thanksgiving 2020 was a patchwork of experiments-by-necessity: limited indoor seating, outdoor seating, preordered turkey dinners for pickup, day-of deliveries via the apps. This year, chefs and restaurateurs are still scrambling, but they're hoping for a banner day.
"People want to feel New York right now," says Andrew Carmellini, whose classic-American restaurant, the Dutch, has become a New York Thanksgiving stalwart. "They want to go to their favorite restaurants; they want to feel that. No one wants to cook this year, because everyone cooked at home last year." Reservations are "robust" at Porter House, agrees the chef Michael Lomonaco: "It's coming back."
It's not just high-end places feeling this desire among New Yorkers to leave their homes: At Veselka, in the East Village, last year's prix fixe menu went for $39. "I'm getting a bunch of different emails," says third-generation owner Jason Birchard. "'Are you guys committed to doing this? Are you going to do takeout? Do I need to make reservations?'" He is hesitant to make predictions — "many obstacles facing restaurant owners these days," he chuckles — but even so, "I'm a positive believer that things will go well."
Josh Foster, who owns the upscale neighborhood spot Stone Park Cafe in Park Slope, is not content to sit and plan and hope. "I'm trying to be extremely, extremely optimistic. If I have to go up to people's houses and ring their bell and bring them down to the restaurant personally, I will." While some restaurants are cutting back their takeout operations to focus on the in-house experience — Carmellini will offer a streamlined version across his restaurants; Dante will ditch it altogether — Foster is all in on everything: indoor dining, outdoor dining, advance pickup, day-of delivery. If an average night brings in $5,000, he's aiming for at least quadruple. "You're talking about what could turn into a $20,000 day for us, and that's not even really including the delivery and takeout services," he says.
Thanksgiving 2021 is a celebration, obviously. But it's also, as restaurateurs are acutely aware, a chance to at least begin to recoup pandemic losses. Under normal circumstances, Isa Chandra Moskowitz's Williamsburg vegan comfort spot, Modern Love, would be closed on Thanksgiving. Instead, a month out, she's working out the details of the special menu. "Like most restaurants, we're not profitable this year, and this is a day you could really make an impact, so it's really important to us that we're open."
But optimism is one thing; logistics are another. We've never had a Thanksgiving quite like this one. How many people are going out, exactly? How many turkeys do you order? Nobody is sure. But with the barrage of supply-chain issues, there is pressure to figure it out fast.
"When I started hearing all the rumors of supply shortages for the holidays, I reached out to my vendors pretty much immediately," says Matt Abdoo, chef and partner at Pig Beach, which will offer its traditional pickup-only feasts from both its Gowanus and Long Island City locations. But it's a gamble securing 100 turkeys nearly two months in advance. "If I don't sell them, I'm stuck with a bunch of turkeys I have to make money off of," he says. At midtown megasteakhouse Charlie Palmer Steak, the restaurant group's "chief culinary officer," Harold Moore, is stuck asking the same answerless questions. "Did I order too much? Did I work too little? I have no idea," he says. "It's a big guess at this point."
Last year, Stone Park Cafe ran out of turkeys. That, Foster says, is not happening again. The problem had been weather: the forecast called for rain, and then the weather turned out to be glorious, and they couldn't keep up with the demand. "We got annihilated," he says. This year, he's already ordered 16 birds, each 16 pounds — 256 portions — and is poised to order more. He has learned his lesson: "I'd rather waste than be out."
There are many, many upsides to having outdoor dining in November, but the downside is that the volatile weather makes the numbers even more difficult to predict. That's a big part of why, in Williamsburg, Moskowitz isn't taking any Thanksgiving reservations. "We don't know what the weather's going to be," she says, estimating she'll wait until the second week of this month to post. "I just don't want to open reservations and ruin anybody's Thanksgiving if things don't work out." (While she is spared from the turkey rush, vegans are not immune from supply-chain issues: "No maitake or oyster mushrooms on the menu" this year, she cautions.)
Even if the general mode among operators is cautious optimism, nobody is quite ready to declare this year's Thanksgiving a return to business as usual. "I don't believe that we're there yet," Moore says bluntly. Prices, certainly, will be higher across the board, with rising food and labor costs reflected on Thanksgiving menus, though still not necessarily in proportion to reality ("We didn't want to completely terrify our consumer," quips Abdoo). But we could be getting close. Carmellini, who will charge $135 for the Dutch's prix fixe Thanksgiving, is confident: "It's all about being social right now," he says. "People want to go to restaurants."
Dante, in fact, has stumbled upon a whole new Thanksgiving crowd. "There are a lot of people that didn't leave last year and really wanted somewhere to spend Thanksgiving because they didn't have family," says Hudson. "They came to Dante, and now this year, they're like, 'It was so great, we want to bring our family.'"