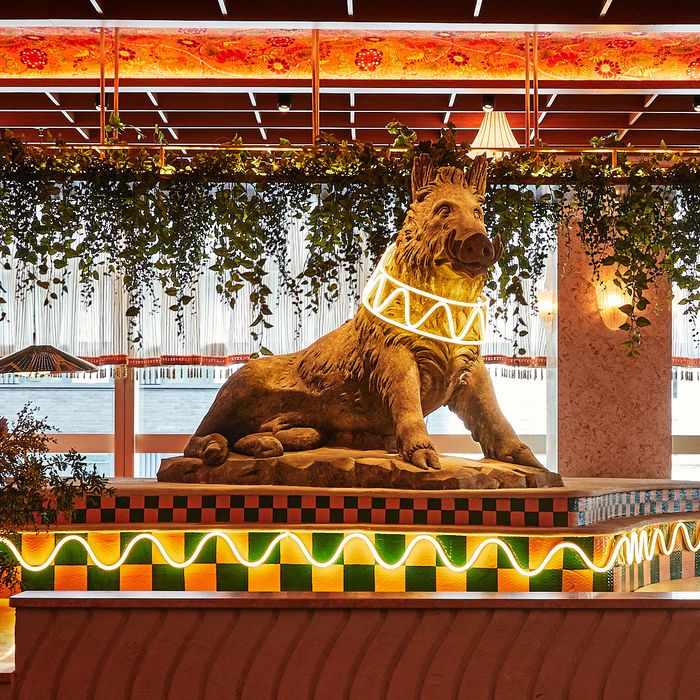 The understated dining room at Bad Roman. Photo: Christian Harder
Some of the worst food I've ordered during my time as a professional eater has come at a fleet of distressingly popular West Village restaurants that reminded me just how many people there are in the world. It had been a long time since I'd gone to so many restaurants where all the customers were white, so when I recently went to American Bar, which serves "timeless Continental cuisine," I felt something akin to culture shock. As I waited in an interminably long bathroom line, I witnessed a table of six women in Aritzia blazers order two burgers cut into thirds and two chopped salads. These were not my people.
The restaurant, which feels like a clubhouse on a cruise ship, began to take off in a vaccinated city among an influencer set, even naming a special after one of them. But when I asked if our waiter knew about "the SFK" — a negroni and a chopped salad named after "queen of confidence" Serena Kerrigan's TikTok handle — he replied, "The only special we have today is the trout almondine." Well, my friends and I ordered the SFK anyway along with a peanut chicken salad, shrimp cocktail, burger, lobster pasta, and fries. The cocktails were uniformly weak, as if a high-schooler pranked the bar by diluting the liquor bottles; strangely, the salads also ate wet. By the time dessert arrived, I wasn't surprised that the "hot fudge" meant to be poured over our sundae had the runny viscosity of watery Hershey's.
Somehow worse was dinner the next day at Saint Theo's, run by the same owners. The restaurant is the sexier sibling; a similar hunter-green color scheme runs throughout, only the walls are adorned with topless models from old Pirelli calendars. There was an endless bathroom line here, too: Two chatty guys said they were dating a pair of twins and went into the single-use toilet together, where I'm sure they were definitely not doing drugs. At least the drinks were stronger, and it had a big, beautiful chicory salad with radicchio and arugula for those who like more roughage. But then came the entrées. Fried basil leaves covered the worst pesto I've ever tasted, muddled with a sticky consistency of semi-dried glue. Then cod poached in a murky tomato-and-lobster broth that tasted faintly of metal. My friend Lila and I spent the rest of the dinner debating which one we'd be willing to eat if we were stuck on a deserted island.
Holiday Bar is better — it feels like the kind of place where you could make up a food allergy — because at least it embraces madness. The 10 Downing Street space has been transformed into a sunken living room with tubular white-leather booths, inlaid mirrors, and Alex Katz prints. It is so dimly lit, so '80s, and so Miami that you half-expect an amuse-bouche of cocaine to appear on a glass plate. The menu gives off a high too, like the Cheesecake Factory on poppers: There is a California roll, there are razor clams, there is fried-chicken salad, there is jerk chicken. Very little of what I ate was "good." (I liked the sesame-scallion bread, which is flat and flaky like a paratha.) The best thing was the Selenatini. When we asked the waiter which Selena — "Bidi Bidi Bom Bom" or "Lose You to Love Me" — he gave us a look, and we knew he was a Selenator. He told us Selena Gomez is a regular (in fact, she was just here the other day, he said), and during a visit before the holidays, she requested a martini "but fruity," so the bartender made her one with grapefruit juice. Now she and her friends all get it when they come. It's revitalizing and very L.A. — like if Erewhon opened a cocktail bar.
Although these restaurants form an unholy trinity in my mind, for a truly tacky-chic experience, one must go to the luxury mall uptown. After a matinee performance of Andrew Lloyd Weber's Bad Cinderella, I followed up with dinner at Bad Roman, the new, impossible-to-get-into restaurant on the third floor of the Shops at Columbus Circle. Their shared titular formulation, which has been in vogue for decades now (feminists, teachers, and Santa Claus have all gotten the "bad" treatment), connotes a similar penchant for naughtiness and subversion. Big box Italian served with a wink: This isn't your nonna's cooking!
Bad Roman announces its intentions from the outset with its two neon-orange signs in bubble-cursive font followed by a statue of a warthog wearing a white neon necklace. The aesthetic is maximalist, excessive, and wonderfully stupid: There are stone greyhounds standing guard at salmon-and-orange-colored booths, globe lights in a squiggly formation, and travertine that evokes the Basilica di San Marco by way of Orlando, Florida. There is an indoor fountain. The dinner plates and wine glasses sport a "BR" logo, and there is something refreshing about how badly Bad Roman wants to be a chain restaurant, like a Carrabba's Italian Grill for three generations of Westchester-based Kappa Alpha Thetas.
The menu matches the décor in its attitude and sprawl. The 'Roni Cups are exactly that: bare slices of pepperoni with ranch dressing on the side, like Lunchables after soccer practice. There were other playful gestures among the starters, including a loaf of garlic babka and porchetta ribs with a sweet-and-sour glaze reminiscent of Chinese takeout. The wedge salad was forgettable save the teeth-grinding croutons. Better was the spicy gem Caesar: not at all spicy but a proper Caesar at least.
As the restaurant began to swell with Louis Vuitton bags, dinner service slowed while we waited for the mains. There was a Broadway-gorgeous waiter whose primary purpose seemed to be walking in a circle, and we started to count the number of times he passed by before he did anything. (On the 19th appearance, he wiped down our table.) As night fell, the dining room took on an intense, spray-tan-orange glow from the lighting overhead. The effect was disorienting, like sitting inside a perpetual sunset. When the entrées finally arrived, I almost wished they hadn't.
Whoever made the vegetables seemed to hate them. The spinach was disintegrating; the brussels sprouts were scorched and soggy. The pasta dishes — shrimp garganelli and chicken scarpariello rigatoni — had a dull, morose quality. The only one with any flavor was the Instagram showstopper: lobster split in two with rosy petals of campanelle spilling out like guts. Finally, some heat, some sauce! Although, at $95, one wishes there would be some chunks of lobster hiding in the pasta in addition to the crustacean itself.
The main question we started to ponder was whether we were supposed to be in on the joke. The prices are expensive enough — $49 for gnocchi with caviar, a $42 cappelletti with 20 year-old balsamic — to wonder whether a grift is happening. Was a single tough raviolo, filled with cacio e pepe sauce and draped over filet mignon, worth $54? I suppose we all have Instagram followers to feed.
There is only one proper coda for this story: a trip to the three-story Olive Garden in Times Square with my boyfriend and Hunter, who is the unpaid ambassador of the franchise. Rather than try to evoke a reference, Olive Garden is the reference. Hunter would go on Sundays after church and before homework; I used to go for quarterly visits when my mom didn't feel like cooking. As a kid, I would hollow out the (still unlimited!) breadsticks and fill them with minestrone soup to make a perfect bite. During this meal, I got the "Taste of Italy": chicken Parmesan, fettuccine Alfredo, and lasagna. It was satisfying and exactly what it set out to be. The difference between Bad Roman and Olive Garden is something like the difference between Bad Cinderella and Cats, or campiness versus camp, cynicism versus sincerity. Both are kitschy and make no sense, but whereas Bad Cinderella dresses up a classic in commentary about feminism or finding yourself or whatever, Cats is just a musical about singing cats.