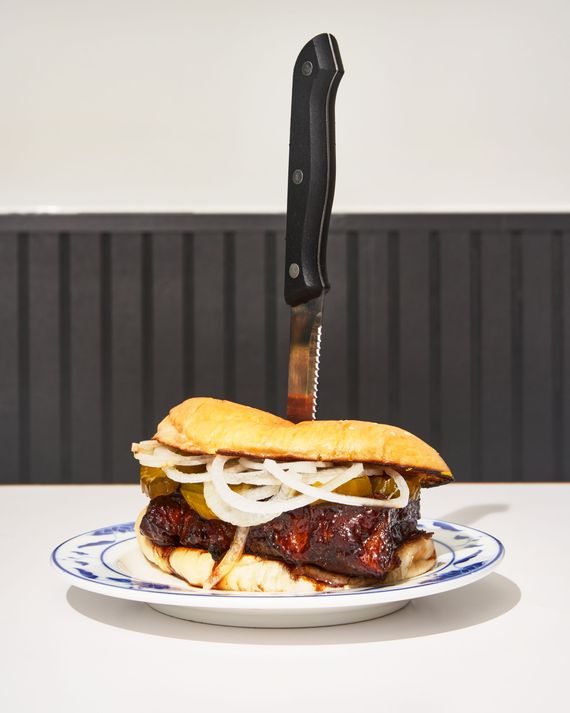 Bonnie's cha siu McRib.
Photo: Adam Friedlander
If you've forgotten, or can only half recall, the special kind of buzzy frenzy that used to attend certain hit word-of-mouth restaurants in the sun-splashed days before delivery dining and pantry dining and before the streets of the city were lined with abandoned dinner sheds, then I suggest you spend a bit of time, as I did not long ago, trying to secure a table at Calvin Eng's popular new Cantonese brasserie, Bonnie's, which opened a couple of months ago in Williamsburg. Despite repeated scrollings, the dreaded NOTIFY kept popping up in my reservation app. As the level of hype and breathless hysteria increased ("Everybody's talking about Bonnie's!" cried one Brooklyn friend), I considered loitering hopefully at the bar. If that were to fail, there was always the carryout option, though how I would enjoy Eng's patented cha siu "McRib" while standing on the frigid sidewalk miles from home was anyone's guess.
In the end, I got a table at Bonnie's the way desperate dining obsessives used to back in the day: by accepting the invitation of a well-connected friend who had booked her spot weeks in advance. At the early hour of 6 p.m., the tidy, well-lit space was already filled with familiar characters from the Williamsburg dining scene: a family or two, bearded gentlemen sipping Penicillins flavored with Ceylon tea at the tiny bar, people antically toasting one another with goblets of orange wine. Eng is a New Yorker from Bay Ridge, but the restaurant is named for his mother and her brand of Cantonese cooking, and he has said the décor — which includes a checkered tile floor and a large pass-through to the kitchen that fills the room, as dinner progresses, with the smells of egg noodles and steamy chicken broth — is inspired by the short-order cha chaan teng café culture that originated in colonial Hong Kong.
Cha chaan teng serve casual dishes like egg sandwiches and noodle soups, interspersed with a hodgepodge of western touches, making the genre fertile ground for a classically trained chef like Eng, who grew up in the David Chang era of cross-cultural Asian experimentation (before striking out on his own, Eng was chef de cuisine at the Taiwan-influenced Win Son in Brooklyn). He's equally at home with traditional Cantonese cooking as he is with the old Italian favorites of Rome and Bay Ridge, which means you'll find platters of classic, crispy fried salt-and-pepper squid on the menu side by side with great stuffed-hairnet-size salads made with chrysanthemum leaves and soy-sesame dressing and a version of cacio e pepe that looks like something you would order in a Roman trattoria — until you notice the furtive extra umami kick of fermented bean curd.
We began our dinner with cold oysters on the half-shell, each one touched with a mignonette spiced with white peppercorn and ginger, along with a platter of vividly green Chinese long beans dripped with a combination of garlic butter and more fermented bean curd, which we ate with mounds of rice served in blue-and-white china bowls. The biting, pleasingly peppery salt-and-pepper squid were served with warm greens and a radical Chang-style cup of MSG-spiked ranch dressing for dipping, and they arrived with other faithfully executed Cantonese seafood dishes, including fried shrimp with candied walnuts (enlivened with slivers of apple and little spoonfuls of Kewpie mayonnaise sweetened with honey) and a serving of littleneck clams set on a bed of hot, savory custard, which also went nicely with our bowls of rice.
The helpings are on the small side at Bonnie's, and the cooking has a fresh, hot-off-the-griddle feel, but what separates it from your average Hong Kong–style diner is the level of technical expertise. "This is a five-star dish," someone at the table said as we peered at Chef Eng's fusion wun tun en brodo, comprising delicately rolled tortellini-style wontons stuffed with a shrimp-and-fish filling, floating in a pork-and-chicken-bone brodo simmered with Parmesan and a hint of orange. The same was true of the aforementioned cha siu McRib (pickles, Chinese mustard, and glazed pork squeezed between a fresh-baked Chinatown milk bun) and the lovely, aromatic congee constructed with jasmine rice bubbled in a rich vegetable broth, then finished, as on the streets of Taipei or Hong Kong, with crushed peanuts, scallions, and a yauh ja gwai, or Chinese cruller.
I'd fight my way back into Bonnie's for this congee creation, though maybe not for the overwhelmingly thick and peppery black-pepper-steak chow mein or the $52 whole stuffed, deboned trout (yeung yu sang choi bao), which is a lot to pay for what's essentially a gourmet Cantonese-style fish sausage. If you're still in the market for a large-format item after all this grub, get the cold poached chicken instead, which is plated atop a pile of rice tossed with a ginger-and-scallion sauce and served with a warming cup of chicken broth. There are also plenty of warming cocktails available at this inventive, properly hyped little establishment (no, we did not try the espresso martini spiked with orange-pekoe tea), five kinds of XO cognac, and a fine vanilla-ice-cream sundae folded with chunks of malted fried milk and crowned in the traditional American way with a cherry on top.
Recent restaurant reviews