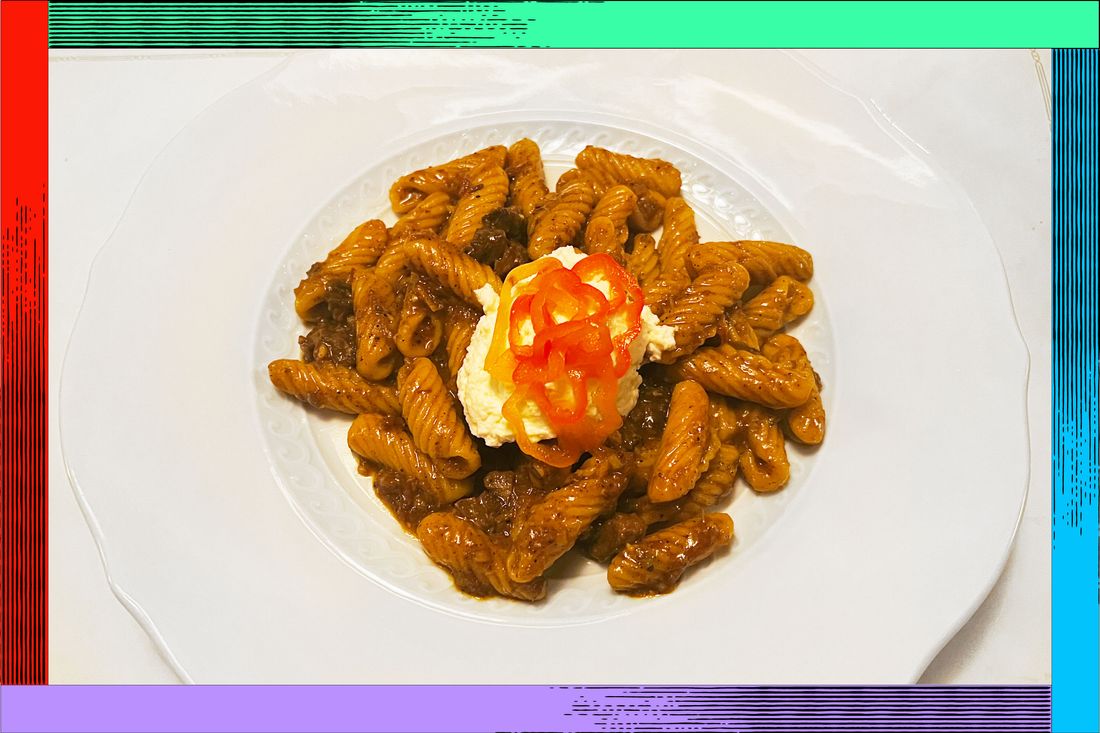 Cavatelli with Jamaican beef ragu at the new Torrisi Bar & Restaurant. Photo: Grub Street
The guys who run Carbone and the Grill have a new restaurant in town. It's called Torrisi Bar & Restaurant, which might lead one to believe it is a reboot of their very first restaurant, Torrisi Italian Specialties, which had been located just down the street before it closed in 2014. In case you have not heard, this restaurant group — Major Food — operates approximately 432 restaurants around the world with a big recent push into Miami and Dallas. This opening has been framed as something of a "return" to the city where it all began, even if the restaurant itself does not sound or look anything like Torrisi 1.0. Either way, I figured I should check it out.
Resy didn't have anything, which was not a surprise, so I decided to just walk in early on opening night to try my luck. A doorman outside the Mulberry Street entrance to the Puck Building — which I had previously only associated with the Houston Street REI outpost — did not allay my concerns, but he let me in without a hassle. After checking in with the hostess, I was escorted to a standing table that was close enough to the open kitchen to absorb a bit of heat from the rotisserie.
Within this holding zone, I spotted one other woman sipping a glass of red wine. Everyone else was an older man, and most were wearing suits. I overheard someone in a cluster say "Trump" and "boating" in the same sentence, and I decided not to introduce myself.
People were ordering a lot of tequila. I opted for an autumnal version of a Garibaldi made with whiskey, apples, and rhubarb. It was $18, and the Vermouth di Torino really made it work.
A notification sent to my phone read, "The estimated wait for your party of 1 is 3 hours," which I both could and could not believe given the setting. After about 20 minutes, I asked the hostess what my prospects were — Level with me here — and she informed me I was next. I went back to my spot, and a minute later my server reappeared with a complimentary glass of prosecco for my trouble, which I accepted.
Soon, I was seated at the bar next to the other single woman from the standing area who was in the process of tasting a Barolo that cost $88 per glass. When she didn't get it, I said I couldn't blame her, and we started chatting from there. Then she offered me some of her fresh mozzarella, but I had a full meal ahead of me and was trying not to fill up on warm cheese or the basket of fresh sesame bread and butter in front of me.
The standing room swelled. "That was Rich Torrisi," said a gray-haired man drinking a Belvedere martini. "He'll come over and talk to us," he predicted for a few of his friends.
Cucumbers New Yorkese. Photo: Tammie Teclemariam
I began to wonder what service was like that night elsewhere within the Major Food empire because it seemed as if all its best employees and captains had been brought over to Torrisi for the opening. When I asked one of the workers at the bar if I'd seen him the other night at the Grill, he told me he'd actually been at its sister establishment, the Lobster Club. I didn't sense any major service hiccups, and even when minor issues arose — soup taking too long to arrive, for example — a bartender was ready to soften the blow with a pour from a magnum of Billecart-Salmon that was chilling in one of the metal basins of ice at the end of the bar. I wondered if I'd been marked as a "food writer" (or, worse, an influencer), but everyone around me was getting the same treatment.
But what about the food? Cucumbers New Yorkese came heavily dressed in what had to be the essence of pickle juice mixed with bright green oil, dill, cilantro, and mustard seeds, and it might be one of my top salads of the year. Instead of a mild brodo with streaks of egg, the stracciatella tasted like a high-end ode to a basic Chinese egg drop (but with a meatball in the center) and was just as salty. For a main, I got the cavatelli with a spicy "Jamaican beef ragu" and a scoop of ricotta, which was well executed, but I remain intrigued by the spaghetti amatriciana made with cured lamb instead of pork.
At some point during my dessert course (very delightful whipped frozen yogurt with grapefruit-and-Campari jelly), I turned to my left to find the one person I had been trying to avoid that day — the restaurant's publicist — being seated next to me. I've met her before, and she's a lovely person, but I immediately had to resist her advances to send more dishes or drinks, thankful that I had at least made it through the entire meal without any undue influence. She did end up introducing me to two of the guys in charge, but don't ask me which! I promise they mean nothing to me.
434. Lowerline 435. Urgut Tandir Express 436. Sadelle's 437. Torrisi Bar & Restaurant 438. Blue Ribbon Sushi 439. Raines Law Room 440. Grand Central Oyster Bar 441. Meze 442. Palenque Colombian Food 443. BlueBird 444. Oda House 445. B&B Bagels 446. Finnegans Wake447. Vanguard Wine Bar 448. Breads Bakery 449. Heidi's House by the Side of the Road 450. San José Teruel