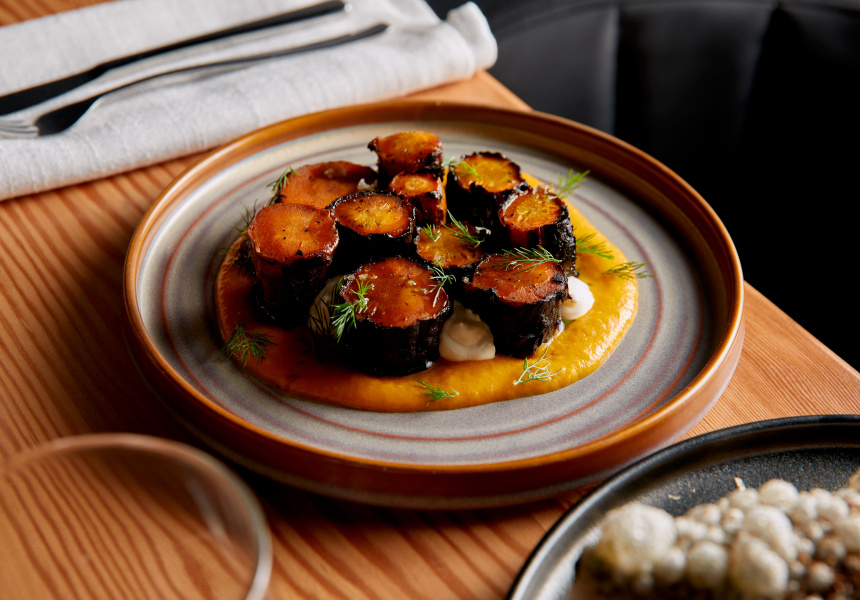 Chef Nicki Morrison – owner of Fitzroy's latest dining addition, Flint – has a burning passion for fire.
After years travelling across Europe, cooking on luxury yachts all the while, Morrison put roots back down in Melbourne, working for a year with charcoal at Argentinian steakhouse San Telmo. That's where she met Flint's sous-chef Yukio Endo. And it was then that she knew she had to turn her passion into her own bricks-and-mortar restaurant.
"I would say it's casual fine dining," Morrison tells Broadsheet.
A seven-month renovation saw the Smith Street location – home to a takeaway Japanese eatery for 25 years prior – transformed into an elegant dining space, complete with a curvaceous handcrafted bar and tabletops to complement the venue's original curved ceilings and entryways. A private mezzanine dining room overlooks the open kitchen, providing the perfect set-up for intimate get-togethers.
But Flint's key point of difference is that there are no traditional ovens – just fire, smoke and charcoal. And fermentation.
So, naturally, you'll find stellar steaks. But since opening, the smoked carrot dish has proved the most popular. For the base, carrots are fermented for a week in a saltwater brine, before being broken down into a puree with smoked butter. For the carrot rounds on top, "We also char the hell out of [them] and chuck them on the smoker," Morrison explains. "People are just losing their minds over it." It's all served with lashings of garlicky house-made labneh.
Also a winner is the smoked venison tartare. Cashews and fermented beetroot are grilled on charcoal, before being cooked into a puree to serve with the tartare – stacked with buckwheat, puffed nori crackers and a cured egg.
Hours:

Tue to Sat 4pm–11pm