FORT MYERS, Fla. — As residents slowly return along the southwestern Florida coast to pick up the pieces of devastation left by Hurricane Ian, businesses now left in shambles wonder how to care for their employees now left not only without a job, but in many cases a home.
The Fort Myers area was blasted with over 100 mph winds and a record storm surge that flooded entire neighborhoods under several feet of water.  The Salty Crab sat on the beachfront and took a relentless punch from Ian.
HOW TO WATCH FOX WEATHER ON TV
"Not only is our restaurant completely totaled, but we have employees that lost everything," says Julia Cassino with the Salty Crab Bar and Grill in Fort Myers.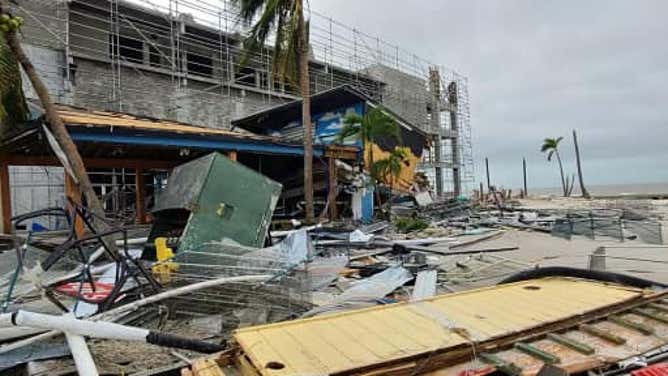 She says she is thankful all 78 employees are safe, but many are left with nothing.
"They ran to shelter at the very last moment, and we have over a dozen employees that all they have right now are the clothes on their back," Cassino told FOX Weather. "We are truly feeling the effects of this horrible hurricane."
Cassino says her restaurant team hasn't had a chance to physically survey the damage, relying on photos and videos of the scene to piece together what's left. "Essentially, nothing is salvageable," she said.
The restaurant has 12 locations around Florida and is working on getting employees that have been displaced a home in neighboring counties.
"We've got a really great group, and we are fortunate that our team is able to alleviate some of that stress for our employees," Cassino said. "Right now, it's small term goals: It's making sure you have a bed; it's making sure you have food. And the next step is making sure you have employment so you can have that income so you can begin that process of rebuilding your own personal life."
A GoFundMe site has also been established where all proceeds will be split among the 78 employees to help them start over.
"This is catastrophic what our team is going through," she said. "I don't think you ever actually anticipate the damage that is seen. It's like nothing we could have ever prepared for. One of the worst parts of living in the state of Florida is the possibility of hurricanes and the damages that are caused by that, but I will say we're Floridians; we're resilient."