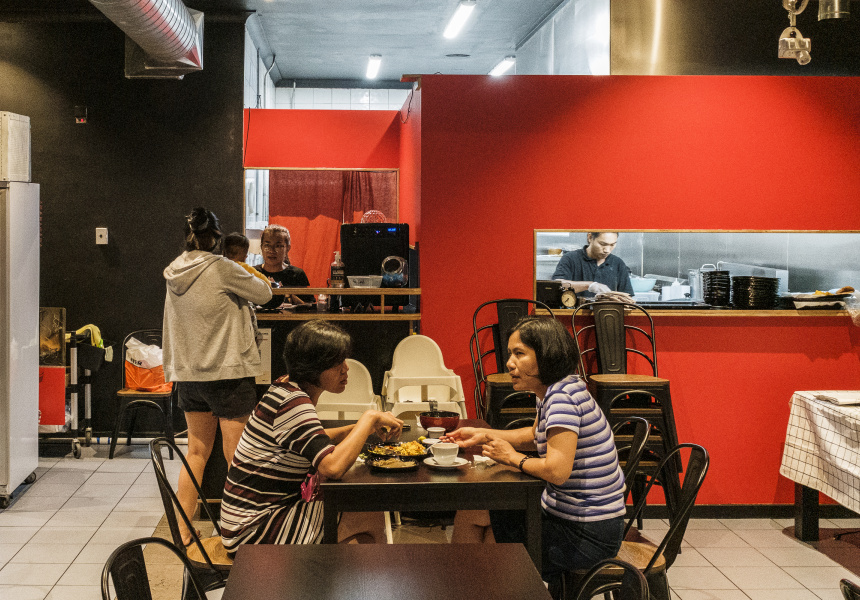 Is 2022 the year that tea finally gets its rightful props?
In addition to remaining an integral part of Chinese and Japanese eating rituals, tea is also being exposed to new audiences via the rise of non-alcoholic beverages such as Non and Tina. One, perhaps unexpected, venue to explore the diversity of tea consumption is A Nyar Tar, a home-style Burmese restaurant that opened along the Bentley stretch of Manning Road in December.
In addition to offering guests warm Burmese tea sweetened with both condensed and evaporated milk, A Nyar Tar also serves a handful of dishes made with laphet, tea leaves that have been fermented and flavoured with minced garlic and chilli, and a core ingredient of Burmese cuisine.
"Tea leaf is a traditional food," says Ohnmar Aung, the restaurant's chef. "We [Burmese people] eat it every single day. We eat it like a snack. We eat with tea. We give it to guests when they come to our house."
At A Nyar Tar – the name, I'm told by Aung, is Burmese slang for a boy that comes from the countryside – laphet is deployed in a variety of ways, from the traditional laphet thoke (a salad combining the leaves with tomato, peanuts, chickpeas and other deliciousness) to tea leaf rice, a savoury jumble of leaves, room-temperature rice stained green and summery veg, topped with a fried egg.
For eaters unfamiliar with the flavours of Myanmar – for instance, the person writing this story – these dishes are pleasing discoveries that trigger flashbacks to Chinese, Thai and Indian food: all cuisines that have influenced (and been influenced by) Burmese cooking. For Aung, her cooking is about conjuring nostalgia.
"People are starving for Burmese food," says Aung who migrated to Australia from Burma as a child and was taught Burmese cooking by her elder sister. "Some people have been here 30, 40 years and don't cook anymore. They want to taste home."
While Burmese cooking isn't quite non-existent in Perth – members of the local Burmese community speak fondly of the cooking at Mum's House Burmese Kitchen as well as the monthly Burmese food fete organised by the Burmese Association of Western Australia – the hand-written menu here features dishes seldom seen in WA. And though A Nyar Tar slings an excellent version of moke hin gar – a fish and noodle soup widely regarded as Myanmar's national dish – it also offers ohn no khao swe, the Burmese coconut noodle soup believed to have inspired Chiang Mai's famous khao soi noodle soup. (A Nyar Tar's lime-less version is thicker and goes harder on the coconut richness whereas Siamese versions are notable for their curry spice.) A salad of onion, vinegar, coriander and coins of wonderfully sour pork – perhaps you might know it as naem, northern Thailand's famous fermented pressed pork – is a high-definition taste of Southeast Asia.
Perhaps the best method to ease your way into the world of Burmese cooking is the value-packed $12 buffet that might feature chicken and fish curries, mango salad and different soups. The curries are gently spiced, although a house-made chilli powder is on hand to tune heat levels. Daredevil eaters, meanwhile, will undoubtedly tangle with the buffet's various nga-pee, chilli relishes amped up with everything from fish sauce to shrimp paste. Eaten with various raw vegetables, this Burmese crudites-of-sorts is a lot like the great nam priks of Thailand.
Just as the cooking is homely, so too is the setting. The predominantly black restaurant is sparsely decorated with the kitchen's red wall, perhaps the room's most striking feature. Overhead extraction tubes, bottles of Japanese lemonade in the fridge, plus a barbeque table out front speak to the space's past life as yakiniku restaurant, Gyu-Pro. According to Aung, the restaurant's (Burmese) owner decided to reboot Gyu-Pro because business was slow. That makes sense: there's been a surge of cook-it-yourself barbeque restaurants of late. What there hasn't been, however, are a lot of are home-style Burmese restaurants. May 2022 be the year Perth's dining scene continues to diversify.
A Nyar Tar

113A Manning Road, Bentley

0406 022 066
Hours

Tue to Sun 11.30am–2pm, 5pm–9pm