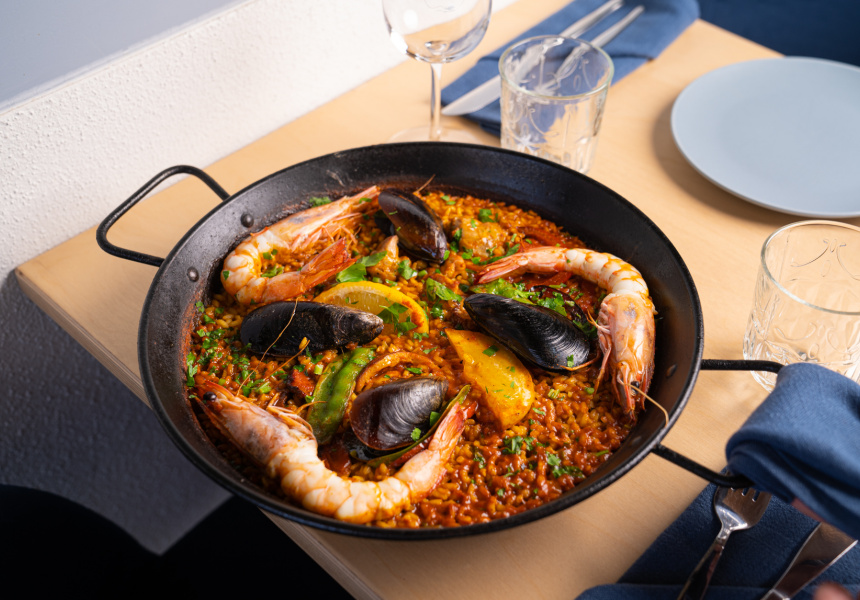 The first bit of feedback Manuela Volpe and Kevin Fredes received about Paella Y Pa' Mi was scrawled on a piece of butcher's paper that accompanies the restaurant's empanadas. It was from a Spanish couple.
"You brought us back to Spain," the note read. "It's the best experience, the best paella we've experienced since moving to Australia 20 years ago."
"It was amazing feedback," Volpe says. "It sits in our storeroom and we read it every day as motivation."
That motivation might come in handy over the coming weeks. The 11-table Paella Y Pa' Mi has been fully booked since opening night on October 7. Volpe always wanted to keep the couple's restaurant small and run two services every night, but she and Fredes have quickly had to scale that up to three.
Diners are being drawn by a menu of local produce-driven paella, tapas and appetisers. The backbone is Fredes's skill with Mediterranean cooking, developed during a long stint working under Miguel Maestre, eventually becoming the celebrity cook's sous chef across his festival and catering work.
Paella Y Pa' Mi wasn't meant to happen. Volpe and Fredes had pre-pandemic plans to live and work in Europe, closer to Volpe's Italian family. The restaurant is in part a reflection on being denied that opportunity, and it has registered in a similar way with some of its guests.
"We've had a lot of Spanish people coming in," Volpe says. "But also Australians. They haven't been able to travel overseas either, and we get a lot of people saying our restaurant reminds of them of being in Valencia or Barcelona or Andalusia. That's exactly what we want, that you feel like you are back in Spain."
The location and fit-out accounts for much of that charm, an intimate open-air dining room just off the Camp Hill-Coorparoo Martha Street strip presented in white tiles and white walls, with blue velvet furniture and warm lighting.
The rest is down to the food. Fredes is cooking a Valencian-style paella with rabbit, chicken, broad beans and green beans; a seafood of the day paella; a seasonal vegetable paella; and a signature Marysol paella that combines seafood and meat. There's also a broad selection of starters and tapas that includes croquettes of the day; empanadas of the day; roasted almond tostadas; chicharrones with quince and cardamon; and pickled white carrots with saffron and beetroot puree.
For drinks, there's a short selection of sangria, beers, house cocktails and Spanish gins. The wine list is a tight collection of hard-to-find organic and biodynamic Spanish drops curated by Melbourne-based sommelier Juan Jurado Gomez. You might order a 2018 Paco Y Lola Ophalum albarino, a 2018 Callejuela Hornillos palomino fino, or a 2017 Bodegas Pirineos Principio moristel.
"You never know how Australians will react when they don't find French wines, Australian wines and Italian wines, because that's their comfort zone," Volpe says. "But I thought, particularly with [Juan's input], 'Spain has beautiful unique grapes so let's try it and if they really want Australian wines, we can change the wine list.' But so far everyone is really happy."
Paella Y Pa' Mi
131 Leicester St, Coorparoo
0466 043 097
Hours:
Mon & Thu 5pm–9.30pm
Fri 5pm–10.30pm
Sat 12pm–3pm, 5pm–10.30pm
Sun 12pm–4.30pm