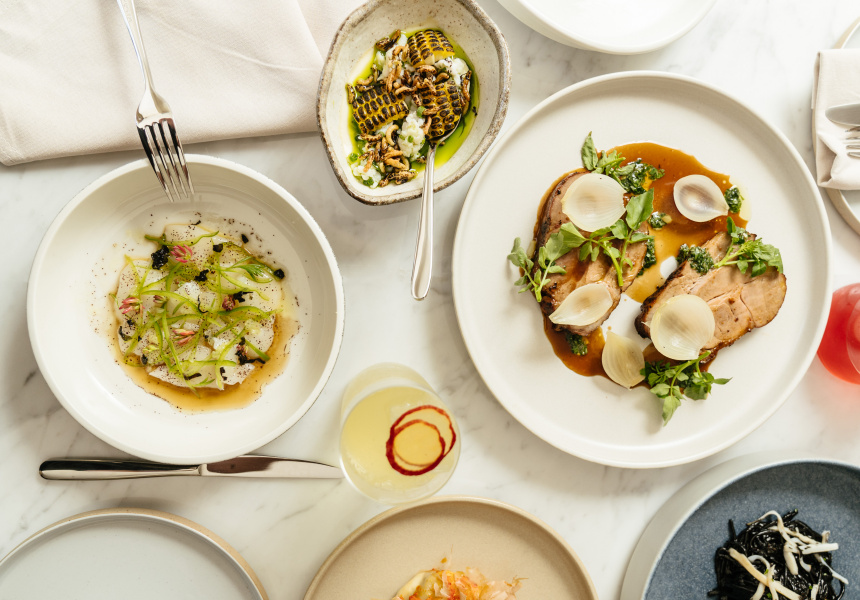 I'm just going to say what many of you are likely thinking: the name Any – a distillation of the restaurant's commitment to "ephemeral menus" that can draw on ingredients and ideas from "anytime, anywhere, anything" – is the least good thing about this new lounge bar and dining room that opened in the CBD in mid-January. But once you get past this minor detail, a polished dining experience with ace food, drink and service awaits.
Look for a low-key sign at roof level along Queen Street. Perhaps you might have remembered this space as Big Bopper, the Sneaker & Jean's group's foray into hamburgers, or even before that, fine diner-1907, the venue's name a reference to the date the original building was established. On a quiet Tuesday night, the empty room isn't exactly a promising sign, but after checking in with the host and going through Covid formalities, he presses a button on the wall and the door to the sleek, modern dining area opens, Star Trek-style.
On the right is the open kitchen as well as the 10-seat chef's table (bookings-only, set seating times, exclusive dishes). The cosy dining room is to the left and consists of marble-top tables and gunmetal blue banquettes that can seat, by my reckoning, 26 guests. It's not a full-house this particular evening, but there's a buzz in the room.
A group of three women are chatting among themselves and to one of the waitstaff in Cantonese. An Italian couple are talking animatedly in between courses, their spirited discussion fuelled by a garnet-coloured red breathing in a decanter. On the playlist is Arrowroot, a jazzy hip-hop instrumental fuelled by piano chords and double bass written by the late Daniel Dumile, a British-American producer and MC better known by his stage name MF Doom (who, coincidentally, had a reputation for rapping about food). All things considered, the dining room paints a vivid picture about what (modern) Australian dining represents circa 2022. (I'm assuming that this is what the name choice of restaurant name was trying to encapsulate)
And then there's the food, the handiwork of Perth-born chef Josh Gray who's spent considerable time at demanding WA kitchens including Rockpool Bar & Grill, Print Hall Dining Room and the criminally underappreciated Ku Dining. Whether guests opt for a chef's table menu of dishes exclusively for those seated at the 10-person counter or the a la carte (which also has a feed me option that leaves the decision-making to the kitchen), count on familiar flavours remixed with smarts and attention to detail.
Raw beef and strands of fermented turnip on a potato rosti is a neat four-bite homage to beef tartare. Jet-black tagliolini and barbecued squid hit with plenty of lime and a sort-of XO analogue made with dried chipotle chillies is a lighter and brighter take on squid ink risotto. Slow roasted beetroots – one of the ways that the kitchen utilises its twin Big Green Eggs – go great guns with a sheep's milk labne and tiny pickled apple roll-ups.
"I want my food to remind guests of something," says Gray. "I want things to be slightly outside of people's comfort zones, but still be familiar."
The drinking is another key component of the Any experience, as demonstrated by the 40-seat bar that greeted me as I entered. While most of the action unfolds in the dining room, next week sees the introduction of a small snack menu – think oysters, bread, salmon roe on beef tendon puffs – to compliment Leroy Rawlins' considered selection of drink and snappy cocktails including a fine Paloma/Margarita remake made with smoked pineapple and mandarin syrup.