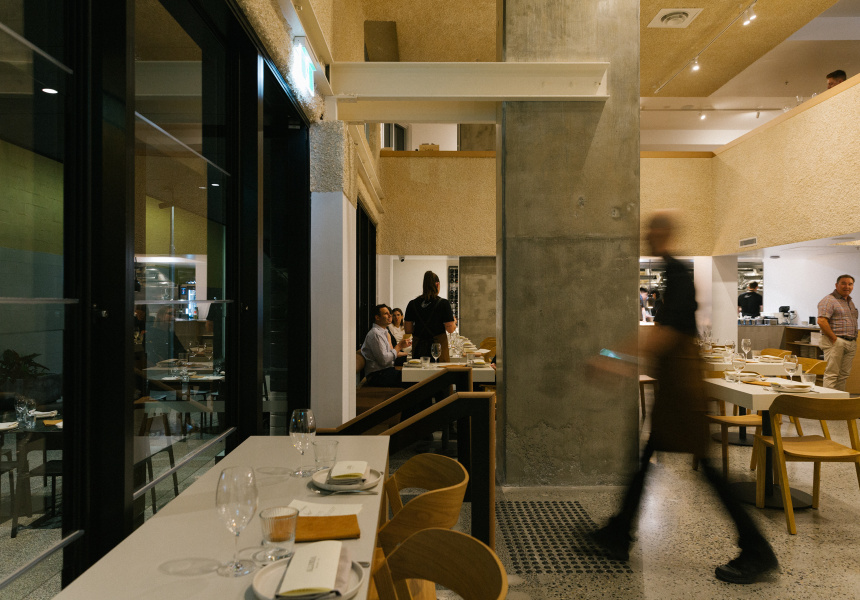 Allonda illustrates how location is everything for a restaurant.
Owners Sebastiaan de Kort, Kevin Docherty and Yanika Sittisuntorn have purposely designed this 92-seater to offer a menu and style of service very similar to Nota, their Euro-inspired Given Terrace eatery that's enormously popular with Paddington locals. But just by being placed in a new development on Longland Street in Newstead, Allonda feels like a different proposition to its heritage-listed sister venue.
Where Nota is dark and rustic and romantic, Allonda's laneway premises are bright, slick and airy, defined by its eye-catching textured acoustic spray and wraparound mezzanine. The floors are concrete, the chairs blond timber, the walls tiled. It feels modern and young and fast-paced, pitched just so for the 20- and 30-somethings who occupy the surrounding apartment buildings.
Broadsheet Access members get special tables at busy restaurants, tickets to exclusive events and discounts on food, coffee, brand offers and more.
"We wanted it to be bright and with lots of natural light," says Docherty when asked about the brief given to designers Twohill & James.
"But it's still very warm, like Nota," de Kort adds, "it's still meant to have that comfortable, familiar feel."
Allonda also shares Nota's approach to a broad Euro-inspired offering, but on a longer menu with just a couple of crossover dishes between the two restaurants. As chefs, de Kort and Docherty – along with Allonda head chef Sam Todd – like to cook straight-ahead food that gets out of the way of the produce. It's expressed here in dishes such as Margra lamb rump served with smoked yoghurt and salsa verde; slow-cooked beef short ribs served with charred greens and harissa; and lightly chargrilled Western Australian scampi served simply with roasted tomato butter.
There's a house-made pasta menu that includes rigatoni alla boscaiola with mushroom and truffle pecorino; casarecce with beef ragu and parmigiano reggiano; and an all'onda risotto – finished Venetian-style with plenty of broth – which gives the restaurant its name.
De Kort and Docherty have also leaned further into their already considerable focus on snacks, compiled here as a burrata and raw bar menu that includes fried black pudding with brown-butter mayo; potato terrine with cultured cream and smoked caviar; and Casa Motta burrata with olive tapenade, a seasonal fruit and rocket salad, and charred sourdough. It establishes Allonda's credentials as a place where Newstead locals can graze, and matches well with Sittisuntorn's 90-odd-bottle wine list, which perhaps carries more approachable drink-now wines compared to the slightly older-world focused Nota but is still about nudging diners into trying new things.
"We've three times the amount of kitchen space," Docherty says, "so it gives us more options to experiment with this menu. We're not limited to just six burners, like we are up at Nota."
"There's not really anything else around here like what we're doing," de Kort says. "So hopefully it's the start of something new here. But as we always say, we do what we do, we keep it simple and we hope that people like it."
Allonda
17 Longland Street, Newstead
No phone
Hours:
Tue & Wed 4pm–late
Thu to Sat 12pm–late