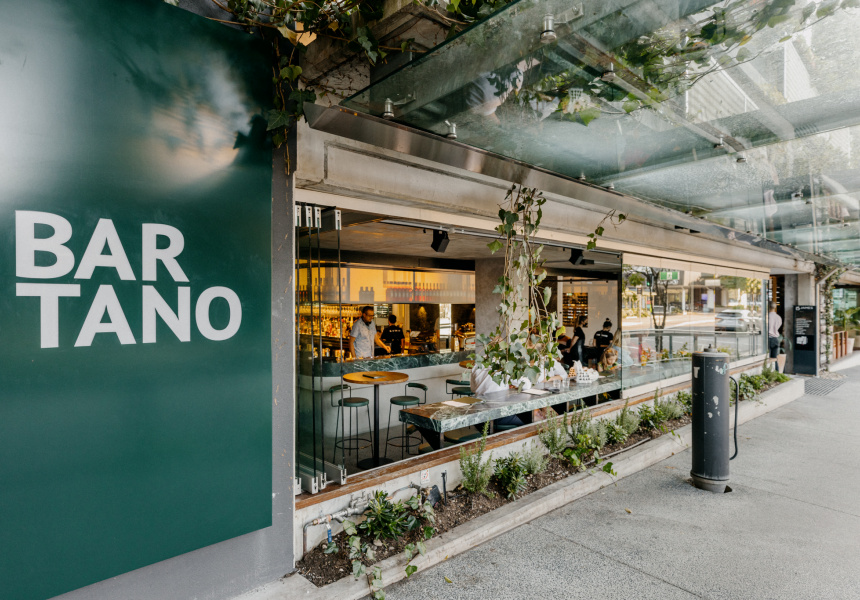 Does James Street need another Italian restaurant? It's a fair question.
The recently opened Bianca is the buzziest restaurant in town, Mosconi, parked up on Arthur Street, spills over with regulars every weekend, and PJ McMillan's Italian-inspired Tinderbox has long been a local favourite.
In the wider area, the popular Tartufo and little pasta "laboratory" Ripiena are just down Ann Street, and there's the perennially underrated Bar Alto on the river at The Powerhouse. North towards Newstead and Teneriffe there's Siffredi's and superstar Beccofino, and more casual eateries such as Italian Street Kitchen and Salt Meats Cheese. Towards the city, Rosmarino, Ciao Papi and Coppa Spuntino aren't far away.
It's an area overflowing with good pasta and pizza, and last week new Italian restaurant Gemelli landed on the corner of McLachlan and James streets, right in the middle of it.
"It's in that luxury setting, on James Street," says James Carney, who co-owns Gemelli with brothers Alec and Paul. "But it's different. This is home-style Italian that my mum would've made back in the day."
He's right. The 120-seat Gemelli is different. In a precinct big on statement dining, this is a much more family oriented restaurant. The fit-out is defined by its timber framing and ceilings, and the terracotta paving of its front section, which opens out onto James Street. It's a warm, rustic and unfussy space.
It's not the first restaurant for the Carney brothers. They opened the original Gemelli in Broadbeach in 2013. Its approachable menu of housemade pasta and woodfired pizza was a hit with locals and tourists, and it was followed by sister venues Gemellini in Nobby Beach and Roy's in Sorrento. Before creating Gemelli, the Carneys grew up working in restaurants in their home town of Griffith, NSW, which is celebrated for its Italian migrant history.
"Our grandparents migrated from Italy," James says. "In Griffith the after-school job was in the local pizzeria. But the cooking side really comes from mum, being around good food.
"[It was fresh] pasta at home. We'd make salami every winter and we'd make passata in the summer. We've grown up with Italian culture and a style of food they call 'cucina povera', which translates to 'poor kitchen'. We just love simple food and Italian doesn't need to be over done – it's a few simple ingredients thrown together and it works well."
That philosophy drives Gemelli James Street's uncomplicated selection of antipasti, pasta, Napoli-style pizza and mains. You might start with woodfired Queensland king prawns with parsley, capers, garlic and chilli, or grilled calamari with a radicchio and roasted walnut salad, followed by mains such as NSW black Angus scotch fillet served with roasted potatoes, seasonal vegetables and salmoriglio dressing, or grilled Western Australian octopus with a potato, capers and chilli salad.
A lengthy pasta menu includes eight-hour oxtail and pork shin ragu rigatoni; a four-cheese gnocchi with gorgonzola, fontina, asiago and parmigiano-reggiano; and Queensland prawn spaghetti with zucchini, chilli and cherry tomatoes. For pizza, a custom-made Forni Valoriani woodfired oven is punching out classics such as margherita and capricciosa alongside more singular creations that include the Griffiti (fior di latte, 24-month prosciutto di parma, rocket, shaved reggiano) and the Che Stupido (fior di latte with leg ham, salami, fennel, pork and chilli sausage).
For drinks there's a 200-bottle wine list that lines up small producer biodynamic Italian wines next to ballsier Australian shiraz and cabernets, plus a clutch of tap and bottled beer, and an Italian-leaning cocktail selection.
Gemelli's other point of difference is a whole second venue, Bar Tano, which occupies the former Bucci tenancy next door. It too opens out onto James Street but has a more glamorous fit-out that references the aperitivo bars of northern Italy.
"It's inspired by Milan, which has a strong culture of a social aperitivo hour," James says. "There's a lot of marble, there's a lot of mirrored surfaces. It's a very mid-century New York or Milan-style wine bar.
"Originally, it was to be one venue with the bar acting as a waiting area for the restaurant, but as we got into the project it felt like James Street could do with another bar. We wanted the fit-out to be different, given it's a different space."
The drink selection here leans more towards cocktails with classic spritzes and Negronis sharing the list with creations such as the Drive Me Nuts, a cross between a Negroni and an Old Fashioned; a buttery twist on a Whiskey Sour called Better Than Butter; and the Martini Express, which features a housemade coffee liqueur. There are also Italian wines available, and Italian and local beers. For food, Bar Tano has a rotating selection of salumi and cheeses and Italian entrees such as ricotta dip, burrata, gnocco fritto (crispy fried dough) and polpettini (small Tuscan-style meatballs).
Taken together, the venues have completed transformed the western entry to James Street.
"It feels awesome during the day because of the corner and the sun," James says, "and it's great at night with the doors open. I'm not sure there's anything else on James Street with quite the same indoor-to-outdoor feel."
Gemelli James Street
15 James Street, Fortitude Valley
(07) 3741 7990
Hours:
Tue 5pm–Late
Wed to Sun 12pm–3pm, 5pm–Late
Bar Tano
15 James Street, Fortitude Valley
(07) 3741 7990
Hours:
Wed & Thu 3pm–Late
Fri & Sat 12pm–Late
Sun 2pm–Late