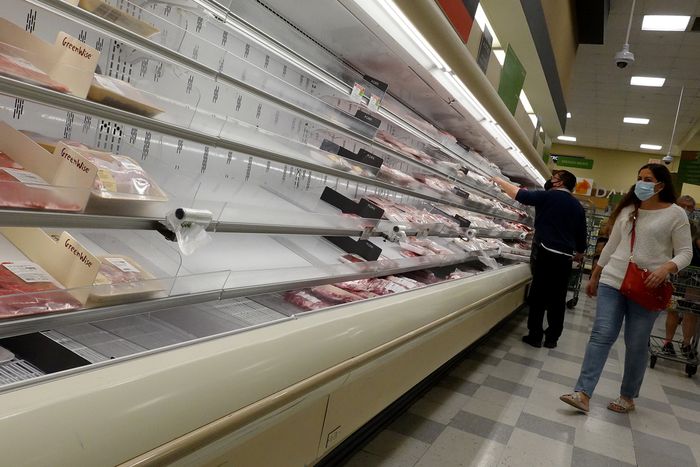 A Miami grocery store earlier this month.
Photo: Joe Raedle/Getty Images
Maybe you went to the grocery store and had a hard time finding your favorite cut of chicken. Or maybe you just read an article about another round of grocery panic or stories of some empty shelves, possible product shortages, and disappearing chicken wings. Yes, in addition to everything else, people are once again worrying about their groceries. Or rather, the lack of groceries.
Worker shortages at grocery stores and producers are one contributing factor as Omicron's contagiousness has thinned the workforce. Stew Leonard Jr., president and CEO of northeastern grocery chain Stew Leonard's, tells KTLA that 8 percent of his employees — around 200 people — were out sick or quarantining. Meanwhile, a spokesperson for the National Grocery Association tells DCist that "many of our members have reported operating their stores with less than 50 percent of their normal workforce capacity."
It isn't just people calling out sick because they caught COVID, either. A record 4.5 million quit their jobs in November — 4.2 million did in October — many of them in low-paying work. The American Trucking Associations estimate that there was a shortage of over 80,000 truck drivers last year. In a survey of 36,000 hourly workers at the Kroger grocery chain, 42 percent said they had borrowed money to pay for basic needs, 34 percent said they struggled to pay for food, and 14 percent said they didn't have a home. Today, 8,000 workers at 80 locations of King Soopers, a chain owned by Kroger, went on strike because of failed union negotiations.
Through all of this, though, some analysts think the current situation has a more straightforward cause: the weather. Dave Masser, president of Pennsylvania potato wholesaler Sterman Masser, Inc., tells DCist he thinks it's more about "the physical nature of being able to move product when we have this kind of weather." Masser tells the website that one Sterman Masser truck carrying 40,000 pounds of potatoes to a distribution warehouse in Maryland had to cancel the shipment. Speaking with KTLA, a spokesperson for MOM's Organic Market says the company had empty shelves last weekend because winter weather had prevented trucks from getting from Pennsylvania to D.C.
All in all, the message seems to be: Don't panic but also get used to it. Lisa de Lima, the spokesperson for MOM's Organic Market, tells KTLA that we're going to see "isolated incidents" of product shortages during "that window where it takes a minute for the supply chain to catch up."