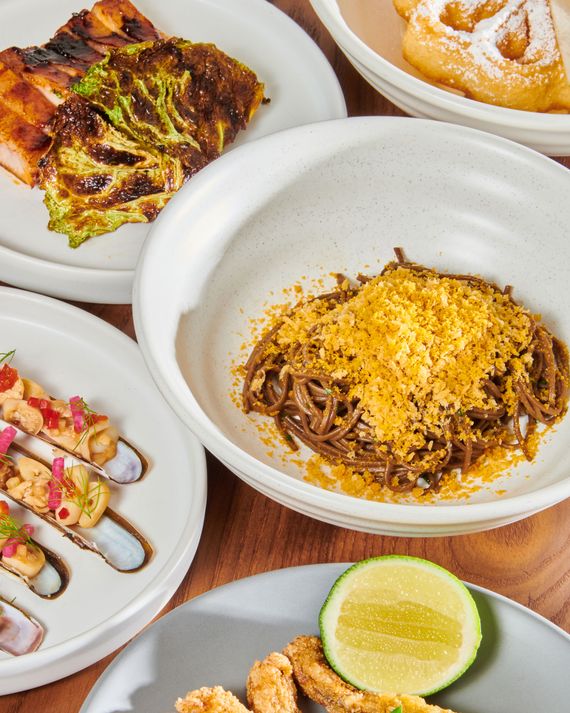 A selection of dishes from Nudibranch on First Ave.
Photo: Evan Angelastro
There are all sorts of reasons for grizzled dining veterans to be slightly suspicious of the new East Village restaurant Nudibranch, a former pop-up operation that now occupies a brick-and-mortar space among the jumble of storefronts on lower First Avenue. There's the eccentric-sounding name (which turns out to be a brightly colored mollusk at the bottom of the sea). There's the small, set-menu format ($75 for three courses), which has been popular around town during these COVID-addled times, but can often be more miss than hit in this grumpy critic's experience. And finally, when it comes to the professional pedigree of the young chefs and owners, there's the overused phrase "Momofuku alums," which tends to conjure up images, in this post-Momofuku era, of tiresome country-ham tastings and stale, copycat pork buns.
I'm happy to report, however, that once situated at the elegant little bar, or at one of the polished ash-wood tables in the loud, somewhat cramped dining room, many of these worries and preconceptions melt away. There are some Momofukian touches at Nudibranch, it's true, including the location, which is not far from the original Noodle Bar; the trademark spare, all-lowercase, one-page menu; and even an occasional "country ham" offering that includes Korean rice cakes. The three talented young cooks — Matthew Lee, Jeff Kim, and Victor Xia — did all work at various Momofuku outlets (Kim was a busser at Ssäm Bar), but they also learned their craft in other world-class kitchens, including Eleven Madison Park and the haute Korean Michelin destination Jungsik. At Nudibranch, as one course succeeds the next, it's clear that like most successful chefs, they've taken influences from all over and created a style all their own.
The first dish we sampled — slices of buttery hamachi arranged in a small round serving bowl with a green-tomato granite and a garnish of sea grapes and edible flowers — was almost too pretty to eat. Ditto the excellent razor clams that followed, which were chopped into small bits and laid out on their cool, narrow shells with a flavoring of Meyer lemon, spicy Japanese chili, and maesil, a syrup popular in Korean cooking that's made from fermented green plums. There were also little bits of scallop in this first group of dishes, set on toasted seaweed chips and topped with slivers of cucumber and trout roe, and a serving of four frogs' legs, deep-fried in a flour batter like the chicken to which they're often compared, but flavored with a paste made with lemongrass, galangal, and ginger, and laid side by side on the plate with a wedge of lime.
The collection of recipes in the second flight of dishes was possibly even more accomplished than the first, especially if you're not a fan of amphibian limbs. We sampled slices of squid served over a scrim of spicy black beans stained with ink, and fat florets of cauliflower cooked a variety of ways, scattered with slivers of sweet, chewy lap-cheong sausage from Chinatown. There was an elegant helping of seared shrimp, too, candy-size and sweetened with baby kumquats, among other things, although the item the tasters at my table couldn't stop nattering about was a simple helping of cold buckwheat soba that the chefs douse with a traditional mirin and kombu–based dashi and then dust with drifts of shaved bottarga on top, the way they might at the grand pasta destinations along the Amalfi Coast.
"I'd come back just for this dish," one of the soba loons at my table said, at first in a quiet voice and then much louder, as the small room filled up with revelers, many of them shouting to be heard over the gathering din. Impossibly noisy dining rooms are a welcome thing in this not quite post-COVID era, of course, but by the time the final courses arrived we were all shouting into the din, too. I have vague memories of delicately sliced pork jowl arranged around bits of pineapple and crackly pressed leaves of charred cabbage, and a mole-drenched helping of braised turkey neck that probably would have been more enjoyable with a stack of tortillas on the side. I enjoyed my black sea bass (flavored with XO sauce and propped artfully over a layer of Cantonese turnip cakes), but the dish I'd go back for is the medley of assorted mushrooms arranged around a wobbly egg yolk and seasoned with a dash of Shaoxing wine.
When or what time exactly to return to Nudibranch depends, I suppose, on your frame of mind. Back in the old David Chang universe, the Viking-like sounds of feasting and celebration complemented the two-fisted umami-laced heartiness of the food, but to get the most out of this precise, elegant style of cooking, I suggest booking a peaceful, early-evening table. There are playful cocktails with which to steel oneself as the noise levels begin to rise (for maximum effect, try the "gilda martini" stuck with olives and a single white anchovy) and a nicely curated one-page list that contains an entire section of drinkable "skin contact" wines.
Right now, there are only two desserts to choose from, but to maintain your sense of zenlike calm, call for the rosette, which is a kind of Scandinavian funnel-cake pastry made in the shape of a flower and garnished with five neatly sliced blades of pear on top, arranged in the shape of a fan.
Recent restaurant reviews