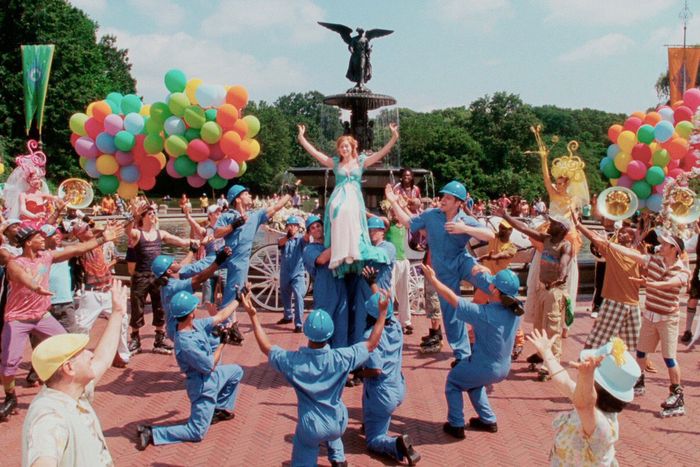 What New York City will look like in July.
Photo: Disney
New York City is now set to start its "major reopening" on May 19, Governor Cuomo announced at a press conference today. Starting two weeks from this coming Wednesday, the governor will lift most pandemic-related capacity restrictions across the state — including in New York City. The news comes a few days after mayor and noted Cuomo foil Bill de Blasio announced his plans to kick off the "Summer of New York City" on July 1.
But according to the governor, the Summer of Hedonism can actually start well ahead of the mayor's previously proposed schedule. On the 19th, the city's restaurants, already set to go up to 75 percent capacity on May 7, will be allowed to reopen their full dining rooms for the first time since March 2020 — as long as they can maintain six feet of distance between tables, a rule that will remain in place, in keeping with the CDC's current guidance. Stores, gyms, salons, offices, and "amusement and family entertainment businesses," meanwhile will also be allowed to hit 100 percent capacity. Broadway could theoretically reopen on May 19, too, but it won't, because it takes time to mount a production and sell tickets). Only large outdoor stadiums will still have capacity restrictions, set at 33 percent.
That's not all: Starting Monday, May 17, the subway will (finally) resume 24-hour service, news that is both extremely welcome and extremely overdue. Last week, Cuomo announced the curfew on bars and restaurants would lift later this month — a long-awaited development that also left late-workers (and diners) with few options for getting home between 2 and 4 a.m., when the subway was closed for disinfecting. (The MTA plans to continue disinfecting, but starting on the 17th, it will take place during operating hours.)
This post has been updated to reflect the dueling nature of recent announcements by de Blasio and Cuomo.