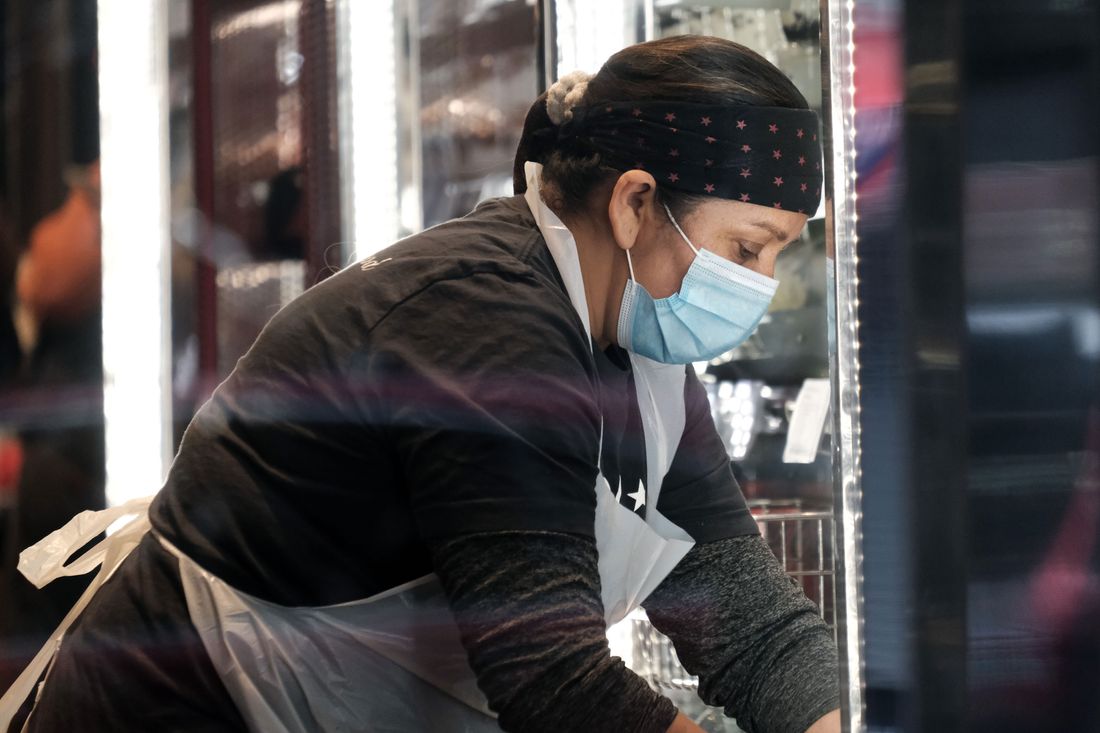 A masked restaurant worker photographed earlier this week in Manhattan.
Photo: Spencer Platt/Getty Images
Last night, Andy was getting ready for a party at the Chelsea bar where he works. Like most holiday parties, it required some extra work on the part of the staff — though not for the usual reasons. "Almost half of the staff tested positive for COVID. Everyone got tested," says Andy, who asked to only use his first name so he could speak candidly about the situation at his work. His own test came back negative, and management had no intention of closing after it was determined enough people were able to work. "The plan is to stay open," Andy says.
Instead, in response to the positive cases, his boss bought a bunch of rapid tests that co-workers have been using before every shift, and there has been no mention of the positive case on the bar's social media. "We have a private party tonight, and they were informed and told everyone working has tested negative," he told me.
Roughly a month after the Omicron variant was first detected, New York is facing another COVID wave — or maybe "two waves at once," as David Wallace-Wells wrote yesterday on Intelligencer. The CDC reports that New York and New Jersey are experiencing the fastest spread of Omicron in the country with the variant now accounting for 13 percent of cases. According to the New York Times, cases are up 135 percent and hospitalizations have increased 48 percent over the 14-day average.
As concern has grown, people are sharing case counts in their friend circles, reports have emerged of unusually long lines at testing sites (demand for tests has doubled in NYC), and some restaurants have announced they will temporarily close following potential or confirmed exposures. "Sadly, we have not been spared from the onslaught of Covid exposures in our industry," reads one such note from the Prospect Heights wine bar LaLou. (At least one business, Cafe Mogador, posted a cryptic announcement that doesn't attribute its closing to anything in particular.)
At Love, Nelly in Bed-Stuy, co-owner Stephanie Gallardo closed the business when an employee tested positive. After the scheduled staff tested negative, they decided to reopen today. Yesterday, one employee waited two hours for a test only to be turned away. (She was unable to get a test at multiple other locations yesterday, too, until managing to find one this morning.) This was the business's second such incident. Earlier in the week, Gallardo says, another employee discovered her roommate had tested positive, though the employee did not. "If they came back positive, we'd react in the same way. We'd close so that everyone could get tested, find out who's negative, figure out what the shifts look like, make sure we can open. Do we have enough bodies? Because we're a small team."
A few restaurant workers who spoke with Grub Street say business has slowed down recently, though they're uncertain if that's necessarily due to the threat of the Omicron variant. One who works in Midtown says fewer office workers have been coming in for lunch but not for after-work drinks. And several people say their personal risk calculus has changed because of vaccination and working in restaurants throughout the pandemic.
"Everyone has fatigue including me. I think at this point, we're like, I already got vaccinated, I changed my business, I did this, this, and this, and then there are all these people that don't want to get vaccinated. It's very frustrating for us that this continues to happen," says Daniel Ortiz de Montellano Luft, an owner of Casa Pública in Williamsburg. "Now finally, they put this mandate out for people working in the private sector, but it's a little too late. There should have been a mandate at the beginning."
The toll is also being felt financially. While not everyone thinks holiday or office parties should be back this year, the Omicron wave crashing over New York is yet another gut punch for some business's bottom lines. "We have had several cancellations of large holidays, which we rely on," Luft says. "But that being said, we are getting booked for large reservations of eight to 12."
Of course, not every restaurant has experienced a known positive case among its staff, and some workers understand that by vaxxing and masking, they're doing everything they can to protect themselves and their customers. "I take COVID very seriously, but I'm not gonna let it run my life," Andy, the Chelsea bartender, explains. "I really think, as long as you do the right things, you'll be good. We check all vaxx cards and follow all the protocols."
But it seems unavoidable that more restaurants are going to see positive cases in the coming days, and additional closures are inevitable. A restaurant worker I spoke to yesterday told me four of her co-workers had tested positive — then sent an update that the number had climbed to six. This morning, that number rose to seven. All over town, restaurants are experiencing similar surges: "I had two friends text me in the last two days about their staff getting COVID," says one front-of-house employee who both serves tables and bartends in Manhattan. "Not sure if they're shut down, but they're definitely running thin."