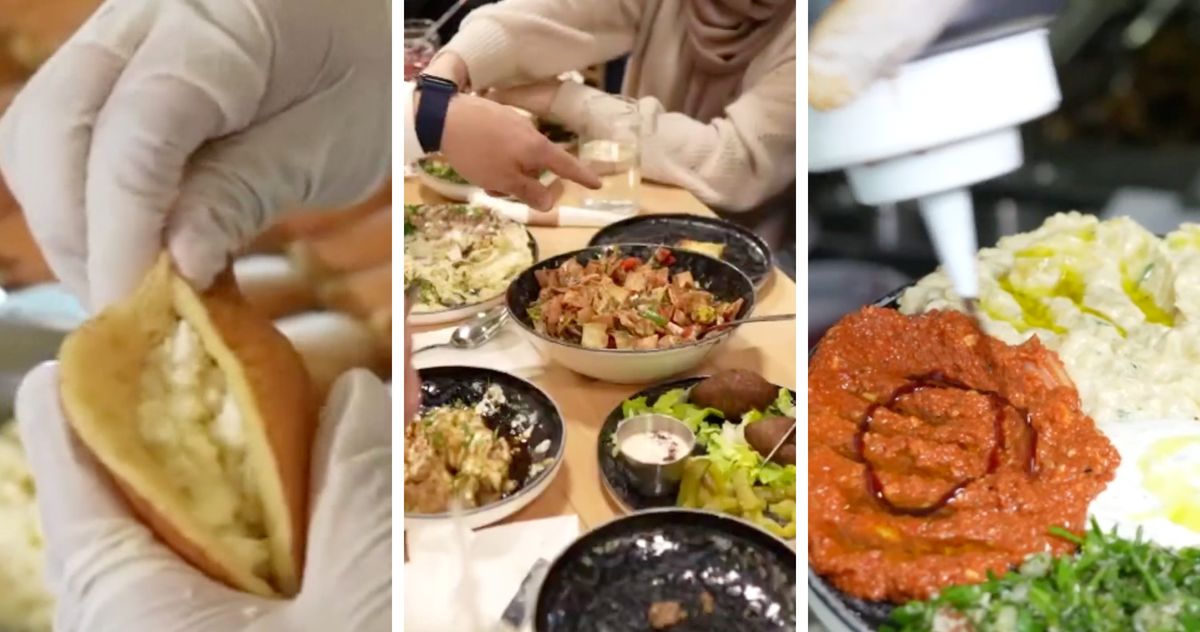 On a recent Saturday night in Staten Island, only four tables were occupied at Ayat, the newest branch of the "Palestinian bistro" mini-chain that also has locations in Bay Ridge and Industry City. Outside, a dining tent illuminated by a six-foot crescent moon also sat empty. The kitchen, however, was slammed, as cooks prepared takeout orders in time for iftar at 7:15 p.m., when Muslims break their daily fasts after sunset throughout the month of Ramadan. Dozens of pink-floral, keffiyeh-accented shopping bags, designed by the restaurant's 30-year-old co-owner, Abdul Elenani, awaited pickup. At its busiest, the restaurant will serve more than 400 people per night, compared to the 300 that might come by on a typical weekend.
Ayat Masoud — Elenani's wife and the restaurant's namesake — was focused on qatayef, the pillowy half-moon-shaped pancakes filled with sweet cheese or walnut mixture that are the quintessential celebratory dessert during the holy month. "Qatayef has been my specialty every single Ramadan since I was 18," when she'd started making it at Balady, her family's well-known halal grocery in Bay Ridge, she said. "It started when I was in college, then I did it through law school and when I was working as a prosecutor at the Brooklyn DA." At one point, she purchased an industrial machine that was capable of turning out 2,000 qatayef per hour. "I still have it," she told me, "but because of the new restaurant I decided to take it easy on myself this year and just make them here. It's one of those projects that is your entire focus for all of Ramadan. It's very difficult to do that and oversee a million things and make them good."
In addition to coming up with the menus at the trio of Ayat restaurants, Masoud manages her own legal practice in Bay Ridge. This year, Elenani is planning to open three more restaurants: an expansion of the popular al Badawi in New Jersey; Ayat City, slated to open in Manhattan in a few months; and a Staten Island outpost of Yemen Café, along with Akram Nassir, the owner of the original location on Atlantic Avenue and their partner in all culinary endeavors. "People are surprised — How the hell is this guy opening up new places left and right and he doesn't even serve alcohol?," said Elenani. "High volume. Good food. It's profitable, but the kind of profitable you really have to work for." Elenani, who describes himself as "a graphics guy" and worked as a contractor after college, circulates between all the restaurants (plus the halal farm off their home in New Jersey that supplies the restaurants; he estimates that 140 lambs were processed during Ramadan alone) and is heavily involved in the design: He chose the white tiles with floral-gray accents on Ayat's wood-burning stove, created the takeout boxes, and personally welded steel for a replica of the Al-Aqsa mosque in East Jerusalem for the rooftop of Ayat in Industry City.
He also commissioned the murals that decorate the restaurants. At the original Ayat in Bay Ridge, a veiled woman is depicted witnessing a confrontation between Israeli soldiers and Palestinian children. "We are looking at it from one perspective, a Palestinian girl," said Masoud. "Because you go to Palestine and you see soldiers everywhere. It's one side of the reality, but it's reality." Elenani and Masoud (who both grew up in Brooklyn and first met in 2018, when Elenani was looking for legal advice regarding some cafés he ran at the time) knew they wanted to use their businesses to tell New York diners a different story about Palestine than what they were used to hearing. "Abdul really wanted to go all out there with everything, and I told him, fine, but don't make this a political statement, because the idea is to spread the culture, not the politics of it."
"I follow her groove," Elenani added. "I start the fire, and she cools it down." Even still, when I ask whether they ever considered eschewing the label "Palestinian" in favor of the "Middle Eastern" or "Mediterranean" designation that some other restaurants use, Elenani is unequivocal with his answer: "Fuck that. They say they're from the Levant because they are too scared to say the word 'Palestine.'"
The veracity of the political sentiment varies among their restaurants. Al Badawi — which attracts a largely non-Muslim audience, many of whom arrive lugging their own IPAs — is still branded Palestinian but addresses the occupation less directly in its décor and design. During a Thursday night of Ramadan this year, the room was full of affluent-looking Brooklyn Heights residents, while a group of younger diners were discussing Zionism as they waited for the rest of their party to arrive. At 7:24 on the dot, a single table of two veiled women began eating the food that had been sitting in front of them for the past few minutes.
It was a stark difference from the scene in Staten Island, where diners started to show up at Ayat around 6:45, and a waiter passed out dates, which are traditionally eaten with water after sunset to break the fast before iftar. By 7:15, every table inside and out was taken as diners started to enjoy Palestinian specialities like Ayat's mansaf, saj flatbread that's soaked in fermented yogurt before it's layered with rice, cardamom, chunks of lamb, and more fermented yogurt.
The dish, one of the many Palestinian dishes that Masoud learned to make from her mother, was part of a streamlined Ramadan menu that — like Ayat's other menus — was printed with the words "Down with the Occupation" in Hebrew, Arabic, and English. More than anything, the menu is built for efficiency, so the staff can feed a lot of customers all at once. "People are just more cranky and they can't really wait for their food, so we prepare for that rush — it's exciting," Masoud told me before she disappeared into the kitchen for the rest of the night. "There's a sentiment to it because you are helping everyone break their fast and there is the adrenaline rush of making sure all the food comes out at the same time."