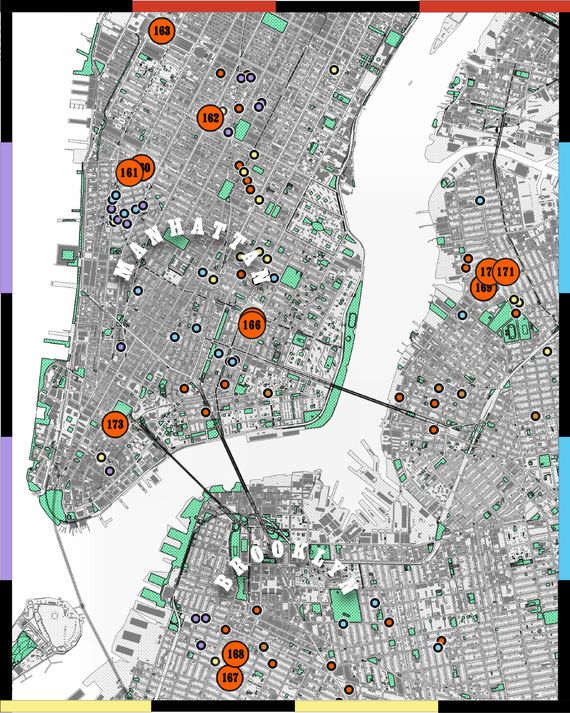 A running list of everwhere I've been, week 16: 160: Jack & Charlie's 161. Corner Bistro 162. Japan Fes 163. Zou Zou's 164. Lalibela 165. Dirty French 166, Van Leeuwen 167. Leyenda 168. Barbalu 169. Rule of Thirds 170. Davey's Ice Cream 171. Twins Lounge 172. La Flor de Santa Ines 173. Le Gratin
A little more than ten years ago, I lived in Lyon, working in the pastry department of a fancy restaurant on the very edge of town. Even within France, Lyon is renowned for its surrounding pastures and vineyards, which produce abundant reserves of meat, cheese, and wine. This is a city whose namesake "salad" is mostly an excuse to eat too much bacon and a big, runny egg.
Aside from the grueling hours, low pay, and occasional sexual harassment, the detail I remember most about my time at the restaurant was the regular rotation of animal flesh that we'd eat during staff meal. My first few months there coincided with hunting season, and it all became so much that I eventually told everyone I was vegetarian so I wouldn't have to stomach yet another braise of bloody wild boar. Even without the meat, my "plant-based" diet was largely limited to some form of starch with the heavy cream sauce du jour or bread and cheese.
I also remember one particular night when the owner, who usually appeared only to scold the kitchen staff, arrived to entertain a group of Michelin-starred chefs including — someone told me — Daniel Boulud. None of the French employees knew who he was, but I'll admit it made me nervous to think about one of New York City's most famous chefs eating the saffron-and-cocoa-nib entremet I'd be plating.
I never did find out if he tried it or liked it, and I hadn't thought about that night in a long time until last Friday, when I was looking for a place to go and heard it was opening night at Boulud's newest Manhattan restaurant, a Lyonnaise bouchon called Le Gratin, named for the classic dish of potatoes roasted in cream, which at the restaurant is based on the recipe of Mère Boulud herself. It sounded suspiciously like yet another comfort-food restaurant, but at least it was a different country's idea of comfort food and not yet another restaurant selling deep-fried onions.
Stepping into Le Gratin from the wet sidewalk was a time warp — not just because of the sepia lights and wall-to-wall Art Nouveau décor but also because the space looks exactly the same as it did before the pandemic, when it was a restaurant called Augustine run by Keith McNally. The only difference was the one time I went to Augustine, I could barely get a seat. Opening night at Le Gratin was a much calmer affair with most of the tables in the dining room still unseated at 7 p.m.
I made my way to the bar, which was at less than half-capacity, where they gave me the corner seat, conveniently placed behind the maître d' stand so I could eavesdrop on operations. It seemed fine enough for a rainy evening until I saw how much fun they were having in the rest of the Beekman Hotel, which you have to walk through every time you want to use the bathroom downstairs (a winding trip requiring you to walk through the absolutely bumping bar at Temple Court, past an elevator lobby, down a carpeted staircase, and back through again). Returning from all that excitement to the comparably humdrum Le Gratin felt not just sparse but stale, like walking onto a movie set.
Slowly, however, the restaurant began to fill up with diners. There was a largish party in the back, and there were people who already seemed to be known to the staff, like the man who came in alone and was redirected to a table from where he was about to sit at the bar. "Thank you for arranging the table for us," said an older guy with a Birkin-toting wife. I later heard the staff going over who at one table was "the father" and who might be "the son."
Many of the patrons announced themselves in some way as neighbors. The woman eating alone when I got there said "I'll be back tomorrow" as she departed. A middle-aged guy who walked in asked about the situation at the bar and said he'd be back for a drink "in 15 minutes, after I walk my dog."
Foie gras may be going out of fashion, but you wouldn't know it from the menu, where it shows up multiple times. "The foie gras is folded into the rillettes but shaved over the haricots verts," the bartender explained as I debated which dish to get. I landed on the rillettes, mostly because they were recommended by the mother-daughter couple next to me. The daughter was visiting from college for the weekend, and they were enjoying a night out together. Mom told me she was a longtime fan of Boulud's restaurants, which is why she wanted to be here opening night.
The cubes of foie suspended in rillettes were impressive, and I had to appreciate the glass of Ruinart the bartender poured for us ladies sitting at our side of the bar because, he explained, he just happened to have some left in the bottle and wanted to finish it off. "It's gonna go to waste otherwise," he insisted.
Potatoes were everywhere: Mother and daughter split an order of the dauphinois, and I noticed a plate make its way to the gentleman next to me as well (which I thought was curious since he'd earlier asked to have the butter removed from his plate of bread, but live your life!). One just-seated couple had both frites and potato chips on their table. The lightest thing I ate all night was watercress vichyssoise, which was a nice warm-up, I suppose, for my next potato dish.
There is no "small" option when it comes to the gratin at Le Gratin. You cannot simply order a serving; you must get an entire baking dish's worth, which you have to keep in mind if you come here by yourself. (Although the price, $14, struck me as surprisingly fair). When the time arrived, a waiter delivered my gratin balanced on a plate for protection and warned me that the still bubbling platter was, in fact, quite hot. I scooped a portion of steamy potatoes and cream onto my plate and dug in.
I had about four really great bites before i had to give up, a scenario I had discussed with the bartender before ordering. He disappeared with the remainder and returned with my leftovers neatly tucked into a white shopping bag.
By this point, I'd consumed enough animal fat to make a bar of soap, yet I knew I had to try a dessert from Boulud's pastry kitchen, if only to restore some balance in the world. I know Boulud is not back there making the restaurant's fraise melba himself — I didn't see him in the dining room either — but my former pastry-chef self couldn't help but compare it to the cake I'd served to him so many years ago. The dessert was light and refreshing, especially after such a heavy meal, but it was no saffron-and-cacao-nib entremet.
More From The Year I Ate New York