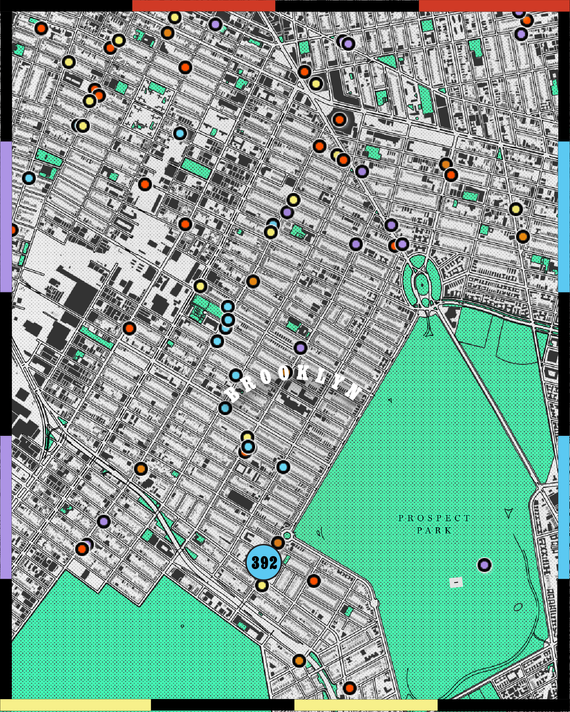 I think I found the most interesting new restaurant of the year, and it's in Park Slope of all places. Just off the roundabout on the southwestern tip of Prospect Park is a place called Syko, which is short for "Syrian" and "Korean." This is not a Syrian-Korean fusion restaurant, mind you, but more like a Syrian-Korean KFC–Taco Bell with each discrete concept represented on its own, down to the customer-facing kitchen counter with mise en place split through the middle according to cuisine. Banchan on the left, grape leaves on the right. It's my favorite new place to eat.
Here's where it gets even more complicated: The first time I went in, neither the Korean nor the Syrian menus were available — at least until 2:30. Instead, for weekend brunch, the place offers a handful of specials, also split between two menus. A printed sheet taped to the window listed kimchee grilled cheese, a Spam sandwich, a fried-chicken sandwich, and bibimbap as the Korean offerings; the Syrian side had a couple of omelet variations, a labneh sandwich, a lamb's-liver sandwich, and a selection of savory pies topped with cheese, muhammara, or the spiced beef sausage sujok.
Seriously, go to Syko. Photo: Tammie Telemariam
If you have been keeping up with this year that I'm eating New York, then you already know I can't resist liver, so even for my first meal of the day, I had to get that lamb sandwich. I rounded out my to-go order with the bibimbap and the chicken-popper sandwich and watched as the three chefs got to work assembling my order in the kitchen.
There are a few counter seats inside the restaurant facing the sidewalk, but Syko is best suited to takeout and delivery. This food holds up in transit — like the lamb sandwich, made of darkly caramelized cubes perked up with pickles, red onion, and tahini expertly rolled up in a thin pita. Same goes for the hefty bibimbap, or just get $6 containers of prepared spinach, mushrooms, bean sprouts, and kimchee and then build your own rice bowls (or ramen or whatever!).
With one order, you can stock up on meze for the week when getting a bulgogi fatboy — a sandwich wrapped in a Korean pancake — for immediate consumption. I know this because for the past week I have mostly subsisted on two subsequent deliveries from Syko, and I haven't gotten bored yet. (Also: Order the kimchee fried rice.)
In fact, there's still all sorts of stuff on the menu I need to try, like Syrian potato salad. But I've put in a lot of work: Sunday there was falafel, fried cauliflower, and fattoush with both flaky baklava and warm hotteok for dessert. Yesterday, I had the leftover order of japchae for lunch. But my favorite thing so far may be the Syrian phyllo-cheese roll, which I have found is best consumed the morning after it is ordered, with a cup of black tea.
As with all great neighborhood restaurants, this is a family business, run by a Korean husband and Syrian wife, plus her two brothers. The day I went, everyone was on-site, with Rosette behind the register and the three guys in the kitchen, harmoniously cooking their very different dishes.