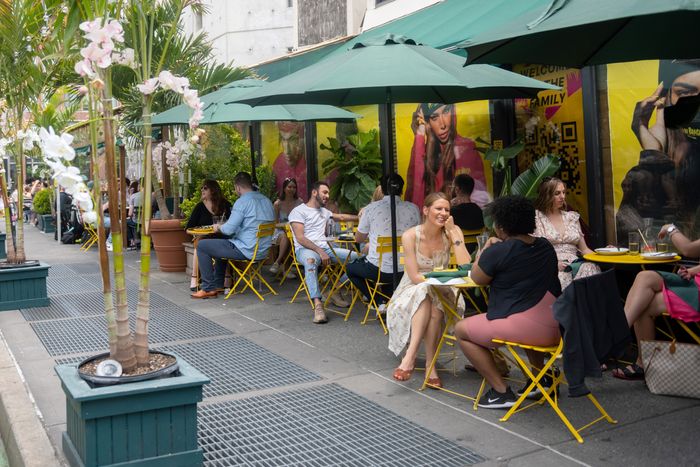 Get ready for more of this. Photo: Alexi Rosenfeld/Getty Images
Whether you love 'em or hate 'em, outdoor-dining setups aren't going anywhere. Today, New York's City Council is expected to pass its outdoor-dining bill (the bill passed a committee vote 7 to 1 during this morning, with the full vote scheduled for this afternoon), which will make sidewalk and street seating a permanent part of life in the city. It's been 18 months since the bill was introduced, and at times it seemed fair to wonder whether the councilmembers had simply forgotten about it.
One group for sure hadn't: restaurateurs who kept wondering, So are we going to have to tear down these shacks or what? Earlier this summer, Open Restaurants advocates called attention to the fact that the emergency order for outdoor dining was yet again set to expire. So Mayor Eric Adams yet again temporarily extended the order, while a spokesperson for the City Council said at the time that an environmental review was completed and a vote was imminent.
It's been a while since this news first came out, so it's understandable if you need a refresher on what all it entails. The bill amends the City Charter and administrative code, specifically repealing the old sidewalk-café licensing provisions to set up a system that is more similar to the COVID plan, albeit with increased regulation. Participating restaurants will be charged annual fees, streeteries will be allowed from April through November (while sidewalk cafés can operate year-round), and the program will be overseen by the Department of Transportation.
Open Restaurants, created at a time when nobody could go inside restaurants, was credited as a lifeline to the hospitality industry that saved numerous jobs, but in a messy marathon hearing for the law last February, New Yorkers called in with a litany of complaints about outdoor-dining setups: They said they were being used for storage, speculated that they contributed to spiking crime rates, and — oddly — claimed that the program's job-saving capabilities were merely propaganda from lobbyists.
One thing is for sure: Before the pandemic, only 1,400 restaurants had sidewalk-café licenses. Outdoor dining was also allowed in fewer neighborhoods, concentrated mostly in Manhattan and wealthier pockets of Brooklyn. Open Restaurants brought outdoor dining to 17 new neighborhoods, including many communities that are predominantly low-income or home to people of color. It also increased the number of outdoor setups to over 12,000, according to the Department of Transportation. With outdoor dining becoming permanent throughout the city, it's permanent in more communities as well.