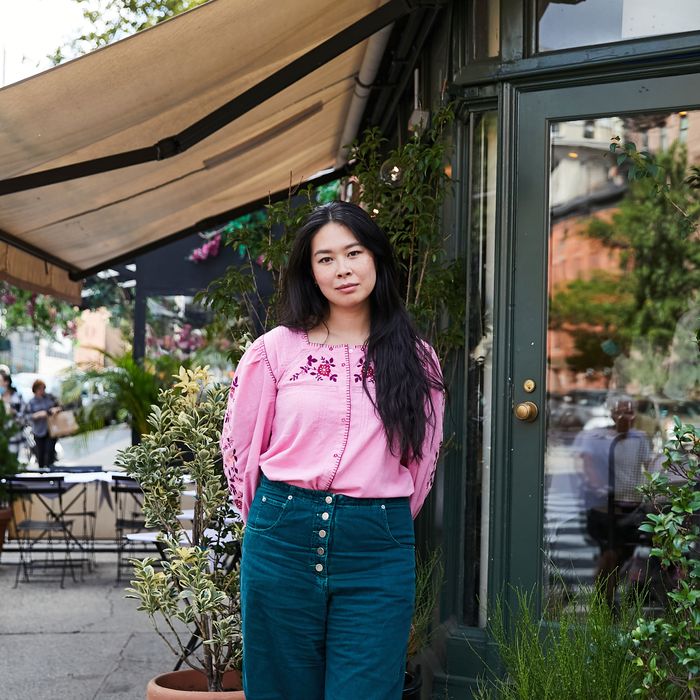 Annie Shi and her business partners opened King on a busy Soho corner in 2016.
Photo: Colin Clark
Annie Shi is a co-owner of King restaurant and sits on the steering committee of ROAR (Restaurants Organizing Advocating Rebuilding), a nonprofit made up of hospitality leaders advocating for New York City's independent restaurant industry.
When COVID hit in March of 2020 and restaurants were shut down, I, along with my business partners Jess Shadbolt and Clare de Boer, figured our restaurant King would be closed for, at most, a month. Then two months dragged to three, and all we could do was watch the news from our homes and worry, most obviously about the pandemic that was decimating our city and the world, but also about everything else. The rent, which we had stopped paying and had no way to pay back without sales. Our staff, whom we'd had to furlough and who couldn't get through to apply for unemployment. Whether pests were running rampant in our empty kitchen. Whether the ovens had been properly turned off. Restaurants are not meant to remain lifeless
Naturally, when the city allowed us to reopen in June, we jumped at the chance. We started with a cocktail window, and by July, we moved to full outdoor dining. Like many other operators in the city, we hustled to get our first outdoor structure built. We brought back our staff and opened our doors, albeit with face masks and face shields on.
But by September, we were floundering. We still owed rent from March and were in a tense negotiation with our landlord, who refused to grant us any kind of concession. Our debt was in the low six figures. I met with my partners in the park by Spring Street. Even if we were able to return to 2019 sales by, say, the fall of 2021, we would never be able to achieve the kind of sales or profit that would allow us to pay off all the money we owed. Even in the best of times, profit margins are only 5 or 6 percent — what was the point of fighting so hard?
The numbers simply didn't work. We knew we'd have to close the doors on the restaurant we'd built just five years earlier. And then, that same month, Mayor de Blasio announced that the Open Restaurants program would become permanent. This is the only reason that King is still open today.
Because we are on a corner, we were able to build an additional 24 seats on the road in addition to our preexisting sidewalk café. We reran the numbers and saw that it was tenable. It also meant we could hire back every staff member who was looking for a job and hire some new faces as well. At our current capacity, we can serve dozens of additional guests per night and increase our staff of 20 to 33.
We've invested nearly $50,000 in our outdoor cabins, a decision we made after we knew we wouldn't have to tear them down a few months later. Now, neighbors stop by to tell us that the added light and activity makes them feel safer walking home at night. King is certainly not the only restaurant that was rescued from the brink by Open Restaurants, but I've now seen firsthand how the program can help a neighborhood too.
While restaurants are certainly doing better now than they were a year ago, they are not out of the woods yet. Employment is still down; the number of jobs is still 35 percent below where it was pre-pandemic — a massive drop and a clear sign that our industry still needs plenty of help.
Now the outdoor dining program is under fire. At community board meetings, some New Yorkers complain that the structures take up their parking spots. Others say they're shabby, loud, and dirty. Meanwhile, rumors swirl in the industry that the city might force us to rebuild any outdoor seating areas so that they are uncovered — a costly change that would also defeat the purpose of the seats as tempestuous weather becomes more common during the summer months.
To be sure, Open Restaurants is not perfect.  But the need for improvement to a nascent program is no reason to shelve a promising plan that offers tangible and transformative benefits to the larger New York City community.
Instead, a well-regulated program can balance the expansion of outdoor seating with guardrails against misbehavior or negligence. The structures require constant maintenance — we are in the process of trying to winterize and repair the floors in ours — but these construction needs could be regulated just as every other aspect of operating a business in New York City has been.
It's absolutely necessary to make this program a truly permanent part of New York City, both to keep our recovery going strong and to activate the public realm like never before. Open Streets helped to bring back vibrancy, charm, community, and a shared sense of hope after months of despair. Even now, Open Streets is critical to helping restaurants come back, hopefully stronger than ever.
But this is about more than just restaurants' needs. It's about the positive impact they have on their communities. Restaurants anchor neighborhoods, keep eyes on the street, and help drive traffic to nearby businesses. How many times have you met friends for lunch or dinner and found yourself browsing a bookstore or picking up a coffee or bottle of wine before or after your meal? When a restaurant thrives, its neighbors do too.
In the last year, Open Restaurants has proven itself to be a transformative force for good, one that has kept our restaurants in business, our commercial corridors successful, our streets active, and our neighborhoods alive. With proper enforcement, this program can lead to a more prosperous and rewarding street life for all New Yorkers. Open Restaurants can be the silver lining in what has been a catastrophic 19 months for our industry and our city. This program has and will create jobs, vibrancy, a healthier public realm, stronger communities, and more. King would not have survived without it. And in a few years, we'll all wonder how we ever lived without it.