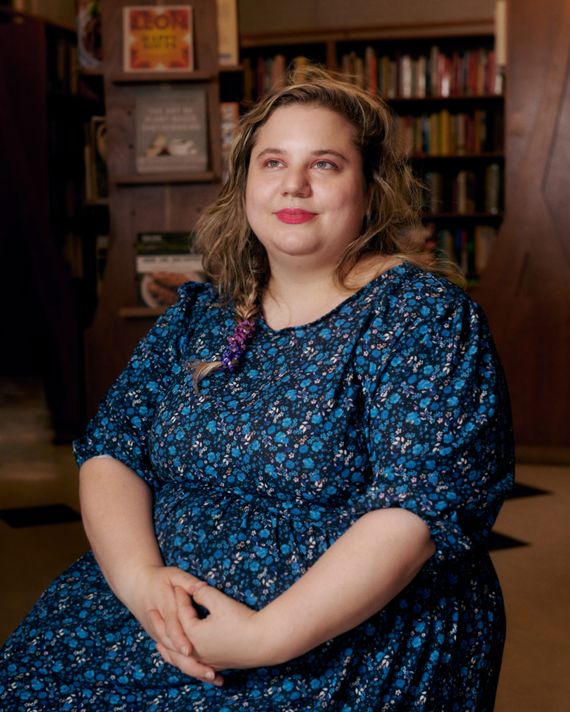 When Paige Lipari opened her bookstore Archestratus in Greenpoint in 2016, she did so with $40,000 of her own savings and loans from friends and family. (All of which have since been paid back.) At the time, she didn't expect to run a shop that specializes in books and food, but Lipari's laid-back approach to Italian-accented baking and cooking resonated with the public and, during the pandemic, Archestratus shifted to selling more fresh grocery items and merch.
Now, Archestratus is making another shift, expanding next door to add an entirely new book-browsing area, while the original space at 160 Huron Street will offer an expanded Italian grocery, more café seating, plus beer, wine, and cocktails (provided Lipari can upgrade her current liquor license).
When the new space opens later this month, the two areas will link up under outdoor party lights, but Lipari is the first to admit that, given the elevated price of lumber, ongoing staffing shortages, and lack of bank loans, summer 2021 is hardly the ideal time to expand a small business. So why is she doing it? We caught up with her to find out, and to learn about how she embraced an innovative approach to crowdfunding that looks to the future to help bankroll her business right now.
The last 16 months have been so hard for all small businesses, especially independent bookstores and restaurants. Why are you expanding now?
Right before coronavirus hit, I was applying for SBA loans and trying to negotiate a lease on Manhattan Avenue. I was going to move around the corner into a much larger space, but something didn't feel right, so I pulled out of the deal. Three weeks later, my employees couldn't come to work because of the stay-at-home order. I felt fortunate I hadn't expanded. But I had still started to feel like we were outgrowing the space. I had things I wanted to do with the bookstore; I wanted more event space, and I wanted to be able to fit as many people as possible for the pop-up chefs.
Is this expansion mainly focused on the food side of the business?
When I started, the café was much, much smaller. I wasn't a professional cook. That first year, I baked cookies — the same Christmas cookies I usually give to my friends and family — and New York Magazine named them the best cookies. So, I was like, Oh, I guess I'm doing this. I made the food I've always wanted to make, and just kept going. And that spiraled, and it ended up being a much fuller menu. When I opened this space, I didn't realize I'd have the opportunity and that people would want that. I'll be expanding the café seating, the menu, and the drink menu.
What will be on the new menu?
I can't wait to have cannoli: fresh fried shells and freshly piped filling. I've been doing Thursday night dinners, Italian-style blue plate special, a main and two sides. It's a lot of stuff I love from Sicilian cooking and things my nonna made growing up. Like veal spiedini, which is rolled, thin veal, with a sweet and savory bread-crumb mixture inside. More arancini, some more cookies, more salads with mint and ricotta salata and Castelvetrano olives. Lots of vegetables treated with a Sicilian palata, a little sweet, a little spicy, a little earthy. Just stuff that's simple cooking that I think is delicious.
And you'll also be hosting local vendors?
I'm really excited about it. A lot of people come to me with incredible foods that they make, but I don't have space to sell them. I'd love to have them hang out on the bookstore side and sell their foods for the day. And now we'll be able to do two events simultaneously. I see pop-up dinners in the old space, and over here, maybe morning Tai Chi or bookmaking or calligraphy. We finally have space for all these community events.
Community events — especially affordable ones, like your book clubs — aren't always the most lucrative, and I know you've had to be creative to fund this expansion. How will that work?
I've applied to so many different loans. This is not the best time. A lot of banks weren't even entertaining loans for the past year. I haven't been able to get any disaster-relief funding, besides some PPP, because we don't actually qualify. So I invented "All Domani's Parties," which are events in the future. We'll have a rainbow-cookie class, and timballo night and Parm nights from the future. And they will happen. All the people who bought dinners for the future honestly funded this project. It's amazing. It was a different way of crowdfunding. I wasn't overtly saying, "I need $75,000 to expand," but people just got excited about going to future events. That's what really helped us.
I'm allergic to businesses asking for money. I didn't want to be that. I totally have empathy and understand, but personally hate asking people for money without giving anything back. People are not just investing, they're getting something from this. It's also a business move. We're not going to be losing money in the future. When people come to those dinners, they'll be spending money on alcohol, they'll be back in the store. This gets people excited about visiting again. This is a promotional way to get people back to Archestratus events. It's terrifying to think about how we used to sell out four events a week, and now we have to show we're a safe place to party in the future.
Who donated? Regulars? Strangers? Your family?
I have so many friendships with so many customers. That's the best part of the whole thing, knowing people who are in the community. It's going to be really fun to have everybody back. I think it will feel close to normal, which is really comforting at this point. It's an ongoing [financial] goal, but it's been rolling and we're making it. It's incredibly difficult to navigate, but I also had people who personally invested larger amounts into the store. That was very moving. We figured out the terms with my lawyer. Six years ago, I would be hesitant to take on personal investors, but I've paid back every loan I've ever had. I feel confident and excited about paying these people, these members, back. I'm at the point where I can take on a personal investor and not be terrified, that feels like a goal reached.
So many people want to open a dream business in New York, and you're doing it.
It's really hard. The reason I went the community-funding route was because I've been so disillusioned by banks and corporations. In spring 2020, I took out a loan with ShopKeep, and over the course of one summer evening, late at night on a Friday, they incrementally took $14,000 out of our account to pay back the remaining balance. It was never my intention to not pay them back. It was an evil, monstrous thing to do to a small business, especially in summer 2020.
We couldn't order any new products. People couldn't get the pasta or butter they were counting on getting from the store. Any money I had went toward the employees. The store starts to not have inventory, which meant I had to figure out how to be on a payment plan for rent. Suddenly you're negotiating with everyone around you. From my understanding of being in this industry for six years, this is how the highest level of food businesses operate. Obviously, $14,000 to a giant restaurant group isn't the same as it is to me, but there is a week-to-week feeling, there's a machine you build, and if it goes wrong, that's detrimental.
How did you bounce back from that?
We've been working with Shopify now. But when they learned we served alcohol, they put a hold on our account and demanded to see our license. I showed it to them. I'm really proud of getting a liquor license on my own. They didn't give us any of the money we earned for more than 14 days, over the course of 20 days. You survive on the money you make. Whatever we bring in sustains our employees.
We still use Shopify, because we're all in a prison. Cash seems to be king, but there's an added benefit of taking out these loans. It's all very fraught and complicated. The more the community can be a part of this, and less the bank or a POS situation, the better. It's very dehumanizing that people [at ShopKeep] would rationalize that it's fine to take $14,000 from a small business overnight. It's not fine. It's immoral. I want to get away from that as much as possible.
Even with your expansion coming up, are you still feeling the effects of the pandemic?
My staff that I've grown in the last year are all lovely and amazing. I've put out the word that I'm hiring for three months. I'm being very choosy for people with the right energy for this Archestratus expansion. There are way fewer people applying than normal. I'm being more discerning and there are fewer people.
Everyone is experiencing coronavirus in different ways. Our vendors don't always have what we want. We don't get consistent deliveries. It's improved a lot this year, but nothing is completely back to normal. I've really had to hunker down and be solipsistic. I've focused on our business, making all this work. I'm so excited to open the doors and share everyone else's food and be a cheerleader for other people. I can't wait for that — it's very exciting to me.