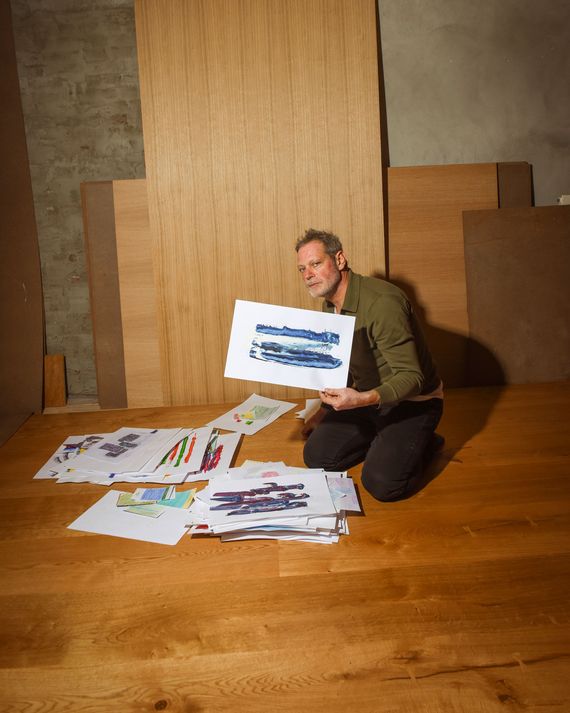 Frank Falcinelli inside his home studio.
Photo: Liz Barclay
It's late afternoon in December, and the winter sun is low in the sky over Red Hook. I'm on the way to meet Frank Falcinelli at the brownstone he and his fiancée, Julia Stacy, have transformed into a home-studio hybrid. Inside its concrete walls, you sense the warmth of the fireplace and feel that the ocean is within walking distance.
Falcinelli is — as anyone reading this likely already knows — a chef, restaurateur, and longtime Brooklyn fixture. Along with his childhood friend Frank Castronovo, Falcinelli co-founded Frankies 457, Franks Wine Bar, a line of celebrated olive oil, and their latest, the slice shop F&F Pizzeria (where, I should mention, my boyfriend, Chad Robertson, helped to perfect the dough). And lately, he's been focused on another creative project, one that is out of the kitchen but nevertheless started there for him.
In 1997, during the heyday of his restaurant Moomba, Falcinelli began collaborating and working with artists and gallerists: Schnabel, Broad, Marlborough, Zwirner, Gagosian, Deitch, Shafrazi, Clemente, Frieze. Falcinelli's role was to build out the culinary experiences for retrospectives and openings; immersing himself in the world of visual arts was formative, and he began to take up the craft.
Falcinelli's paintings range from abstract to figurative. His textural pieces evoke notes and techniques of the masters, exploring color palettes inspired by his physical surroundings teased into rhythmic patterns, a collaboration with chance and the medium of paint itself. Frank's personal tool of choice for this method is a Brimfield butter knife from the 1700s that he found 15 years ago, which sports a bone handle and is perfect for spreading swaths of paint — his brand of choice is Farrow & Ball — onto a surface.
The reason I'm at his house is because he invited me to watch him paint and to chat about this creative outlet. Watching him, I see that his paintings brim with depth just beneath the surface. He starts to work on the form of a ship, layering and removing pigment in a meditative process that, over time, begins to reveal a ship in water. From hands and heart, the scene that emerges is both atmospheric and contemplative, holding steady in its time and place.
How does your artwork relate to your history as a chef and a New Yorker?
It's directly informed by my history as a New Yorker, and being a chef has gained me a front row seat to all the arts. Great writers, architects, musicians, sculptors, artists and chefs all share the same language of expression and creation — a drive to produce something.
Are there interests or motifs between the worlds that overlap?
I guess I may have answered that above, but yes, I think all the arts overlap. Cooking — being a chef and restaurateur — has just recently become respected as an art in its own right. I've also been on a heavy design-and-build phase of my life in my living space that I feel has fueled the painting and drawing. To create a space and then to create in the space is always very rewarding.
How does time play into the work you are making? How do you use or allot time to create?
I like to set up situations where creating art is always an available thing for me, and whenever I have a free moment, I can drop in and create something. I have materials at the ready.
What attracted you to painting as a medium?
It's the most bang for the buck, I guess, but actually something that's always intrigued me. I love sculpture and ceramics and photography as well, but those are harder to do on a daily basis. Much like loving to swim, you need a pool, and, well, everyone doesn't always have a pool or ocean available, so they then find themselves doing more accessible activities.
What advice would you give to that younger self?
Buy more New York real estate. Buy life insurance. Don't worry about anything — it all happens the way it's supposed to in the end.
What is the first thing you do when you wake up in the morning? 
I usually wake up around 4:30 or 5 and make a large bath. I float for around for 30 minutes or an hour to stretch out. Then I work on a morning project, work out, and head to the restaurants.
A favorite painting you have at the moment— what is one emotion that permeates it?
My favorite at this moment has been these ship-in-the-storm paintings. It's been a reflection of what's going on in the world. COVID. War. Politics. It's all been one big storm that I'm hopeful we can weather.
How did the past year influence your work? 
It has given me the time to produce a lot of content and to take it further than I would have had there not been a lockdown.
You are a huge music lover — which albums on heavy rotation right now?
Always Exile on Main St. and Beggars Banquet. Nashville Rebel. Dean Martin, French Style. And Jackson Browne, Late for the Sky, because Julia insists on at least one play per day.
What is the greatest gift that being a chef, author, and artist has brought to you?
Freedom — creating something that's enjoyable and pleasing for myself and others who experience it.