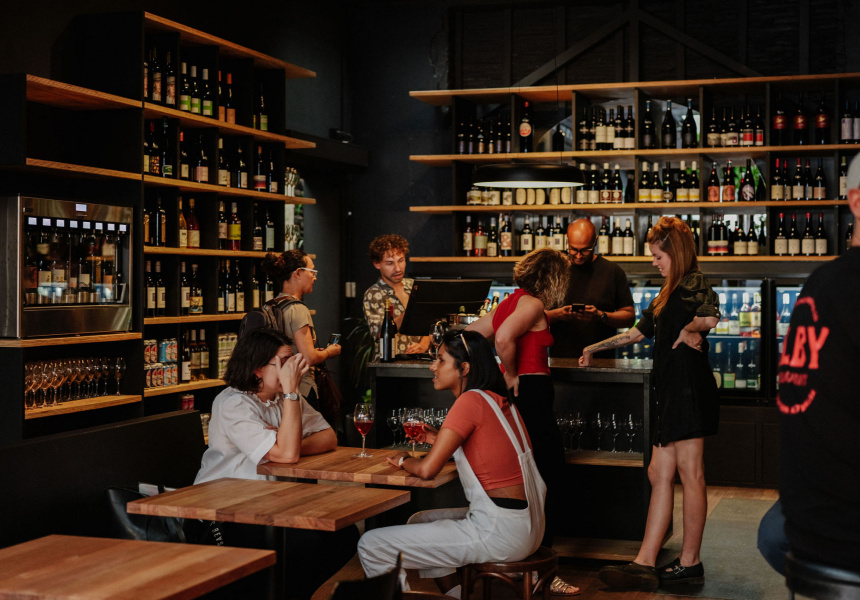 It's been quite a year hasn't it? While 2020 has thrown up more than its fair share of challenges, there's also been a – perhaps surprising – amount of good news, at least out west.
While Perth wasn't without its Covid-related casualties – one of them, thankfully, was only temporary – the back-half of 2020 was filled with plenty of activity in terms of restaurant openings and reopenings. Here are our picks, listed in alphabetical order, from one of the more memorable years in recent dining history.
Acqua e Sale

You can make a lot of things with water and salt, the acqua and the sale respectively in this likable newcomer. For twin brothers Fabio and Michele Concas and Fabio's partner Ina Pasilyte, they transformed these two building blocks into a loving homage to the brothers' Italian island home, Sardinia. It's a love letter writ large with classic Sardinian cooking such as bitey all-semolina gnochetti sardi with a sausage and saffron sugo, elegant sails of pane carasau flatbread and culurgiones, dumpling filled with potato, sheep's ricotta and mint. A neighbour Italian joint to be reckoned with an undoubtedly one of 2020's most promising debutants.
Bad Love Burger Co

It'd be a gross understatement to say that that the opening of a permanent Smashburger BBQ HQ – and rebrand to Bad Love Burger Co – was popular. Since opening in November, the lines have been constant with eaters happy to queue for Tristan Chambers' smashed patty burgers. (In the past, the burger was only available at the Bayswater Bowling and Recreation Club and other pop-ups). Beef burgers aside, the faithful are also flocking to Harrogate Street to wrap their hands around Bad Love's fried chicken specimens, too.
Burger Bones

Also from the department of good burger news: the long-awaited announcement that food truck Burger Bones now has a permanent home in Busselton. The menu at chef Cooper Deville's new eatery will be familiar to Burger Bones regulars and includes the self-taught chef's lauded cheeseburger and Dirt Box starring bourbon maple-bacon and black-cherry barbeque sauce. Chilli fiends should head straight for the Habanero snack patty. Veggie and bun-less burgers are also on hand.
Coogee Common

As is the case with the mothership Bread in Common in Fremantle, little about Coogee Common could be considered common. Not its sprawling garden, not the warmth of the renovated Coogee Hotel space, and not the produce-driven cooking of chef Nathaniel Murray, an alum of Melbourne fine diner Vue du Monde. The day's pickings are presented via a neat garden tart of the day; side salads showcase garden produce as well a dressing made with mead fermented from estate honey; and wood-roasted chicken is a tick for comfort and flavour. Tempura sweet potato vines, pickled sardines sharpened with horseradish and the rest of the pickings menu reimagines bar dining through Coogee Common's grow-it-yourself lens.
Ethos Deli + Dining Room

New York comes to East Fremantle by way of Ethos, the Young George crew's loving homage to the eastern European delis and diners of NYC. By day, it's about gloriously tender pastrami, oversized Coney Island hot dogs, hearty knishes and all the other elements of our wildest Katz Deli and Russ & Daughters fantasies. After dark, chef Melissa Palinkas explores her Germanic-Hungarian roots with gutsy, big-flavoured plates: think lamb tartare with borscht, and wagyu beef sharpened with dill pickle and bitey mustard leaf.
Fleur

While there's something pleasingly everyman about the elevated approach to counter meals at The Royal, Fleur, the pub's polished 45-seat dining room, is where chef Chase Weber and co do their best work. Japanese influences are a key motif of the five-course set menu, whether it's crayfish noodles lifted by katsuobushi (smoked bonito), to the tsukemono (pickles) that kick off the meal. For those after a less structured outing, consider the seafood-focussed bar menu where you can hook into small plates such as lobster toast, tempura-fried Akoya oysters and tarlets freighting salmon roe or caviar.
La Cabana

You'll be spending a lot of time here this summer. After winning over Perth with the gratifying flavours of food truck Eat No Evil, Ben Foss decided the logical thing to do would be to open a bricks and mortar venue with some friends. The result is this casual, dog-friendly taqueria in South Freo that's landing bold blows for Aus-Mex cooking. Here's a pork and pineapple taco dressed with a native strawberry and saltbush sauce. There's beef rib enlivened with a mole, a traditional Mexican marinade, made here with wattleseed. From the bar: wine, local beers, tequila and mezcal.
Mother

Goodbye Raw Kitchen, hello Mother: a buzzy Freo reboot that makes a (compelling) argument that plant-based dining doesn't just have to be virtuous, it can also be fun. It helps, of course, that this former warehouse now serves wine (organic in spirit) while the kitchen continues to bang out satisfying eats in the vein of cauliflower burgers, corn tacos and oven-roasted celeriac with a walnut pesto. "For us, the focus is to make the food an experience on par with any other restaurant experience," said Emma Daly, one of Mother's founders, to Broadsheet in October. "It just so happens to be plant-based."
Nasi Bali

This year, a lot of (West) Australians scrapped holidays to Bali. While no one knows how soon it will be till we can travel to the Island of the Gods again, this homely diner in Kenwick can help sate those Balinese food cravings. Although you'll find ayam and bebek betutu (braised chicken and duck respectively), sambal matah and other Balinese staples on the menu, you – and as many other eaters that can fit into this 20-person eatery at any given moment – are really here for the babi guling, a deep dive into porky deliciousness featuring roast pork belly, house made pork sausage and steamed pork. Delicious, or as they say in Indonesia, enak.
Northbridge Dining Room

Farewell, Young Love Mess Hall; hello, Northbridge Dining Room and Wine Store, a double-act that puts of-the-moment wines and strong neighbourhood vibes front and centre. The menu is best described as "things that go great with wine" and runs the gamut from cakey focaccia and a sharp and bitey first-run olive oil to a half-chicken schnitty and house-made pig's head ham. Best of all, once you've finished in the dining room, wander over to the bottle shop and purchase bottles of your new grape-based discovery for at-home enjoyment.
Short Order Burger Co

Simon Kony's Short Order outfit has been a constant presence in local who-does-the-best-burger? discussions. With the opening of his new Fremantle HQ, Kony has the perfect pulpit in which to preach his burger gospel. Although the menu is the same as Short Order's Hay Street outpost in the CBD – there is, however, a new falafel-esque vegetarian burger option – guests can also take aim at a menu of local wines plus a house-made lager from Rocky Ridge Brewing.