"I put him on my shoulder, took him down. He said he had been stabbed. So my first thought was to pick him up, rescue him, rescue the dog. You know, you have to jump in."
The man was treated by paramedics for suspected stab wounds to the torso and back and fire-related injuries, before being taken to St Vincent's Hospital in Darlinghurst, where he was treated for serious but non-life threatening injuries on Thursday afternoon.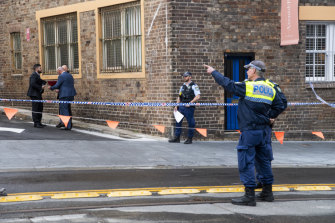 It is understood the dog was taken to a nearby vet, but did not survive.
Surry Hills Detective Superintendent Gavin Wood said police had applied every available resource to investigating what was a "significant, serious crime."
"The damage is widespread through both levels. I couldn't fathom to tell you how much there is. It's a mess," he said of the restaurant, which was closed at the time of the fire.
"The crime scene is being canvassed, there are a number of evidentiary issues established within the premises and in proximity to the premises, including people who were there at the time.. the [cause] of the fire, and the injuries inflicted on the man."
Detective Superintendent Wood confirmed police were looking for an offender on Thursday afternoon.
A police spokeswoman confirmed detectives had attended St Vincent's Hospital to interview the man, who lives in a residential premises above the restaurant.
She confirmed the investigation was ongoing.
While Essenza has operated at the Surry Hills premises for around 10 years, it is understood to have been taken over by new owners approximately 12 months ago.
Ian Underwood, manager of neighbouring music store Title, said he first thought the smoke was a "weird fog" but then picked up a "bad, synthetic" burning smell.
"All the smoke was pouring out of the first floor," he said. "You can see the windows are open and it's black inside."
He said he didn't hear or see any "strange behaviour" in the area before the incident.
A retail assistant in a clothing store opposite the restaurant described the incident as "scary," and said the billowing black smoke made her think the restaurant was "going to blow up."
According to its website, the restaurant is housed in the historic J.Grocer building, which originally sold groceries to Surry Hills locals, dating back to 1912.
Lucy Cormack is a crime reporter with The Sydney Morning Herald.
Laura is a journalist for The Sydney Morning Herald.