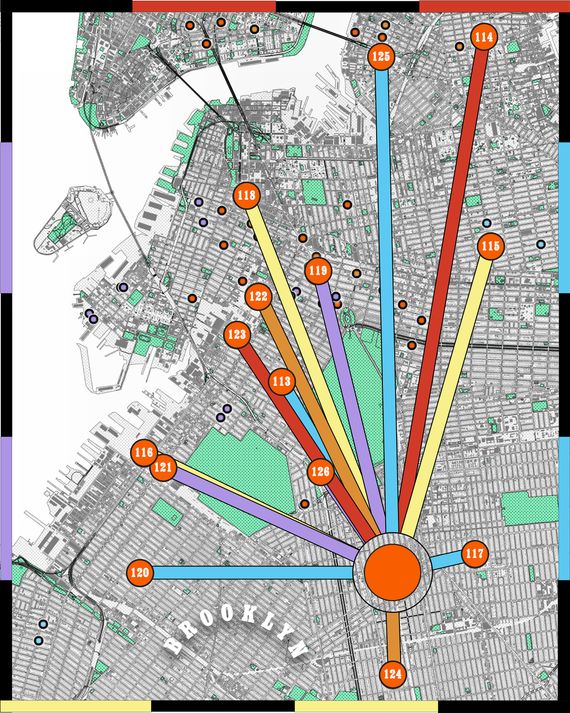 ➼ A running list of everything I've eaten, week eleven: 113. Casa Azul 114. Osakana 115. Peaches Hothouse 116. Ends Meat 117. Taste the Tropics 118. Sunken Harbor Club 119. BKLYN Larder 120. Chuan Tian Xia 121. Lioni Italian Heroes 122. Claro 123. Four & Twenty Blackbirds 124. Hummus Bar 125. Peter Luger 126. Le Paddock
I had been eating delivery exclusively for a week when I encountered an etiquette concern that was entirely new to me: A delivery worker had received a speeding ticket on his way to my house, and I felt very bad about that. None of it would have happened if I hadn't indulged in a truly frivolous act of hunger fulfillment: I ordered steak from Peter Luger. I wondered if I should cover the hundreds of dollars this guy now owed to New York City. Could I expense it? Probably not, since New York Magazine's accounting system doesn't offer a category for traffic infractions. Instead I tipped 25 percent of my total, because it was the maximum amount that the delivery app allowed, and I didn't have any cash.
I couldn't even go to an ATM because I was stuck at home, having tested positive for COVID only a few weeks after the city lifted its vaccine requirement for indoor dining. (Just saying!) I'm extremely grateful that my first infection was buffered by two vaccine doses and a booster, but I still had to take immediate action. Not only did I have to suddenly stop going out to restaurants, I also share a home with five roommates, which meant that I'd need to isolate in my room, doing all of my dining at my desk.
Typically, delivery food is not a category for which I have much fondness. Even beyond the ethical qualms, I simply do not believe in sacrificing quality for convenience. Food is not supposed to sit inside plastic or cardboard for an hour before it is eaten. But since I suddenly had no choice, I figured I might as well make the most of it and see if delivery had gotten significantly better during the pandemic.
The first thing I learned is that delivery is — or perhaps that should be "remains" —  uncannily expensive: Between tips and add-on fees, delivery is usually more expensive than going out, even though it's much less fun than sitting in an actual restaurant. During my week of delivery eating, the least I spent on any order was $31.51 (a hero from Lioni's), and in total I managed to spend $1,045.27 without even trying that hard.
Then again, I suppose it's easy to spend a small fortune when one of the first things you buy for lunch is raw seafood, specifically a handsome toro bento from a fish market called Osakana, which offers delivery through the grocery-delivery service Mercato. It was scheduled to arrive around 1 p.m. on my first day inside. Then, without explanation, I received a disheartening update: My bento was on its way back to the store. From there, it was another two hours before it got to my home and when it did, at 3:11, I saw the original time written on the shopping bag: 12:23. I wondered how long the gonads of a sea urchin could stay fresh on a bed of rice as I chewed each mouthful. The food wasn't cold like it had been refrigerated, but it also wasn't not cold. I knew too much, yet not enough, about its recent history. Slightly concerned, I still ate every bead of ikura and survived to write this newsletter.
Most of my meal experiences were similarly uneven: There was the tub of broth that arrived still frozen and the disassembled pho "kit," each component of which managed to be the wrong temperature and texture. I ordered four slices of pie from Four & Twenty Blackbirds, opting for a "baker's choice," which meant they chose the flavors for me. The slices arrived swiftly, and in pristine condition, but they weren't labeled, so I was left to guess which varieties I'd actually received.
It wasn't all bad, though. I was able to try some pints from Taste the Tropics — a Caribbean ice cream shop that has always been a little too out of the way for me to walk to — and I discovered Hummus Bar, a kosher Israeli restaurant off of Avenue J with spicy shawarma, crusty falafel, and some of the smoothest hummus I have ever had in my life. It was promptly delivered via Seamless with warm, spongy pitas that were so fresh they steamed up the bag.
Another success came from Claro, the Michelin-starred Oaxacan restaurant in Gowanus. It was also one of the most expensive, coming in at $118 with fees, although to some extent, I realized, that's just the bar for entry. I was having a hard time seeing all delivery as anything other than a pure luxury — even when most of the food was a letdown. But Claro's food tasted like restaurant food, especially a dish of pork cheeks in mole rojo. I also appreciated the high-quality oven-safe containers that were a cut above regular aluminum pans. (My only complaint is that it seemed like my $21 pint of aguachile was a little light on the scallops, being made mostly of radish, citrus, and red onion — which were nevertheless delicious with the extremely hot orange-juice sauce that came with it.)
The biggest problem is that a great restaurant meal can quickly lift your spirits, and no matter how satisfying those pork cheeks were, I couldn't ignore the fact that I had been living in the same room for six straight days. I needed some kind of hope, something extravagant to snap me out of my malaise, which is when I decided to say fuck it and order that steak from Peter Luger. Delivery — which the restaurant took the unprecedented step of offering, like so many others, during the pandemic —  must be working for them, because you can still get a porterhouse and all the sides delivered, or at least you can if you're in the restaurant's delivery zone, which cuts off a few blocks north of my neighborhood.
I refused to be deterred by that slight inconvenience. Committing to the bit, I hired someone on TaskRabbit to pick up the food for me and bring it to my home. You know how it ended for him — the speeding ticket about which I still feel guilty — but I was surprised by how easy it was to get a meal from New York's most famous steakhouse delivered to my room in South Brooklyn, with the food arriving at my door in about an hour.
I opted for the $80 rib steak, and after a week of spending so much on delivery, I even found the price to be surprisingly reasonable, more so when it arrived in decent shape. Of course, it wasn't sitting in a pool of sizzling suet like it would be at the restaurant, but it was still warmish and cooked correctly. The broiled side was crusty and charred, the meat was tender, and my side of German fried potatoes tasted like good cafeteria hash browns, which is to say salty and greasy.
More galling is that I was unable to tip more than $12.50, which was $5 less than the "Trust & Support fee" TaskRabbit tacked on for its cut. In the end, all the fees and tips added up to an additional $80 — you can decide for yourself if that feels like a fair amount to spend for two hours of a car-owning stranger's time.
Now that I've recovered and am able to leave the house again, I'm in no rush to repeat this. None of the delivery was worth it, at least not in the traditional sense: I was thankful to have so many options available, and that I didn't have to survive off instant ramen or canned soup, but I never forgot that the delivery-app companies seem to be taking advantage of vulnerable businesses and workers, nor could I ignore the waste that was generated by all the packaging or fuel. Yes, the delivery was convenient while I was sick at home. It struck me as deeply lavish — but not in a way that made me feel any better.