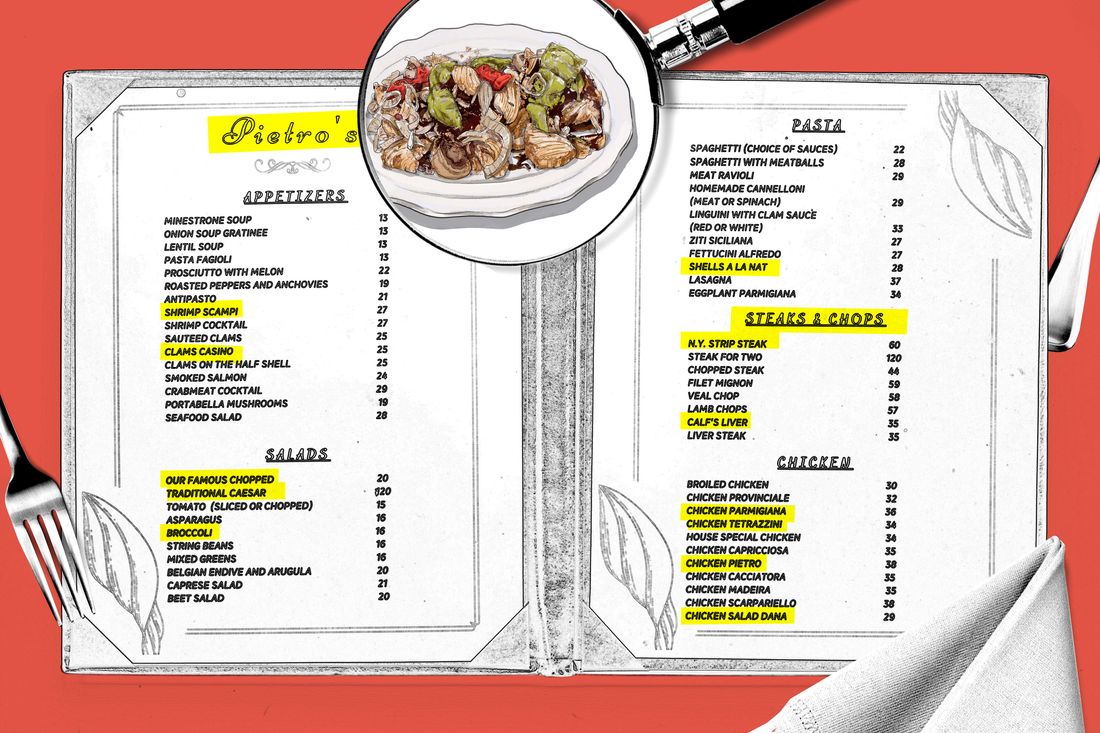 Photo-Illustration: Eleni Agapis; Illustration: Ellaphant in the Room; Photo: Marcus McDonald;
Many of the regulars at Pietro's have aged out of the power-player circuit, and the Italian American steakhouse is rarely if ever afforded the same reverence as other midtown stalwarts. This is not right: Behind the drawn curtains that cover the front window, servers buzz around in blue suits, and owner Bill Bruckman, who started as a busboy during the Reagan administration, watches over everything with his sons, David and Billy Jr. Many customers don't bother with a menu at all (they already know what's on it), yet all it took was a close read, which the Bruckmans gave to me the other week, to make the case for Pietro's place in the big-city canon.
Illustration: Ellaphant in the Room
The restaurant was founded in 1932 by two Italian brothers, Natale and Pietro Donini. "It was during Prohibition," Bruckman says, "if they knew you, they'd give you a little Scotch in a coffee cup — that kind of thing." The restaurant moved to its current address, a few blocks south of the original brownstone, in 1984.
Pietro's is open only for dinner these days, but Bruckman remembers the lunch hours of the '80s: "Talk about martinis. We couldn't keep up with them. People used to bounce off the walls on the way out. Two, three martinis; glasses of wine; and then after-dinners. They would pinball out of here."
Illustration: Ellaphant in the Room
➼ The shrimp scampi is a favorite of a top regular, Brian Salonsky, a retired derivatives broker. (He also recommends the cottage fries: "Off the charts!")
"I still think my baked clams are the best," Bruckman boasts. "The right amount of oregano, the right amount of everything. Some places will put the clams into a bigger shell. No. I want the original clamshell."
Illustration: Ellaphant in the Room
➼ The chopped salad is a classic. It's also a pain point for the kitchen, per Bruckman, because people always want to make substitutions: "We have a customer, you need a piece of paper this big just to take his salad order: 'I want two chopped salads split four ways. Extra anchovies on this one; no anchovies on that one. I want my dressing on the side; you can put hers on top.' It's like, Holy fuck — every time a disaster."
Bruckman recalls the night a customer asked to prepare his own Caesar: "He gets up from the table and makes sure everyone sees him. Here we go, production time. 'I need a lemon. I need an egg.' Takes him ten minutes. Next time he's in, he asks, 'Did you see how I made it?' I tell him I'm not doing it. It's not my salad. We're good friends now."
The restaurant will prepare a customer's food any way they want it — including one older customer's very specific preference for well done broccoli, according to Bruckman: "They say, 'Burn it. And when you're done burning it, burn it some more.'"
Illustration: Ellaphant in the Room
➼ The signature dish is shells à la Nat. The name refers to Natale Donini, the restaurant's co-founder and first chef and the inventor of its rich bone-marrow sauce.
Illustration: Ellaphant in the Room
➼ Steaks are, of course, one of the big draws, but "People like to pull tough-guy stuff," says Bruckman. "They'll say their steak is overcooked even when it's perfect. Get off your high horse, will you? If something's wrong, I'm the first person to admit it, but I ain't giving someone a new steak if the one they have is perfect." (The restaurant pays around $13 a pound for beef, but that's all Bruckman is willing to say about food-cost breakdowns. "We look at the big picture. What, you want to talk cents?" Bruckman asks. "That's impossible. How much is one anchovy fillet, you know?")
Bruckman wants to take liver off the menu, but his chef refuses: "He says people still order it. You couldn't pay me to eat liver."
Illustration: Ellaphant in the Room
➼ Pietro's best seller is chicken Parmigiana; the cooks make between 25 and 30 plates per service. (The restaurant averages around 110 covers per night.)
In-the-know customers can order an off-menu special called veal parmigiana fra diavolo — essentially a breaded, spicy chop. "That's a big-boy meal," warns Bruckman Jr.
Bruckman says every New York mayor eats at Pietro's: "We've had them all. Dinkins, Koch, Giuliani," though "de Blasio didn't come in until later," and Bruckman's still waiting for Eric Adams.
Illustration: Ellaphant in the Room
➼ Yes, they still serve chicken Tetrazzini, a creamy pasta casserole that was big in the '60s. Now, "people say it will clog their arteries," Bruckman concedes. "They're right." He says most customers order Chicken Pietro, but they also serve something called chicken Dana. What is it? "We take the chopped salad, put it on top of a cutlet, and it's chicken Dana," explains Bruckman Jr. It was a popular "healthy order" in the '80s and '90s. "Today, there's only one person that I know of who even orders it."
Illustration: Ellaphant in the Room
➼ Chicken Pietro is the most difficult dish for the kitchen because of customer customization, says Bruckman. "It's supposed to be half a chicken, but everyone has their preferences: white meat, dark meat, bones, no bones. You could have three people at a table, three different orders of chicken Pietro. It drives the chef nuts. It takes 25 minutes to cook, and if it's busy, he runs out of burners. He would love nothing more than taking this off the menu."
There's no dress code — mostly to accommodate high rollers, says Bruckman: "A guy is spending $3,000. I'm going to tell him to take off his hat and risk losing his business?"
One night, Joe Torre came in wearing a cast. The staff did its best to help. "He was grumpy," Bruckman says. "We offered to cut his meat for him. He goes, 'Fuck you. I can do it myself.'"
Pietro's allows (some) pets, but not intentionally. "This one lady, I looked in her purse and there's a fucking squirrel," Bruckman says. "Or a chipmunk? I'd never seen a chipmunk in somebody's purse before."