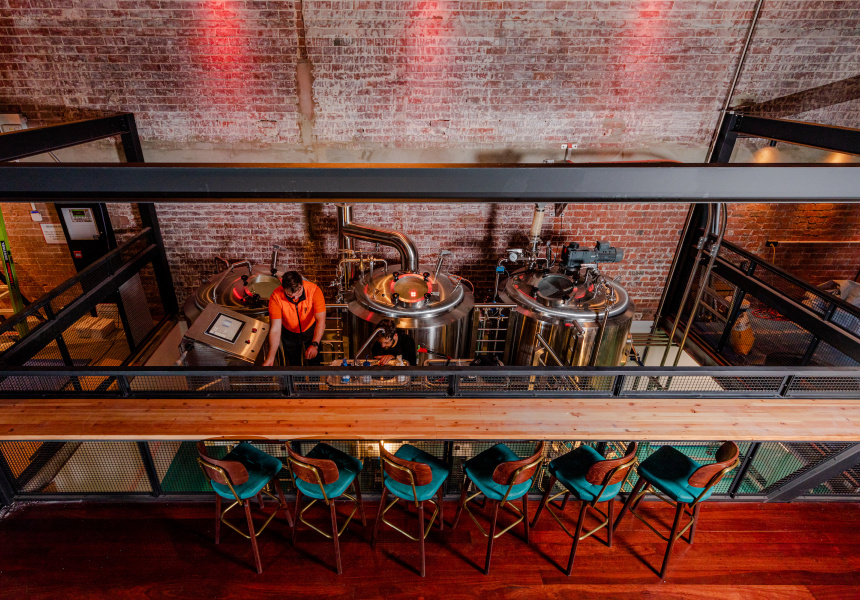 After two years of anticipation, Pirate Life's first WA venue is finally opening on Murray Street next Thursday. The enormous brewpub – and then some – will spread over multiple levels at the old Sony Centre building with an in-house brewery, "casual fine dining" restaurant, two private dining rooms and more.
WA-born-and-bred founders Michael Cameron, Jack Cameron and Jared Proudfoot (the trio moved to Adelaide to establish Pirate Life in 2014) have teamed up with local operator Andy Freeman's hospitality group Sneakers and Jeans for the ambitious project.
"It's been a long time in the making, but Red, Jack and myself feel immensely privileged to be returning to Perth to open a brewery in such an amazing location – right in the heart of the city," Michael said in a press release. "We couldn't be prouder."
Next week's launch will unveil 16 beer taps in the brewery's 15-metre main bar (with another 20 taps still to come) and exclusive Perth and Port Adelaide Pirate Life brews. There'll also be more than 200 spirits, a generous cocktail list and booze-friendly bar snacks.
Chef Charlie Vargas will head up the in-house restaurant, Toma, which has its own distinct identity, and a menu centred on the custom parrilla woodfired grill. Tomahawk steaks and other beef cuts will be aged onsite in a dedicated meat locker, while seafood and veg options will also be available. The team's keeping specifics close to their chest for now, but the drinks program includes more than 120 wines from over 10 countries and a considered cocktail list. The space itself will be warm and intimate, with accents of copper, plush velvet banquettes, dark wooden chairs and ambient lighting.
There'll also be two private dining rooms – Tank, an underground tasting room with views of the working brewery, and The Mezz, with elevated views of the bustling brewery below – plus a merch store and murals and installations from local artists. (Formerly Adelaide-based artist Mike Maka is behind the peacock hanging in the main bar – a nod to his 25-metre-long peacock mural plastered across Pirate Life's Adelaide brewpub.).
Two more spaces will come to life next month – a connecting area and basement bar – both with different personalities and offerings.
"It was never going to be just a brewery," says Freeman. "That's not the S&J or Pirate Life way. The dream was always to create a multi-venue site when we embarked on this dream three-and-a-half years ago – and that's exactly what we're going to deliver.
"We're excited to be able to open the venue just as we can see light at the end of the tunnel of the pandemic – Perth has been crying out for a CBD brewpub and we're totally pumped to turn the taps on just in time for summer."
Pirate Life Perth will open at 440 Murray Street on Thursday October 28.