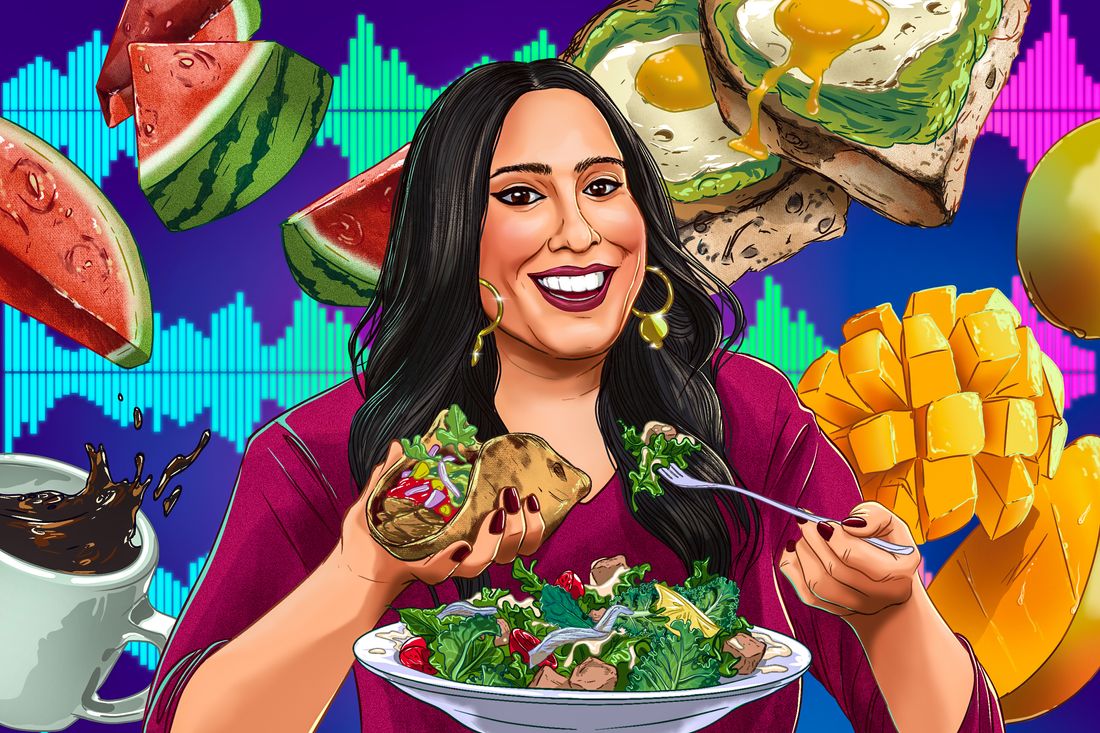 Patel has been Pitchfork's editor-in-chief since 2018. Illustration: Adam Mazur
"I'm listening to a dizzying amount of music all the time," says Puja Patel, who, as the editor-in-chief of Pitchfork, helps to curate the slate of reviews published on the site (between 1,000 and 1,200 each year). As such, she's never without a soundtrack — "Walking around Brooklyn with a new album is quite literally my favorite thing to do," she says — even in meetings to discuss the next season of Pitchfork's podcast or stopping in for dinner at the Fly, where she really has been meaning to ask who puts together the playlists.
Tuesday, August 8
I am never more devoted to the powers of nutritional science than when I'm in pain, and today I wake up in pain after "leg day" strength training with someone who loves and believes in me a little too much. I look up "foods good for muscle recovery," and I am delighted to see that watermelon is on the list. I have half of one already sitting in the fridge. I call my mom, a dietitian, to brag about my foresight and self-appointed master's degree in nutritional science. "Those foods you Googled are good," she says, "but this is also what happens when you don't stick to a routine. And, you know, you'll get used to it." It's 7 a.m.; the day has begun.
I chop up the watermelon, handle some work calls, and get to the office around 11, where I head to our café. Some of our readers still think that Pitchfork is a huddle of indie-rock dudes shooting off takes from someone's basement. Others know we were acquired by Condé Nast nearly a decade ago and assume it's all Champagne wishes and caviar dreams. The reality is that our cafeteria is on the 35th floor of One World Trade Center, and I pay $4 for a cold brew handed to me by a very friendly barista.
The run of office meetings starts with Jeremy and Anna, who lead our reviews section. We go through new music, coverage plans, assignments for staff and freelancers, discuss scores and "Best New Music" releases, and figure out what albums we need to listen to urgently as a group of staff. The agenda always involves something we call "existential-thought time," and today it includes discussions about a few rising artists we want to add to our staff listening room, the popularity of Bon Jovi in Asia, and Ace of Base's album The Sign.
Later, a different Anna (Wintour) and the staff of Bon Appétit are having a good-bye toast for their editor-in-chief, Dawn, and have invited the other Condé EICs. The test kitchen lays out some snacks for the occasion: plum salad with black pepper and Parmesan, the viral brown-butter-frosting sheet cake, and macadamia-nut chocolate cookies. I very rarely get to go to the test kitchen, so this is a treat. I have a scoop of the plum salad, which is great. The brown-butter frosting on the sheet cake is insane. I have a bite of a macadamia cookie to say I tried them and take a plateful down to the Pitchfork crew.
Work ends at five because I have to head to the AAPI panel I'm speaking on at Soho Works in the Meatpacking District, a women- and nonbinary-focused event hosted by GoldHouse. After the panel, I gather my friends Meher, Samhita, and Sonia at Shuka in Soho. Dinner is my favorite kind of group meal: shared plates, life updates, and good media gossip. We get a whipped-feta-and-pistachio dip and a sweet summer corn dip, which makes me crave makai no chevdo, my grandmother's spicy crushed-corn snack. There's a plate of fried Halloumi with za'atar and yogurt, an heirloom-tomato salad with grilled corn, marinated zucchini with crab, grilled eggplant with a tomato sauce, and chicken shawarma with onions, white sauce, and cabbage served on a pita. The highlight is a side of warm peach salad.
Wednesday, August 9
I have 11 meetings today, which is about seven more meetings than anyone should have in a day. Staring down bright-blue meeting blocks on my calendar drives me nuts, and my coping mechanism has been my commitment to a "silly little morning walk." It's a holdover from the lockdown era of the pandemic that I am desperate to keep going. No computers, no emails, no work. Only music or friends allowed.
Bobby (a fellow morning person) and I became morning-walking buds a few years ago, and we check in once a week or so to book our weekly stroll. Today we meet at Otway Bakery, and he treats us to cold brews, a morning bun, and a za'atar-feta bun. Bobby is the perfect person to tell literally anything because he remembers everything, which makes you feel very special. He also happens to be genuinely curious, kind, and one of the funniest people on earth. Gotta have my java; gotta have my silly little walk with Bobby.
I make a summer chaat around 11: murmura (Indian puffed rice that was previously pan-roasted in turmeric, salt, and cayenne and is stored in large plastic bins in my cabinet), diced tomato, cucumber, onion, chickpeas, and sev (chickpea-flour crisps). I add two tablespoons of homemade green chutney (cilantro, garlic, salt, and crushed green chiles) and one tablespoon of my mom's tamarind chutney and mix it all together.
I also open a bag of Popadelics, an air-popped mushroom snack that came in a gift bag. They're rosemary-flavored, and the bag has a pointed note on it that clarifies that they will not make you trip. I take a bite of one, decide they're not quite right for my mood, and keep it moving.
The office is a blur of meetings and emails. At some point, I turn to my desk almonds for sustenance. Almonds as "brain food" is a belief that has trickled down in my family over the years, and I somehow still live by it.
At six, my friend Sarah, who edits Them, meets me at my office and we walk over to the Odeon for a drink. We would usually go out somewhere in Brooklyn, where we both live, but today we opt for something closer to the office. I get something called the Spicy Mezcal Last Word because it has a cherry in it, which I've recently learned is good for recovering muscles. "Heavy on the cherry juice, please!!!!" Sarah gets the same drink, and we split a half-dozen oysters while we catch up.
By 7:30, I'm at Superiority Burger in the East Village with a couple other people, including my good friend Margaux, who is in town from New Orleans for work. Brooks Headley is from the suburbs of Baltimore, not too far from where I grew up. He asks me if I know about the secret venue in the back of a Domino's that he used to play in, and I feel lame that I do not.
We order for the table and get the titular burger, the yuba verde sandwich, and a Sloppy Dave. We also get sides of corny rice with okra; half of a twice-baked white sweet potato with labneh, green sauce, and pickles; and a cup of beans. Brooks brings us a piece of focaccia under a handful of cherry tomatoes soaked in a newly created vegan pesto, which ends up being the best thing of the night. For dessert, there's a slice of peanut-butter pie, coconut cake, and malted griddle loaf for the table.
Thursday, August 10
I meet Pitchfork's executive editor, Amy, for coffee at Burly before work because it's the only time we both have open to run through all the things we need to take care of this week, and she conveniently lives nearby. Breakfast is a migas taco with eggs, onion, pepper, and salsa in a flour tortilla. I try to get in a short walk, but the humidity sends me into the office instead.
It's one of those days where everything runs into everything else. Lunch is a combo of desk almonds, a banana, and a bowl of watermelon. I find a bag of salted-egg-flavored Tochi popcorn and warily try some. By the fourth bite, I'm sold. This is a Best New Snack.
I'm wiped after work and hoping to be smooth-brained for the rest of the evening. I mix some of the watermelon from the fridge with arugula, thin-sliced red onion, cucumber, and Halloumi that I've browned in a pan. The dressing is balsamic vinegar, olive oil that I got in Spain and reserve solely for "dressings," a few cranks of black pepper, and salt. I find some store-bought naan in my fridge and decide to do flatbread pizza too. The naan is smothered in tomato sauce and finely diced onion and the remnants of a bag of shredded mozzarella. When it comes out of the oven, I drizzle it with green chutney and extra-hot honey and cut it into slices. Pretty good fridge dinner, all things considered.
Friday, August 11
Working from home today, which means the day starts in bed listening to new singles released the night before. Meanwhile, I make a late breakfast of egg bhurji, an Indian version of scrambled eggs with onions and tomatoes sautéed in spices. The person I'm dating is a Coffee Guy and has a habit of excitedly bringing over coffee he thinks I'll like. This week I've got YesPlz Star Turn coffee done in the French press, which is topped off with a little bit of oat milk.
For lunch, I make a sandwich with veggies, a layer of that green chutney, and a spread of sweet tamarind chutney. My opinion has always been that most sandwiches have too much meat and cheese on them, and a crunchy vegetable sandwich wins over all.
I don't have a toaster, so I've become someone who grills bread in a skillet on the stove instead. I love when things are slightly browned. Give me the crispy edge of a lasagna, the chewy corner piece of the brownie. I'm a Capricorn, so embracing a little bit of toughness to get to the soft center is part of the deal.
I run to get some groceries for the weekend and dinner I'm hosting for my friends Emma and Luce. I make the same watermelon-Halloumi salad from the night before and some spicy rigatoni from a recipe that claims to mirror Carbone's. I am very pleased with both, to be honest. The rigatoni is now a staple for when I need an easy meal. Dessert is homemade chocolate-covered strawberries and a single Klondike bar cut into thirds (a surprise for Emma, who loves Klondikes). After dinner, we debate going out or staying in and decide that the motivating theme of the night should be "to laugh." So we turn on the wide assortment of "vibe lights" that I acquired during the pandemic, turn on season one of The Simple Life, a show I had never seen before, and make each other laugh until we're gasping for air.
Saturday, August 12
I am genuinely thrilled to have no plans. Matt, the Coffee Guy, has promised to come over around lunch to make me my preferred weekend breakfast: chile-crisp eggs over toast. When he arrives, he gets some slices of Otway bread from the freezer and grills them in some light olive oil, then tops that with eggs fried in Fly by Jing, my chile crisp of choice. I cut a brand-new watermelon, and he assembles a bowl for us each (his doused with Tajín), along with some anniversary-blend coffee from Go Get 'Em Tiger.
We somehow lose the afternoon to doing the good kind of nothing — watching our little TV stories, catching up on reading, listening to music, chatting, and making plans for a trip. He heats up leftover rigatoni for something between lunch and dinner, and I steal a few bites. Eventually, we decide that it's time for dinner and go to the Fly on Classon. This is a neighborhood favorite because of its Caesar salad and constant backing soundtrack of indie faves and alt-pop girlies. (I've been meaning to ask who makes the playlists.) The restaurant is casually prepping to close and the music on the speakers becomes more pronounced: Caroline Polachek's "Bunny Is a Rider," Doss's "Strawberry," Yaeji's "For Granted," two shell's "home." I am so pleased.