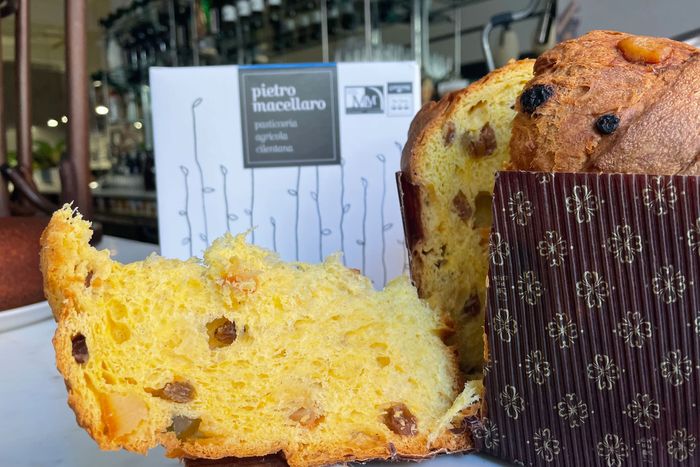 One of many panettones on offer this weekend.
Photo: Una Pizza Napoletana
Pizza, it turns out, isn't the only doughy object of Anthony Mangieri's affection. The owner of Una Pizza Napoletana also harbors a passion for panettone, the tall, enriched, dried-fruit-studded Italian Christmas bread perhaps best known, at least in mass-produced form, for its festive packaging and long shelf life. But not every panettone is the same, a premise that Mangieri aims to prove this Saturday at a holiday pop-up at his Lower East Side pizzeria, which he hopes to finally reopen in the new year.
"I've been a panettone fanatic for years," says Mangieri. "I can eat a whole panettone in one sitting." The pizzaiolo recently returned from a trip to Italy with a suitcase stuffed with some of his favorite panettone finds, which he'll supplement with an additional shipment arriving from Naples this week.
Unlike the big commercial producers, he says, today's artisanal bakers push the envelope with multiple leavenings and best-quality butter and dried fruits. At the pop-up, Mangieri will sell $6 slices from the likes of Infermentum outside Verona ("really wild, beautiful, incredible dough structure," he says); Forno Brisa ("a young, super hip bread bakery in Bologna that uses no preservatives at all"); Gabriele, one of Mangieri's favorite Naples ice-cream shops that also makes a "solid southern-style panettone," and a similarly sweet-leaning variety from Tiri in Potenza ("the orange flavor is insane"). Those in the market for a whole loaf ($60) have four versions to choose from, including the traditional Neapolitan pairing of chocolate and eggplant, all made by Pietro Macellaro outside Naples.
This event will also be a preview of Caffè Napoletana, a new daytime incarnation Mangieri plans to introduce when he reopens the pizzeria. Thursday through Saturday mornings, he'll set up the front bar for coffee, fresh-squeezed OJ, and sweet Italian snacks. He recently acquired a fancy new Faema espresso machine and wants to put it to good use (which for him means beans from Naples and two drink options: espresso or espresso con panna), along with his collection of "crazy espresso cups." He also wants to preserve the spirit of the kind of Italian social club he has long patronized in places like Orange and Newark, the old-school antithesis to today's paper-cup-and-laptop domain. "You hang out and talk to your friends, they play opera music," says Mangieri. "I love the culture of it so much."
December 18th, 9 a.m. to 1 p.m.; 175 Orchard St., nr. Stanton St.